Domains of the Jakun Language Use in Kahang, Johor: An Analysis of Fishman's Domain
Keywords:
Domain analysis, Indigenous people, Language diversity, Multilingual community, Orang Asli Jakun, Sustainability
Abstract
Nowadays, many youngsters of Jakun aborigines have acquired formal education at schools. Besides, the social connection of aboriginals with the outsiders consisting of various races has become closer. This includes the interracial marriage that happens in the aboriginals' community. Such factors may result in a change in the use and choice of the Jakun language in certain domains, specifically due to the influence of other languages. This study used the quantitative and qualitative method to interpret the data collected in the field, such as interview and survey. The survey involved 60 Jakun informants to collect their responses about the use of Jakun language in five selected domains. Analysis of domains was divided into five different domains; family, religion, education, friendship and occupation as proposed by Joshua Fishman. The findings revealed that the percentage of Jakun language use is still high in the domains of family, friendship and occupation. The domain of religion showed a mixed-use of the Jakun language and second language (Malay, Arabic, Chinese languages). The education domain indicated the lowest use of the Jakun language among the Jakun aborigines. Such analysis of the Jakun language could be used as an indicator to measure the language sustainability, and appropriate measures could be taken to preserve this language from extinction.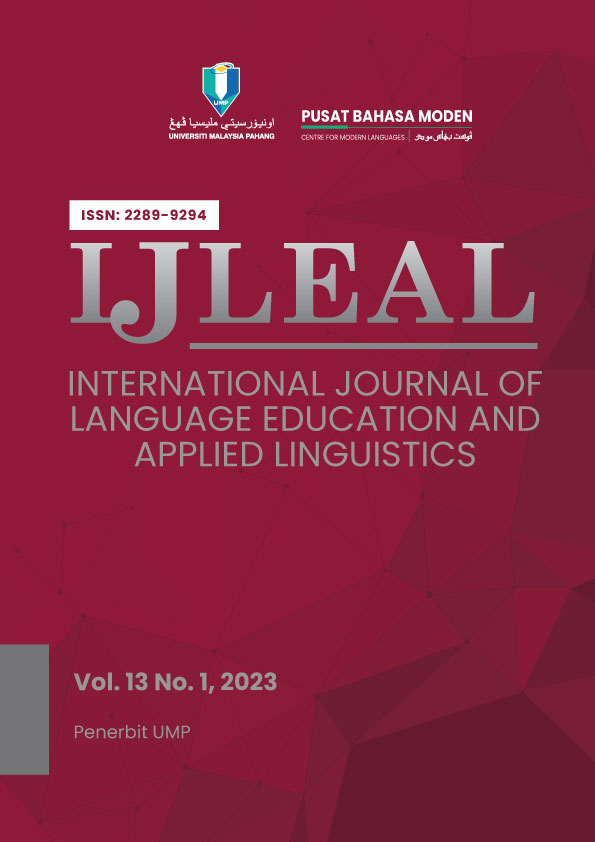 Downloads
How to Cite
Kasim, M. R. (2023). Domains of the Jakun Language Use in Kahang, Johor: An Analysis of Fishman's Domain. International Journal of Language Education and Applied Linguistics, 13(1), 4–11. https://doi.org/10.15282/ijleal.v13i1.7309
Section
Research Articles
License
Copyright (c) 2023 University Malaysia Pahang Publishing
This work is licensed under a Creative Commons Attribution-NonCommercial 4.0 International License.