Kata Sapaan dan Rujukan dalam Kalangan Masyarakat Banjar Terpilih di Daerah Kerian Perak
Greetings and Reference Words of the Selected Banjar Community in Kerian Perak
Keywords:
Kata Rujukan, Kata Sapaan, Masyarakat Banjar
Abstract
Kajian ini secara umumnya bertujuan menganalisis penggunaan kata sapaan dan rujukan dalam kalangan masyarakat Banjar yang menjadi majoriti penduduk di daerah Kerian, Perak. Kehidupan masyarakat Banjar di kawasan ini, didapati telah mengalami banyak perubahan dari segi sosial dan budaya. Perubahan seperti perkahwinan campur, penghijrahan tempat tinggal, pekerjaan dan sistem pendidikan misalnya, telah menyebabkan bahasa Banjar termasuk penggunaan kata sapaan dan rujukan yang menjadi warisan mereka turut terkesan. Fokus utama kajian ini adalah untuk mengenal pasti bentuk kata sapaan dan rujukan yang sering diungkapkan secara lisan oleh masyarakat Banjar terpilih di daerah Kerian, Perak. Pengkaji menggunakan tiga peraturan penggunaan kata sapaan yang dikemukakan oleh Ervin-Tripp iaitu Alternation rules (Peraturan Alternasi), Co-occurrence rules (Peraturan Kejadian Bersama) dan Sequencing rules (Peraturan Perurutan). Peraturan ini juga disokong dengan Sistem Panggilan dalam Bahasa Melayu oleh Amat Juhari Moain untuk disesuaikan dengan kebudayaan masyarakat Melayu di Malaysia. Kajian ini menggunakan kaedah kualitatif, iaitu kaedah pemerhatian dan kajian lapangan. Data dikumpulkan di mukim Bagan Serai dan mukim Parit Buntar. Pengkaji membahagikan masyarakat Banjar kepada dua kumpulan kajian iaitu masyarakat KBB (Keluarga Berketurunan Banjar) dan KBBC (Keluarga Berketurunan Banjar Campuran). Kajian ini mendapati bentuk kata sapaan dan rujukan masyarakat Banjar boleh dibahagikan kepada tiga bentuk utama, iaitu kata ganti nama diri, kekeluargaan dan masyarakat. Kajian ini juga mendapati bahawa penggunaan kata sapaan dan rujukan masyarakat Banjar hanya digunakan dalam kalangan golongan tua KBB dan KBBC. Penggunaan kata sapaan dan rujukan ini kebanyakannya sudah tidak digunakan lagi dalam kalangan golongan muda, khususnya remaja KBBC.
This study generally aims to analyze the use of greetings and references among the Banjar community which made up the majority of the population in Kerian, Perak. The life of the community has undergone many changes in terms of social and cultural. Changes such as intermarriage, migration, employment and education, to some extent have affected the Banjar language, including the use of greetings and references. The main focus of this study is to identify the forms of greetings and references that are often expressed orally by selected Banjar communities in Kerian, Perak. The researcher used three rules for greetings as presented by Ervin-Tripp (1986), namely Alternation rules, Co-occurrence rules and Sequencing rules. This rule is also supported by References in Malay by Amat Mario Moain to suit the culture of the Malay community in Malaysia. This study uses qualitative methods, namely observation methods and field studies. Data were collected in the sub-districts of Bagan Serai and Parit Buntar. The researcher divided the Banjar community into two study groups, namely the KBB community (Banjar Descent Family) and KBBC (Mixed Banjar Descent Family). This study found that the greeting and reference forms of the Banjar community can be divided into three main forms, namely personal pronouns, family and community. This study also found that the use of greetings and references of the Banjar community is only used among the elderly KBB and KBBC. These greetings and references are mostly no longer used among young people, especially KBBC teenagers.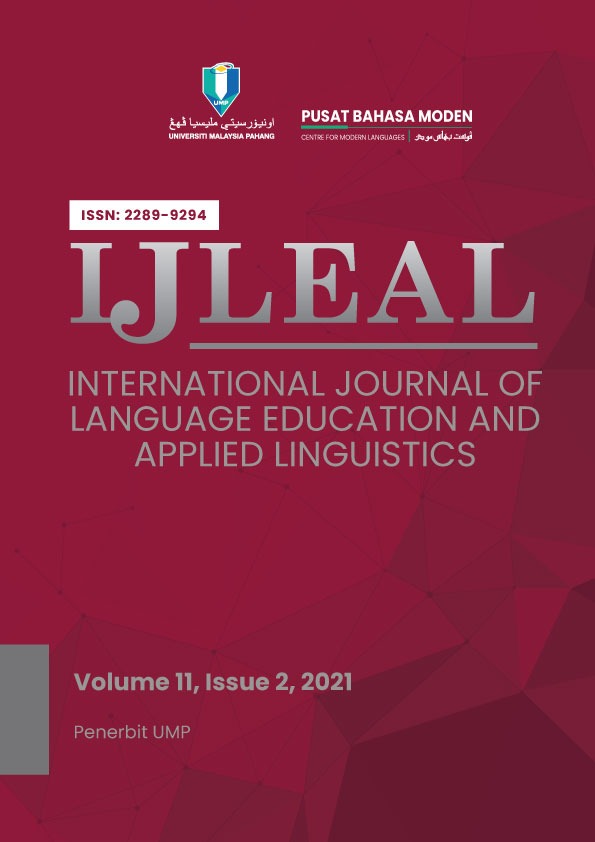 Downloads
How to Cite
Yusoff, Y., & Abdul Wahab, M. K. (2021). Kata Sapaan dan Rujukan dalam Kalangan Masyarakat Banjar Terpilih di Daerah Kerian Perak: Greetings and Reference Words of the Selected Banjar Community in Kerian Perak. International Journal of Language Education and Applied Linguistics, 11(2), 6–22. https://doi.org/10.15282/ijleal.v11i2.6536
Section
Research Articles