Strategi Terjemahan Leksikal Kāna [كان] dalam al-Quran: Analisis Terjemahan Klasik dalam Tafsir Nur al-Ihsan
Strategies of Translating Kāna (كان) in the al-Quran: Classical Translation Analysis in the Tafsir Nur al-Ihsan
Keywords:
Strategi Terjemahan, Leksikal Kāna, Terjemahan Klasik, Terjemahan al-Quran, Tafsir Nur al-Ihsan
Abstract
Terjemahan al-Quran merupakan salah satu bidang pengkhususan bahasa Arab yang termasuk dalam kajian bahasa gunaan atau dengan istilah lain sebagai linguistik terapan. Terjemahan al-Quran menjadi satu keperluan utama kepada orang Islam yang bukan berbangsa Arab untuk memahami al-Quran. Mereka akan mengalami kesukaran untuk memahami agama dan melaksanakan tuntutan agama dalam kehidupan seharian. Sarjana Islam pada peringkat awal melarang sebarang usaha penterjemahan al-Quran dalam apa-apa bahasa sekalipun. Hal ini adalah kerana al-Quran bukan buku biasa yang boleh diterjemahkan, sebaliknya ia sebuah kitab suci agama Islam yang diturunkan dalam bahasa Arab yang tinggi nilai bahasa, sastera dan ilmunya. Oleh itu, untuk memindahkan bahasa Arab ke dalam bahasa-bahasa lain suatu perkara yang tidak mampu dilakukan oleh manusia, malah tindakan menterjemah al-Quran ke dalam bahasa lain tanpa sebab yang kukuh dengan syarat yang ketat bakal mengundang kekeliruan dalam kalangan pembaca bahasa sasaran tentang keindahan agama Islam yang sebenar. Kajian ini menggunakan kaedah kualitatif yang memfokuskan analisis tekstual, ia dijalankan untuk melihat strategi terjemahan klasik bagi leksikal Kāna [كان] yang dipilih dari Surah al-Baqarah dengan memilih Tafsir Nur al-Ihsan sebagai korpus kajian. Beberapa data telah dipilih, seterusnya strategi terjemahan yang digunakan dianalisis oleh penterjemah. Kajian ini mendapati bahawa strategi terjemahan klasik mempunyai nilai-nilai tertentu khususnya buat pembaca bahasa sasaran yang mempunyai latar belakang pengajian agama di samping keperluan sebagai Muslim untuk mendalami isi kandungan al-Quran melalui terjemahan dalam bahasa Melayu.
The translation of the Qur'an is one of the areas of specialisation of the Arabic language that is included in the study of applied language or, in other terms, applied linguistics. The translation of the Qur'an has become an essential requirement for non-Arab Muslims to understand the Qur'an. They will have difficulty understanding religion and implementing religious demands in daily life. Islamic scholars at an early stage forbade any attempt to translate the Qur'an into any language. The Quran is not an ordinary book that can be translated; it is a holy book of Islam revealed in Arabic, which has the great value of language, literature, and knowledge. Nevertheless, transferring Arabic into other languages ​​is not something that any human being can do. Translating the Qur'an into other languages ​​without a good reason with strict conditions will invite confusion among the target language readers about the authentic beauty of Islam. This study uses a qualitative method that focuses on textual analysis, and it is conducted to look at the classical translation strategy for the lexical Kāna [كان] selected from surah al-Baqarah by selecting Tafsir Nur al-Ihsan as the corpus of the study. Several data were selected, and the translation strategies used by the translators were further analysed. This study found that the classical translation strategy has specific values, especially for target language readers who have a background in religious studies, in addition to the need as a Muslim to deepen the Qur'an content through Malay translation.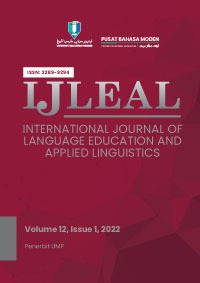 Downloads
How to Cite
Zakaria, M. F., Abdul Majid, M. A. ., & Mohamad Isa, A. A. (2022). Strategi Terjemahan Leksikal Kāna [كان] dalam al-Quran: Analisis Terjemahan Klasik dalam Tafsir Nur al-Ihsan: Strategies of Translating Kāna (كان) in the al-Quran: Classical Translation Analysis in the Tafsir Nur al-Ihsan. International Journal of Language Education and Applied Linguistics, 12(1), 57–65. https://doi.org/10.15282/ijleal.v12i1.7349
Section
Research Articles
License
Copyright (c) 2022 University Malaysia Pahang Publishing
This work is licensed under a Creative Commons Attribution 4.0 International License.