Contrastive Rhetorical Analysis of Business Undergraduates' Sales Email Structure
Keywords:
Contrastive rhetorical analysis, Cross-cultural identity, Sales genres, Structural linguistics analysis
Abstract
Understanding the differences in communication styles is becoming increasingly important in business communication as more companies expand their operations to include local and international operations. The purpose of this article is to compare the structural moves employed in the Singaporean and Malaysian promotional genres from the standpoint of moves analysis and comparison. Argument arises on the similarity and dissimilarity of business discourses involving the features of genres between these two neighbouring countries. As a result, a structural linguistics analysis was conducted in order to investigate the variations in communicative purposes as well as the lexical frequency of the sales emails that were written. The comparison between Singaporean sales promotional letter and Malaysian sales emails moves is based on Bhatia's (1993) Singaporean sales promotional letter moves. According to Bhatia's sales letter framework, there are seven moves, whereas in this study, seven moves were identified in Sales Inquiry Emails and nine moves were identified in Sales Reply Emails. Furthermore, Bhatia (1993) classified the moves into two categories: those that were required and those that were optional, based on their frequency of appearance in the text. In terms of communicative patterns, the similarities and differences between the two texts and their respective contexts were discovered. The difference between Singaporean and Malaysian languages, for example, can be explained by the fact that the distribution and sequence of moves differ between the two languages.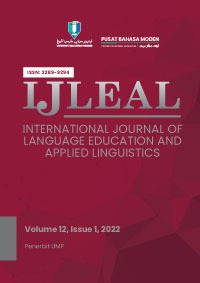 Downloads
How to Cite
Ismail Shauki , N. B. ., Sarjit Singh, M. K., & Md Zulkifle, N. F. (2022). Contrastive Rhetorical Analysis of Business Undergraduates' Sales Email Structure. International Journal of Language Education and Applied Linguistics, 12(1), 46–56. https://doi.org/10.15282/ijleal.v12i1.7052
Section
Research Articles
License
Copyright (c) 2022 University Malaysia Pahang Publishing
This work is licensed under a Creative Commons Attribution 4.0 International License.