Kekerapan Penggunaan Istilah Berkaitan COVID-19 dalam Akhbar Arab: Kajian Korpus
Frequency of COVID-19 Related Terms in Arabic Newspapers: A Corpus Study
Keywords:
Analisis korpus, Bahasa Arab, COVID-19, KPAC19, Linguistik
Abstract
Penularan wabak COVID-19 yang melanda dunia telah meninggalkan dampak yang besar terhadap pelbagai aspek kehidupan manusia di seluruh dunia. Bidang kajian linguistik turut sama menerima kesan wabak ini berikutan daripada penghasilan istilah-istilah baru berkaitan COVID-19 terutamanya melalui kenyataan-kenyataan oleh pihak berwajib seluruh dunia. Walaupun kajian terhadap istilah COVID-19 telah banyak dijalankan ketika ini, namun kajian istilah COVID-19 bahasa Arab masih memerlukan penelitian. Kajian ini menggunakan analisis korpus sebagai metodologi kajian. Korpus Peristilahan Arab COVID-19 (KPAC19) dibina untuk melihat istilah berkaitan COVID-19 dan kekerapan penggunaan istilah dalam akhbar Arab. Oleh itu, kajian ini akan mengenal pasti istilah bahasa Arab bagi COVID-19 dan kekerapan penggunaannya dalam akhbar Arab terpilih. Perbandingan juga dilakukan dengan melihat kekerapan istilah bahasa Arab dalam genre umum Korpus Peristilahan Arab COVID-19 (KPAC19) dan setiap genre yang dipilih iaitu politik, ekonomi dan kesihatan. Sepuluh istilah daripada kumpulan kata nama berkaitan COVID-19 dipilih daripada 300 kedudukan terawal dalam senarai kata (wordlist). Hasil kajian menunjukkan istilah كورونا, لقاح,  كوفيد,  صحة,  تطعيم, لقاحات,  عالم, حكومةdan حالة adalah 10 perkataan yang menduduki kedudukan sepuluh teratas. Kesemua istilah ini berada pada kedudukan berbeza mengikut genre yang dikaji. Bagi aspek kekerapan relatif pula, istilah-istilah dalam genre kesihatan dan politik mempunyai kekerapan relatif antara 0.02 hingga 0.57 peratus lebih tinggi, iaitu antara 2 hingga 57 bagi setiap 1000 perkataan, berbanding dengan genre umum. Namun, dalam genre ekonomi, hanya satu istilah, iaitu عالم, mempunyai kekerapan relatif yang lebih tinggi iaitu 0.28 peratus atau 28 bagi setiap 1000 perkataan berbanding dengan kekerapan relatifnya dalam genre umum iaitu 0.20 peratus atau 20 bagi setiap 1000 perkataan.
The COVID-19 pandemic which affected the entire world has had a significant impact on various aspects of human life. The field of linguistics has also been affected by the pandemic due to the emergence of new terms related to COVID-19 particularly from statements made by authorities worldwide. Despite extensive research on the term COVID-19, further studies on this topic in Arabic language is necessary. This study employs corpus analysis as a methodological approach. The COVID-19 Arabic Terminology Corpus (KPAC19) was developed to analyse COVID-19 related terms and their frequency of usage in Arabic newspapers. Therefore, this study aims to identify Arabic terms for COVID-19 and their frequency of usage in selected Arabic newspapers. A comparative analysis was conducted to analyse the frequency of Arabic terms in the general genre of the COVID-19 Arabic Terminology Corpus (KPAC19) as well as in specific genres namely politics, economics, and health. Ten terms related to COVID-19 were selected from the top 300 rankings on the word list based on noun group. The findings of this study indicate that the top 10 terms are: كورونا, لقاح, كوفيد, صحة, تطعيم, لقاحات, عالم, حكومة and حالة . The ranking of these terms varies depending on the genre studied. In terms of relative frequency, the terms found in health and politics genres have a relative frequency ranging from 0.02% to 0.57%, or 2 to 57 for every 1000 words, when compared to the general genre. Nonetheless, it is noteworthy that within the economics genre, the term عالم demonstrates a higher relative frequency of 0.28% or equivalent to 28 for every 1000 words, in contrast to its relative frequency of 0.20%, or 20 for every 1000 words in general genre.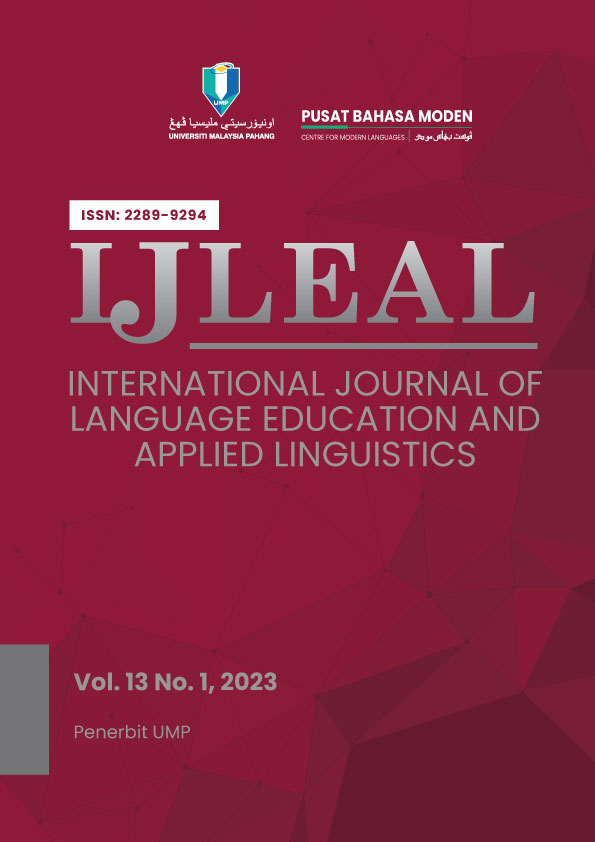 Downloads
How to Cite
Shafri, M. H., Abu Bakar, H. R. ., Abd Raup, F. S. ., & Mohamad Yusof, M. A. . (2023). Kekerapan Penggunaan Istilah Berkaitan COVID-19 dalam Akhbar Arab: Kajian Korpus : Frequency of COVID-19 Related Terms in Arabic Newspapers: A Corpus Study. International Journal of Language Education and Applied Linguistics, 13(1), 25–35. https://doi.org/10.15282/ijleal.v13i1.9140
Section
Research Articles
License
Copyright (c) 2023 University Malaysia Pahang Publishing
This work is licensed under a Creative Commons Attribution-NonCommercial 4.0 International License.