Konsep Kepimpinan dalam Peribahasa Melayu: Analisis Semantik Inkuisitif
Leadership Concepts in Malay Proverbs: An Inquisitive Semantic Analysis
Keywords:
Akal budi Melayu, Kaedah rangka rujuk silang, Kepimpinan, Peribahasa Melayu, Semantik inkuisitif
Abstract
Realiti kehidupan masyarakat khususnya berkaitan kepimpinan telah banyak digambarkan melalui perlambangan yang terdapat dalam peribahasa Melayu. Cara masyarakat Melayu yang selalu meneliti dan mengenali alam semula jadi membuatkan objek persekitaran dijadikan perlambangan untuk berkias dan menyampaikan mesej dalam peribahasa. Kajian ini bertujuan mencungkil akal budi Melayu yang tersirat dalam peribahasa berunsurkan kepimpinan. Pendekatan semantik inkuisitif dan kaedah Rangka Rujuk Silang (RRS) telah digunakan dalam menganalisis data kajian. Sebanyak 97 peribahasa berkaitan kepimpinan yang telah dikenal pasti daripada buku Peribahasa Melayu: Penelitian Makna dan Nilai susunan Zaitul Azma Zainon Hamzah dan Ahmad Fuad Mat Hassan (2011). Hasil dapatan menunjukkan terdapat tiga konsep kepimpinan yang diperoleh dalam kajian ini iaitu berkaitan pemimpin, gaya kepimpinan dan orang yang dipimpin. Hasil kajian mendapati bahawa unsur kepimpinan yang dikenal pasti dan diterapkan dalam peribahasa Melayu mempunyai mesej, teguran yang positif, namun penuh dengan sopan santun dalam berbahasa. Implikasi daripada kajian ini adalah kepelbagaian ilmu dan akal budi yang tersirat disebalik perlambangan yang digunakan oleh masyarakat Melayu berjaya dirungkaikan menerusi pendekatan semantik inkuisitif.
Social reality particularly associated with leadership has been variously potrayed by symbols in Malay proverbs. As Malay community loves to explore and examine the nature, many objects in the surrounding are used in a figurative sense and to convey messages in proverbs. This study aims to investigate the Malay mind implied in leadership-oriented proverbs. An inquisitive semantic approach and the Cross-Reference Approach (CRA) were used in analysing the data. A total of 97 proverbs related to leadership has been identified from the book of Peribahasa Melayu: Penelitian Makna dan Nilai by Zaitul Azma Zainon Ahmad Hamzah and Fuad Mat Hassan (2011). The results revealed there are three concepts of leadership which are; related to leaders, leadership styles and people who are led. This study found that the elements of leadership applied in Malay proverbs consist of messages, positive remarks, and are always politely delivered. The implication of this research is the diversity in knowledge and thought implied behind the symbols used by the Malay community which has been successfully revealed through semantic approach inquisitive.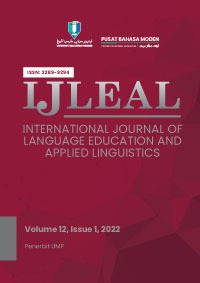 Downloads
How to Cite
Saimon, A., & Md. Rashid, M. A. . (2022). Konsep Kepimpinan dalam Peribahasa Melayu: Analisis Semantik Inkuisitif: Leadership Concepts in Malay Proverbs: An Inquisitive Semantic Analysis . International Journal of Language Education and Applied Linguistics, 12(1), 6–17. https://doi.org/10.15282/ijleal.v12i1.6839
Section
Research Articles
License
Copyright (c) 2022 University Malaysia Pahang Publishing
This work is licensed under a Creative Commons Attribution 4.0 International License.