Analisis Elemen Menjana Minda Falsafah Pendidikan Kesusasteraan Melayu dalam Teks Cerpen Moden Kesusasteraan Melayu Komunikatif
An Analysis of Malay Literature Education Philosophy Mind Generating Elements in Communicative Malay Literature Modern Short Stories Texts
Keywords:
Cerpen, Falsafah Pendidikan Kebangsaan, Kesusasteraan Melayu Komunikatif
Abstract
Falsafah Pendidikan Kesusasteraan Melayu menekankan aspek-aspek penjanaan minda, rohani, dan emosi selaras dengan prinsip Falsafah Pendidikan Kebangsaan untuk melahirkan pelajar yang holistik. Namun, hasil penelitian mendapati kelompongan dalam kajian literatur mengenai aspek Falsafah Pendidikan Kesusasteraan Melayu yang berkaitan dengan penjanaan minda. Selain itu, terdapat isu dalam pemilihan, kandungan serta kualiti teks mata pelajaran Kesusasteraan Melayu Komunikatif yang boleh menjejaskan nilai karya-karya tersebut, pemikiran serta minat para pelajar. Oleh itu, dua objektif kajian dirangka untuk mengenal pasti elemen menjana minda dan menganalisis kerelevanan teks moden cerpen mata pelajaran Kesusasteraan Melayu Komunikatif Tingkatan Empat dan Lima menggunakan Teori Sistem Pemikiran Bersepadu. Data kualitatif kajian diperolehi menggunakan kaedah kepustakaan dengan mengaplikasikan tiga aspek daripada teori tersebut dalam mengkaji kebitaraan, kesaintifikan, dan kekreatifan teks-teks cerpen Kesusasteraan Melayu Komunikatif. Kaedah analisis teks digunakan untuk menganalisis watak dan perwatakan yang dipaparkan dalam sepuluh buah teks cerpen moden mata pelajaran Kesusasteraan Melayu Komunikatif Tingkatan Empat dan Lima. Dapatan kajian menunjukkan elemen menjana minda khususnya pemikiran kebitaraan lebih banyak diterapkan dalam teks cerpen berbanding pemikiran kesaintifikan dan kekreatifan. Menariknya, empat daripada cerpen tersebut mengandungi ketiga-tiga aspek pemikiran. Ia sekaligus membuktikan kerelevanan karya-karya ini untuk menjana minda dalam mendokong Falsafah Pendidikan Kesusasteraan Melayu, dan memupuk potensi pelajar menjadi insan berilmu. Selain daripada mengisi kelompongan yang terdapat dalam literatur, kajian ini mencadangkan beberapa usaha yang dapat membantu pihak yang terlibat dalam penyediaan teks bagi mempertingkat dan mempelbagaikan elemen menjana minda untuk kegunaan masa hadapan.
The Philosophy of Malay Literature Education emphasises aspects that can generate mind, spirit, and emotions in line with the principles of the National Philosophy of Education to produce holistic students. However, literature review in the area identifies gaps in research on aspects or concepts of the Philosophy of Malay Literature Education related to the generation of students' minds. In addition, there are issues in the selection and content and quality of the educational texts that can affect the value of students' works, thoughts, and interests. Therefore, two research objectives were formed to identify the philosophy mind-generating elements and analyse the relevance of modern short story texts of Form Four and Five Communicative Malay Literature subjects using the Integrated Thinking Theory System. Qualitative data were obtained using the library method by applying three thinking systems of the theory in studying the uniqueness, scientificity, and creativity of 10 short story texts of the subject. A text analysis method was used to analyse the characters and characterisation in the subject's ten modern short story texts. The study's findings revealed the mind-generating element, especially the unique thinking, is more prevalent than scientific and creative thinking. Interestingly, four of the short stories contained all three aspects of thinking. The findings prove the relevance of these short stories to generate students' minds as envisioned in the Philosophy of Malay Literature Education and cultivate students' potential to become knowledgeable human beings. Apart from filling in the gaps in the literature, this study recommends several efforts that can help those involved in developing the texts in enhancing and diversifying other mind-generating elements for future use.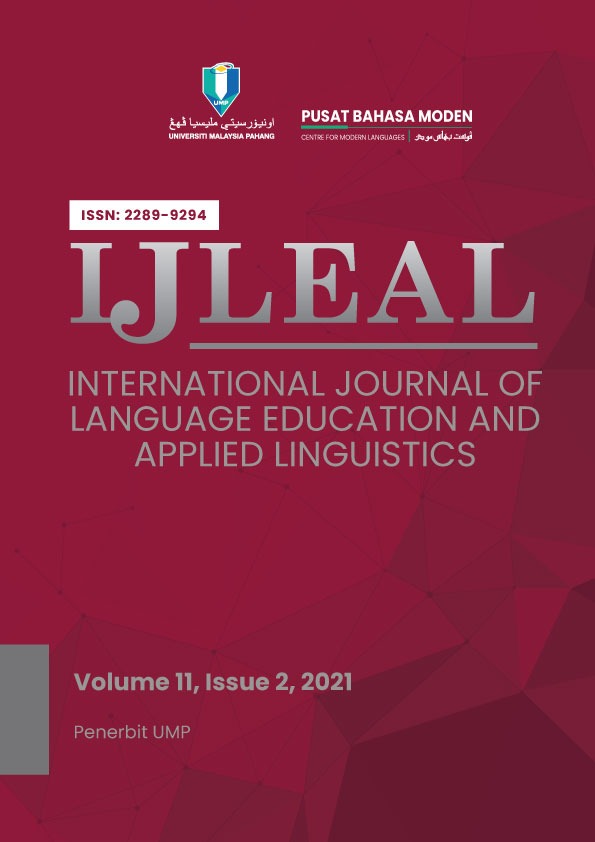 Downloads
How to Cite
M.Suppiah, E., & Nordiana Hamzah. (2021). Analisis Elemen Menjana Minda Falsafah Pendidikan Kesusasteraan Melayu dalam Teks Cerpen Moden Kesusasteraan Melayu Komunikatif: An Analysis of Malay Literature Education Philosophy Mind Generating Elements in Communicative Malay Literature Modern Short Stories Texts. International Journal of Language Education and Applied Linguistics, 11(2), 45–55. https://doi.org/10.15282/ijleal.v11i2.6884
Section
Research Articles