An appraisal of characteristic mechanical properties and microstructure of friction stir welding for Aluminium 6061 alloy – Silicon Carbide (SiCp) metal matrix composite
Ibrahim Sabry

Department of Manufacturing Engineering and Production Technology Modern Academy for Engineering and Technology, P.O. Box, Cairo 11571, Cairo, Egypt. Phone: +201003719980

A. M. El-Kassas

Department of Production Engineering and Mechanical Design, Faculty of Engineering, Tanta University, P.O. Box, Tanta 31512, Egypt
Keywords:
Friction stir welding, Aluminum matrix composites, 6061, microstructure, microhardness, ultimate tensile strength
Abstract
It is expected that the demand for Metal Matrix Composite (MMCs) will increase in these applications in the aerospace and automotive industries sectors, strengthened AMC has different advantages over monolithic aluminium alloy as it has characteristics between matrix metal and reinforcement particles.  However, adequate joining technique, which is important for structural materials, has not been established for (MMCs) yet. Conventional fusion welding is difficult because of the irregular redistribution or reinforcement particles.  Also, the reaction between reinforcement particles and aluminium matrix as weld defects such as porosity in the fusion zone make fusion welding more difficult. The aim of this work was to show friction stir welding (FSW) feasibility for entering Al 6061/5 to Al 6061/18 wt. % SiCp composites has been produced by using stir casting technique. SiCp is added as reinforcement in to Aluminium alloy (Al 6061) for preparing metal matrix composite. This method is less expensive and very effective. Different rotational speeds,1000 and 1800 rpm and traverse speed 10 mm \ min was examined. Specimen composite plates having thick 10 mm were FS welded successfully. A high-speed steel (HSS) cylindrical instrument with conical pin form was used for FSW. The outcome revealed that the ultimate tensile strength of the welded joint (Al 6061/18 wt. %) was 195 MPa at rotation speed 1800 rpm, the outcome revealed that the ultimate tensile strength of the welded joint (Al 6061/18 wt.%) was 165 MPa at rotation speed 1000 rpm, that was very near to the composite matrix as-cast strength. The research of microstructure showed the reason for increased joint strength and microhardness. The microstructural study showed the reason (4 %) for higher joint strength and microhardness.  due to Significant   of SiCp close to the boundary of the dynamically recrystallized and thermo mechanically affected zone (TMAZ) was observed through rotation speed 1800 rpm. The friction stir welded ultimate tensile strength Decreases as the volume fraction increases of SiCp (18 wt.%).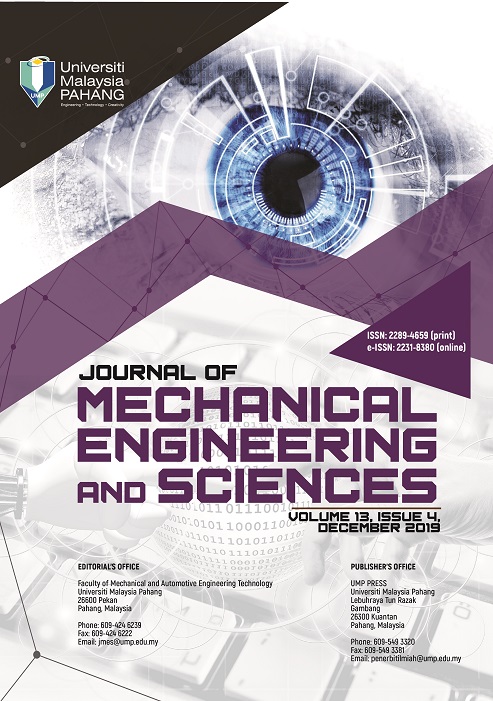 How to Cite
Sabry, I., & El-Kassas, A. M. (2019). An appraisal of characteristic mechanical properties and microstructure of friction stir welding for Aluminium 6061 alloy – Silicon Carbide (SiCp) metal matrix composite. Journal of Mechanical Engineering and Sciences, 13(4), 5804-5817. https://doi.org/10.15282/jmes.13.4.2019.07.0463
Copyright (c) 2019 UMP Press
This work is licensed under a Creative Commons Attribution-NonCommercial 4.0 International License.