Experimental investigations of friction stir welded AA6063 aluminum matrix composite
Narinder Kaushik

Department of Mechanical Engineering National Institute of Technology, Kurukshetra, Haryana – 136119, India

Sandeep Singhal

Department of Mechanical Engineering National Institute of Technology, Kurukshetra, Haryana – 136119, India

Rajesh Rajesh

Department of Mechanical Engineering National Institute of Technology, Kurukshetra, Haryana – 136119, India

Pardeep Gahlot

Department of Mechanical Engineering UIET, MDU, Rohtak, Haryana-124001, India

B. N Tripathi

Department of Mechanical Engineering Lingayas Vidyapeeth, Faridabad, Haryana-121002, India
Keywords:
Friction stir welding, Aluminum matrix composites, AA6063, microstructure, microhardness, ultimate tensile strength
Abstract
The advancement of friction stir welding for joining of aluminum alloys and aluminum centered matrix composite has replaced the traditional welding techniques. In this experimental study, AA6063/10.5wt%SiC composite has been produced by employing enhanced stir casting technique with the assistance of Mg metal powder. Specimen composite plates having thickness 6 mm were friction stir welded successfully. The impact of welding variables on mechanical and microstructural characteristics of weldments has been studied. The friction stir welding (FSW) was carried out at a rotation rate of tool of 1400 rpm with a tool transverse rate of 124 mm/min. A cylindrical tool fabricated of high-speed steel (HSS) with square pin shape has been used for FSW. The results revealed that the ultimate tensile strength of the welded joint was 163 MPa, which was very close to the strength of the as-cast composite matrix. The microstructural study showed the reason for higher joint strength and microhardness. The welded butt joint exhibited a change in the microstructure at various four welding zones which transforms the mechanical characteristics of welded joints has been due to the asymmetrical flow of material and thermal cycles around the pin. The intense stirring action of the tool pin during FSW cracked the SiC particles in the weld nugget.  In the weld region, a fine-grained structure and homogeneous dispersion of SiC particles have been observed. The micro porosities associated with the base metal composite matrix were eliminated after FSW.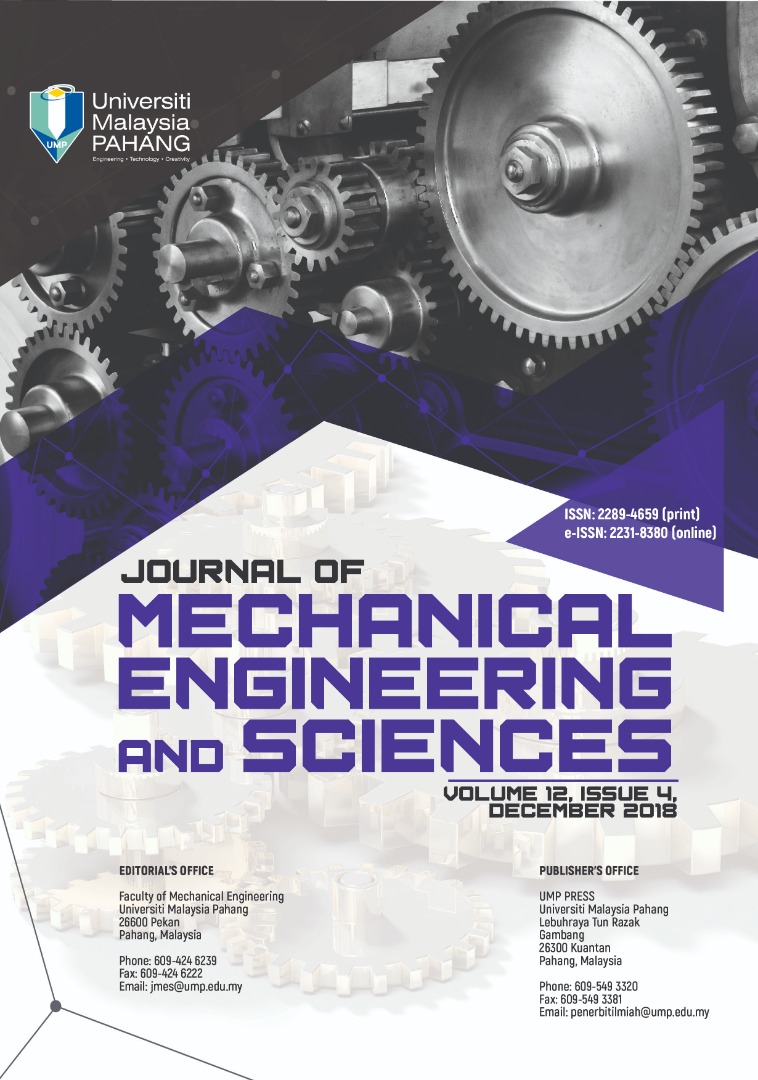 How to Cite
Kaushik, N., Singhal, S., Rajesh, R., Gahlot, P., & Tripathi, B. N. (2018). Experimental investigations of friction stir welded AA6063 aluminum matrix composite. Journal of Mechanical Engineering and Sciences, 12(4), 4127-4140. https://doi.org/10.15282/jmes.12.4.2018.11.0357
Copyright (c) 2018 UMP Publisher
This work is licensed under a Creative Commons Attribution-NonCommercial 4.0 International License.