Daya Ilokusi dalam Bual Bicara Motivasi
Illocutionary Force in Motivational Talk Show
Keywords:
Daya Ilokusi, Kata kerja, Kata Modalitas, Lakuan Tuturan, Motivasi
Abstract
Motivasi ialah dorongan perlakuan. Motivasi diperlukan kerana setiap manusia mempunyai tingkah laku yang berbeza. Dorongan tingkah laku dapat diperlihatkan dengan lakuan ilokusi (LI), iaitu fungsi ujaran yang menyebabkan pendengar (H) bertindak. Bach dan Harnish mengusulkan empat kategori LI bagi menjelaskan fungsi ujaran. Teori ini menyatakan bahawa  apabila  penutur (S) berkomunikasi terdapat tujuan yang ingin disampaikan kepada pendengarnya (H). Tujuan, iaitu niat dianggap berjaya apabila H mengakui daya ilokusi tersebut. Sehubungan itu, bual bicara motivasi "Renungan Kehidupan" dianalisis bagi memperlihatkan peranan motivator (MM) dalam menyampaikan tujuannya kepada H. Kajian ini mempunyai dua objektif, iaitu mengklasifikasi dan membincangkan daya ilokusi arahan subkategori permintaan (PMT) dan larangan (LR) yang berkaitan  dengan teori memotivasi perubahan. Analisis mengaplikasikan kaedah kualitatif antaranya muat turun, transkripsi dan analisis teks; dan kuantitatif, iaitu analisis frekuensi.  Dapatan memperlihatkan PMT dapat diklasifikasikan kepada tiga, iaitu PMT refleksi diri, PMT umum dan kata modalitas; dan PMT  perubahan diri. PMT refleksi diri ditandai dengan kata kerja antaranya "tengok", "renung" dan "fikirkan"; PMT umum dan modalitas "mesti" dan "sentiasa"  manakala PMT perubahan diri,  "ingat" (mengingat)  dan "sabar" (bersabar) yang menjadi kata kunci motivasi perubahan diri dan penginputan nilai-nilai murni. LR pula ditandai dengan kata modalitas doentik "jangan", iaitu pencegahan perbuatan. Analisis frekuensi menemukan subkategori PMT cenderung digunakan berbanding dengan subkategori LR. Dapatan ini memperlihatkan  bahawa motivasi intrinsik lebih efektif dalam mendorong perubahan tingkah laku.
Motivation drives behaviour. It is needed because humans have different behaviours. Behavioural encouragements can be shown with the application of illocutionary acts (LI) which causes the listener (H) to act. Bach and Harnish proposed four categories of LI to explain the functions of utterances. This theory states that a speaker (S) communicates when there is a purpose to be conveyed to his listener (H). Purpose, i.e., intention is considered successful when H acknowledges the illocutionary force. In this regard, the motivational talk show "Renungan Kehidupan" was analyzed to show the role of the motivator (MM) in conveying his intention to H. This research has two objectives: to classify and discuss the illocutionary force of directives for subcategories requestives (PMT) and prohibitives (LR) related to theory of motivating change. The analysis applies qualitative methods including downloading, transcribing and analysing texts; and quantitative method through frequency analysis.  Findings show that PMT can be classified into three, namely self-reflection PMT, general PMT and modality words; and PMT self-change. PMT self-reflection is characterized by verbs such as "tengok", "renung" and "fikirkan"; general PMT and modality, with verbs "mesti" and "sentiasa". For self-change PMT, verbs such as "ingat" (mengingat) and "sabar" (bersabar) are the keywords of self-change motivation which includes good values. LR is marked with the deontic modality word "jangan", which is the prevention of action. Frequency analyses show that the subcategory PMT is predominantly used compared to subcategory LR. These findings suggest that intrinsic motivation is more effective on H self-change.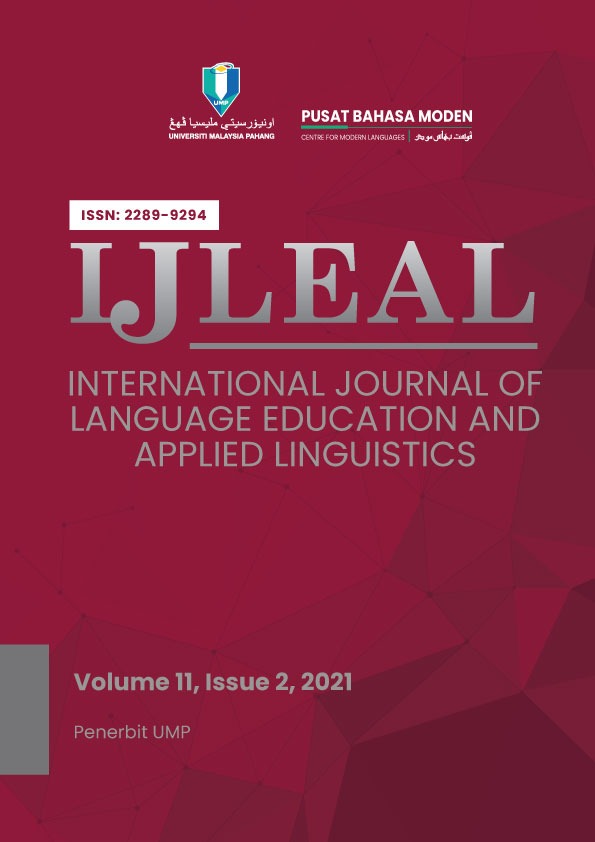 Downloads
How to Cite
Zahid, I., & Sarangapany, K. . (2021). Daya Ilokusi dalam Bual Bicara Motivasi: Illocutionary Force in Motivational Talk Show. International Journal of Language Education and Applied Linguistics, 11(2), 23–35. https://doi.org/10.15282/ijleal.v11i2.6777
Section
Research Articles