Strength predictions of single-lap woven fabric Kenaf composites bolted joints
H. Ahmad

Faculty of Civil Engineering and Built Environment, Universiti Tun Hussein Onn Malaysia, 86400 Parit Raja, Batu Pahat, Johor, Malaysia. Phone: +6074564472; Fax: +6074534242

K. Supar

Centre of Diploma Studies, Universiti Tun Hussein Onn Malaysia, 86400 Parit Raja, Batu Pahat, Johor, Malaysia
Keywords:
Woven fabric, bolted joint, natural fibers, bearing stress, Hashin, XFEM
Abstract
Application of woven fabric kenaf fibers in production of polymeric composites (known as woven fabric kenaf reinforced composite (WKRP)) were readily available in the literatures due to excellent tensile strength and elongation at break. Nevertheless, there are less reported work and information regarding to performance of these materials in bolted joints problem. Bolted joints demonstrate complicated damage morphologies either net-tension, shear-out or bearing failure modes dependence upon combination arrays of lay-up/joint variables. XFEM approach has been reported in the literature, yet the agreements are limited to net-tension failure resulting from stress concentration problem. The aim of this paper to carry out strength prediction work of single-lap WKRP/aluminium bolted joints by using Hashin formulation within 3D finite element framework. Hashin formulation which based on ply-by-ply basis seen to perform better prediction to bearing failure modes. The material properties incorporated within Hashin formulation was taken from a single-ply of woven fabric. Strength prediction from Hashin formulation showed a difference of less than ±25% in net tension-bearing failure mode, but less good predictions (some lay-up showed discrepancies of 50%) in smaller W/d to give net-tension mode. Good prediction in net-tension-bearing failure were exhibited in Hashin formulation than XFEM approach as bearing failure is based on ply-by-ply basis due to fiber kinking and matrix compression.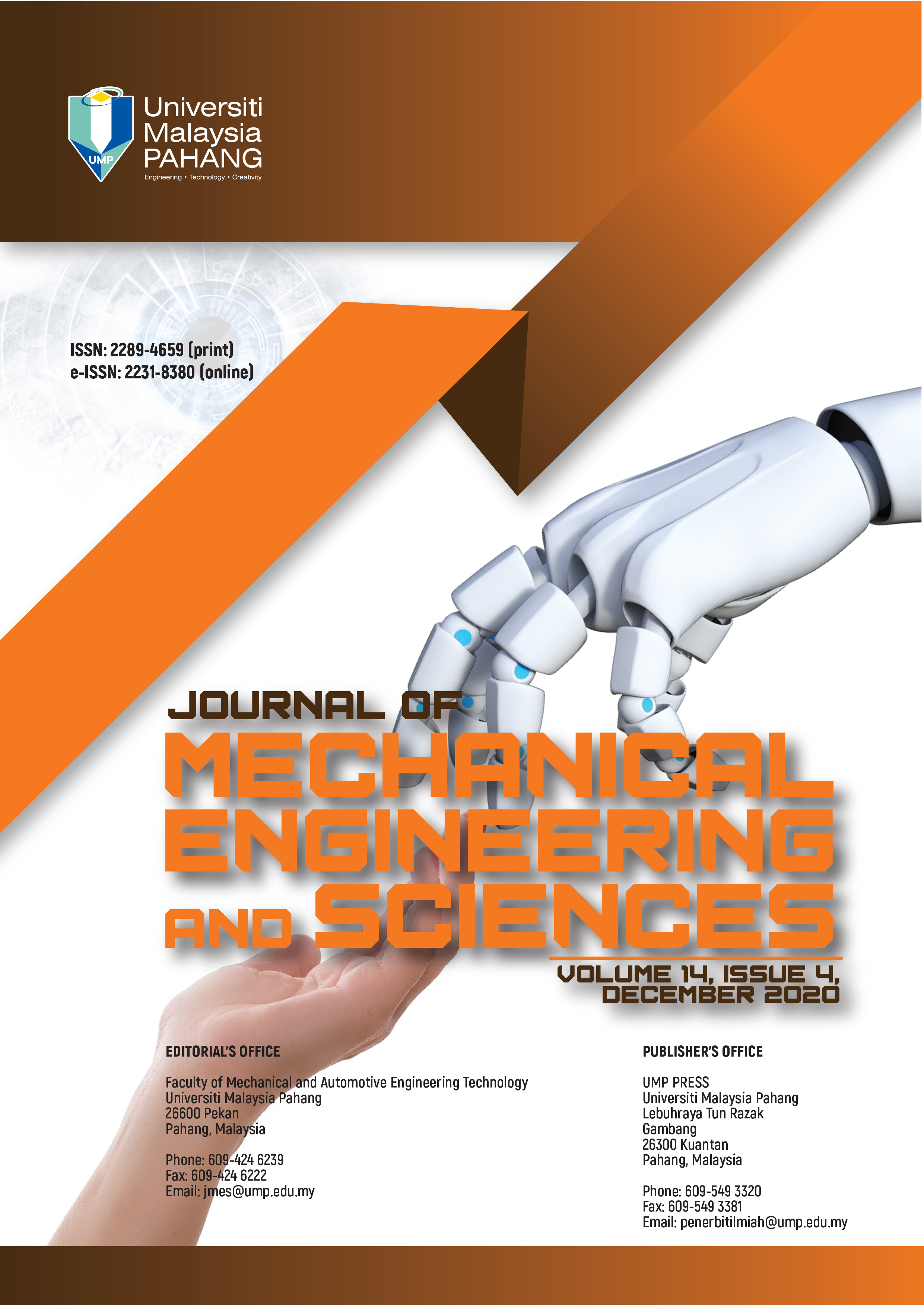 How to Cite
Ahmad, H., & Supar, K. (2020). Strength predictions of single-lap woven fabric Kenaf composites bolted joints. Journal of Mechanical Engineering and Sciences, 14(4), 7389 - 7395. https://doi.org/10.15282/jmes.14.4.2020.07.0581
Copyright (c) 2020 UMP Press
This work is licensed under a Creative Commons Attribution-NonCommercial 4.0 International License.