Sealing performance analysis of composite gaskets made of silicone rubber filled with ramie natural fibers
Widodo W. S.

Faculty of Engineering, Brawijaya University, Malang, Indonesia. Phone: +6289679914226; Fax: +6289679914226

R. Soenoko

Faculty of Engineering, Brawijaya University, Malang, Indonesia. Phone: +6289679914226; Fax: +6289679914226

M. A. Choiron

Faculty of Engineering, Brawijaya University, Malang, Indonesia. Phone: +6289679914226; Fax: +6289679914226

A. A. Sonief

Faculty of Engineering, Brawijaya University, Malang, Indonesia. Phone: +6289679914226; Fax: +6289679914226
Keywords:
Silicone rubber, sealing performance, bolted joint
Abstract
Silicon rubber gaskets are commonly used in many industries for low pressure sealing conditions only. The research studies about the sealing performance improvement of a novel composite gasket made of the silicone rubber filled with ramie natural fibers in a bolted joint connection. In this research the sample of gasket consists of 4 different types of gasket i.e. a pure silicone rubber gasket and the silicone rubber composite gasket with 1, 2 and 3 layers of ramie fiber woven. The gaskets are tested using a water pressure testing equipment with a variation of internal fluid pressure and difference torques at 8 N.m, 12 N.m, 16 N.m and 20 N.m. The sealing performance is measured based on the maximum fluid pressure that can be hold by the gaskets before the fluid leaking occurred. The results show that the silicone rubber composite gaskets have better sealing performance comparing  with the pure silicone rubber gaskets where the silicon rubber gaskets capable to hold the internal fluid pressure until around 5 times rather  than pure silicon rubber gaskets (0.17 MPa comparing with 0.90 MPa). On the other hand the sealing performance of the composite gasket with 3 layers is almost 2 times better than the composite gasket with 1 layer and around 1.5 times better than the composite gasket with 2 layer of fiber woven.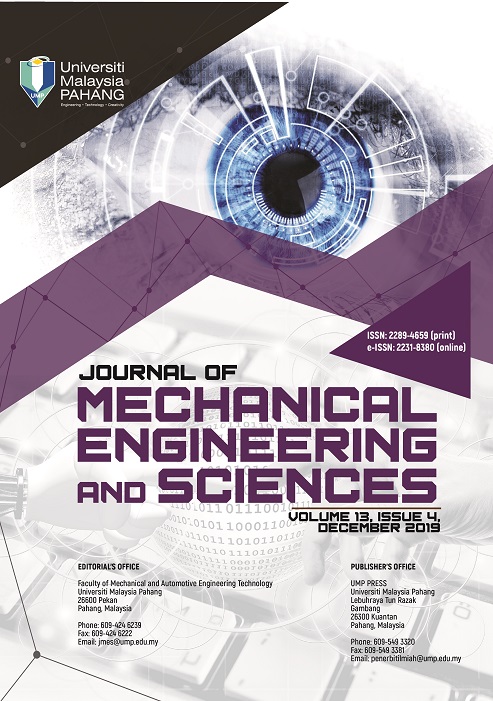 How to Cite
W. S., W., Soenoko, R., Choiron, M. A., & Sonief, A. A. (2019). Sealing performance analysis of composite gaskets made of silicone rubber filled with ramie natural fibers. Journal of Mechanical Engineering and Sciences, 13(4), 6178-6194. https://doi.org/10.15282/jmes.13.4.2019.28.0484
Copyright (c) 2019 UMP Press
This work is licensed under a Creative Commons Attribution-NonCommercial 4.0 International License.