Influence of yarn parameters on cotton/kenaf blended yarn characteristics
S. A. S. Abdullah

Malaysian Institute of Aviation Technology, Universiti Kuala Lumpur, 43800 Dengkil, Selangor, Malaysia. Phone: +60387688487; Fax: +6387688485

N. Z. M. Zuhudi

Malaysian Institute of Aviation Technology, Universiti Kuala Lumpur, 43800 Dengkil, Selangor, Malaysia

K. D. Mohd Aris

Malaysian Institute of Aviation Technology, Universiti Kuala Lumpur, 43800 Dengkil, Selangor, Malaysia

M. N. Roslan

Faculty of Engineering Technology, Universiti Tun Hussein Onn Malaysia, 84600 Panchor, Johor, Malaysia

M. D. Isa

Malaysian Institute of Aviation Technology, Universiti Kuala Lumpur, 43800 Dengkil, Selangor, Malaysia
Keywords:
Kenaf fiber, kenaf yarn, kenaf/cotton blend, spinnability, alkalization
Abstract
Spinning kenaf fibers into yarns is challenging due to the stiffness and lack of cohesiveness of the fibers. Alkali treatment is known to remove hemicellulose, wax, and breaks down lignin, reducing stiffness of kenaf fiber and improving its spinnability. Kenaf fibers were treated at percentages of 4% and 6% and blended with cotton fibers at blend ratios of 40:60 and 50:50 prior to a ring spinning process to produce a double ply yarn of 70 tex.  Yarn were twisted at three sets of twist. The responses were measured in terms of carding waste percentages and yarn strength. The results showed that the optimized yarn structural parameter is kenaf fiber treated at 6% and with a kenaf/cotton 40/60 blending ratio based on its tenacity and minimum carding waste. ANOVA shows that there is a good interaction effect between NaOH and kenaf/cotton ratio, and NaOH concentration and twist.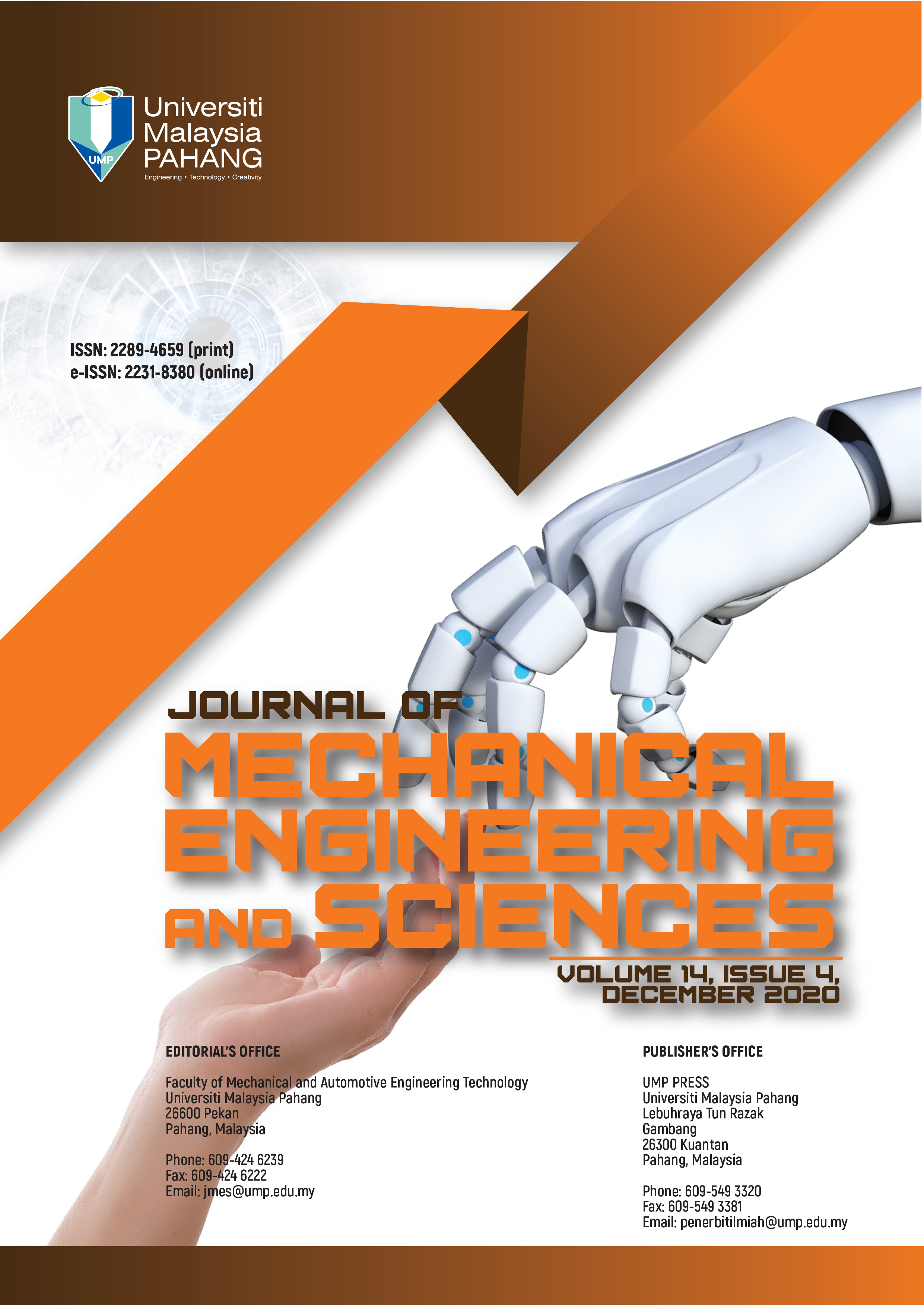 How to Cite
Abdullah, S. A. S., Zuhudi, N. Z. M., Mohd Aris, K. D., Roslan, M. N., & Isa, M. D. (2020). Influence of yarn parameters on cotton/kenaf blended yarn characteristics. Journal of Mechanical Engineering and Sciences, 14(4), 7622 - 7627. https://doi.org/10.15282/jmes.14.4.2020.26.0600
Copyright (c) 2020 UMP Press
This work is licensed under a Creative Commons Attribution-NonCommercial 4.0 International License.