Tensile and impact properties of pulverized oil palm fiber reinforced polypropylene composites : A comparison study with wood fiber reinforced polypropylene composites
M. N. A. Nordin

Fakulti Kejuruteraan Mekanikal, Universiti Teknikal Malaysia Melaka (UTeM), Hang Tuah Jaya 76100, Durian Tunggal, Melaka, MALAYSIA

K. Sakamoto

Graduate School of Science and Technology for Innovation, Yamaguchi University, 2-16-1, Tokiwadai, Ube, Yamaguchi 755-8611, JAPAN

H. Azhari

Graduate School of Science and Technology for Innovation, Yamaguchi University, 2-16-1, Tokiwadai, Ube, Yamaguchi 755-8611, JAPAN

K. Goda

Department of Mechanical Engineering, Yamaguchi University, 2-16-1, Tokiwadai, Ube, Yamaguchi 755-8611, JAPAN

M. Okamoto

Technology Develop Center, TOCLAS Co., 1370 Nishiyama-cho, Nishi-ku, Hamamatsu-shi, Shizuoka 432-8001, JAPAN

H. Ito

Research Institute for Sustainable Chemistry, National Institute of Advanced Industrial Science and Technology (AIST), 3-11-32, Kagamiyama, Higashihiroshima, Hiroshima 739-0046, JAPAN

T. Endo

Research Institute for Sustainable Chemistry, National Institute of Advanced Industrial Science and Technology (AIST), 3-11-32, Kagamiyama, Higashihiroshima, Hiroshima 739-0046, JAPAN
Keywords:
oil palm fiber, polypropylene, wood plastic composites (WPC), tensile strength, impact strength, size effect, failure behavior
Abstract
In this study, the Malaysian oil palm fiber (OPF) was extracted from empty fruit bunch (EFB) and used as a reinforcement of polymer composite materials. 10 wt.% and 25 wt.% of OPF were incorporated with polypropylene (PP) and maleated polypropylene (MAPP) to produce injection-molded composite material. For comparison purpose, virgin PP and polymer composites reinforced with wood fiber (WPC) were also fabricated as benchmark samples. From the tensile test result of 25 wt.% of fiber loading, it produced higher tensile properties of the composites. Moreover, the obtained OPF/PP composites showed comparable properties with the WPC material. The second objective of this study is to investigate the effect of fiber sizes on tensile and impact properties of both WPC and OPF/PP composite. The wood fiber and OPF were mechanically classified into several size ranges by using different mesh sieves and proceeded with the kneading and injection molding. The tensile and impact tests were carried out for each type of sample in order to verify the influence of fiber size on the tensile and impact resistance behavior of the WPC and OPF/PP composites.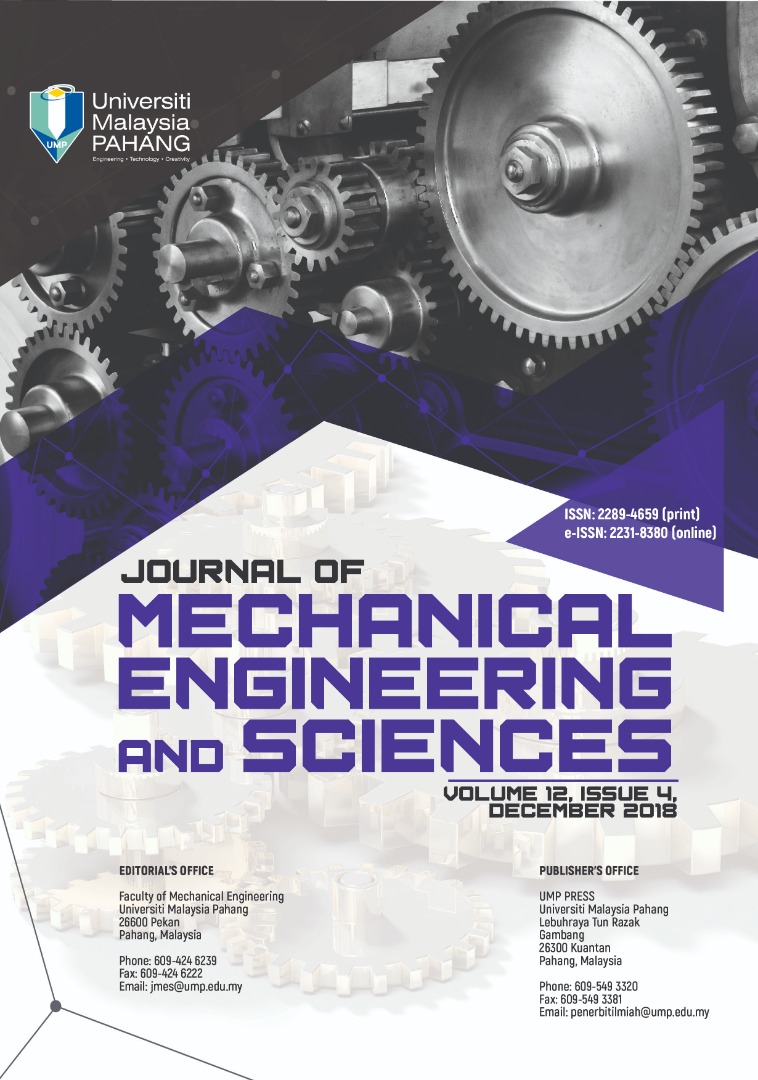 How to Cite
Nordin, M. N. A., Sakamoto, K., Azhari, H., Goda, K., Okamoto, M., Ito, H., & Endo, T. (2018). Tensile and impact properties of pulverized oil palm fiber reinforced polypropylene composites : A comparison study with wood fiber reinforced polypropylene composites. Journal of Mechanical Engineering and Sciences, 12(4), 4191-4202. https://doi.org/10.15282/jmes.12.4.2018.15.0361
Copyright (c) 2018 UMP Publisher
This work is licensed under a Creative Commons Attribution-NonCommercial 4.0 International License.