Influence of hygrothermal conditioning on the properties of compressed kenaf fiber / epoxy reinforced aluminium laminates
Edynoor Osman

Department of Polymer Composite Processing Engineering Technology, Kolej Kemahiran Tinggi MARA, Masjid Tanah, KM 1, Persiaran Paya Lebar, 78300 Masjid Tanah, Melaka. Phone: +6063851104; Fax: +6063851106

Mohd Warikh Abd. Rashid

Department of Materials Engineering, Faculty of Manufacturing Engineering, Universiti Teknikal Malaysia Melaka (UTeM), Hang Tuah Jaya, 76100 Durian Tunggal, Melaka, Malaysia

Mohd Edeerozey Abd Manaf

Department of Materials Engineering, Faculty of Manufacturing Engineering, Universiti Teknikal Malaysia Melaka (UTeM), Hang Tuah Jaya, 76100 Durian Tunggal, Melaka, Malaysia

Toshihiro Moriga

Tokushima-UTeM Academic Center, Universiti Teknikal Malaysia Melaka (UTeM), Hang Tuah Jaya, 76100 Durian Tunggal, Melaka, Malaysia

Hazlinda Kamarudin

Department of Ceramic Processing Engineering Technology, Kolej Kemahiran Tinggi MARA, Masjid Tanah, KM 1, Persiaran Paya Lebar, 78300 Masjid Tanah, Melaka
Keywords:
KeRALL, KFRC, Hygrothermal, mechanical properties, fractographic
Abstract
This study has been carried out to evaluate hygrothermal effect onto kenaf fiber reinforced aluminium laminates (KeRALL) and kenaf fibre reinforce composite (KFRC) as compared to reference sample, pristine (without hygrothermal). Samples were fabricated by warm compression method and successfully immersed at 30, 60 and 80°C in water bath for 5 days. As a result, KeRALL at 30°C shows the lowest water absorption rate compared to those immersed at 60 and 80°C. Both KeRALL and KFRC, at temperature 80°C showed the fastest water absorption and the earliest to reach saturation state, followed by temperature of 60°C and 30°C. Mechanical properties which is flexural and impact shows the decremented trends at temperature of 30°C, 60°C and 80°C. At 30 °C, 7 % show a decrement of interlaminar shear stress (ILSS), followed by 66 % at 60°C and 54 % at 80°C. The decrease is associated with fibre pull out, matrix fracture and delamination as the result of the hygrothermal influence as manifested by the fractographic images. From the DMA results, storage modulus as well as loss modulus of KeRALL was decreased with the increased in temperature.  It can be concluded that hygrothermal gives the significant effect on the physical, mechanical and thermal properties of the KeRALL. Therefore, the newly developed KeRALL composite opens a greater commercial potential for kenaf fibre in structural engineering applications. The finding also suggests that KeRALL definitely has high potential as a new sustainable FML composite and can be considered as a promising candidate for future industrial applications.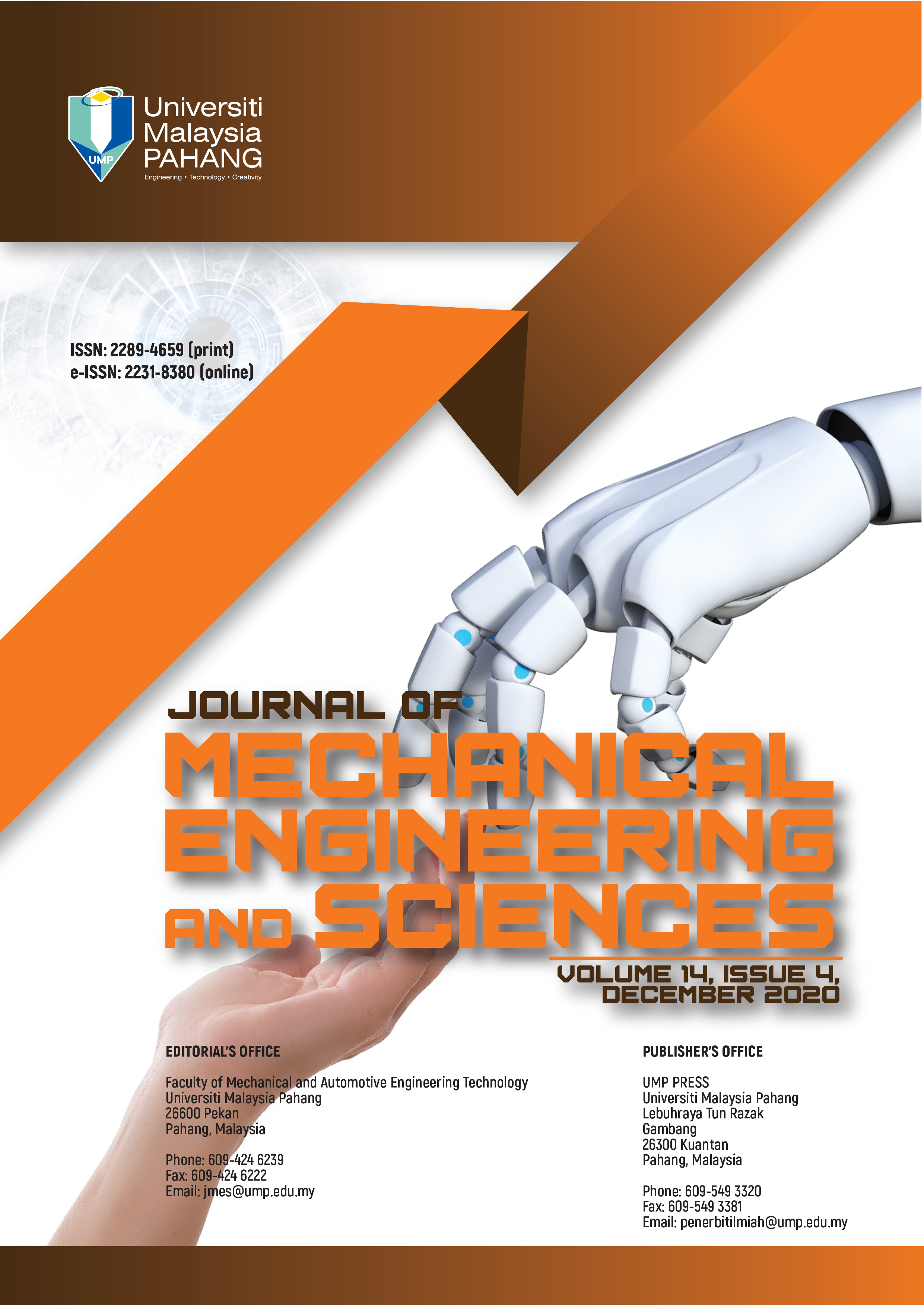 How to Cite
Osman, E., Abd. Rashid, M. W., Abd Manaf, M. E., Moriga, T., & Kamarudin, H. (2020). Influence of hygrothermal conditioning on the properties of compressed kenaf fiber / epoxy reinforced aluminium laminates. Journal of Mechanical Engineering and Sciences, 14(4), 7405 - 7415. https://doi.org/10.15282/jmes.14.4.2020.09.0583
Copyright (c) 2020 UMP Press
This work is licensed under a Creative Commons Attribution-NonCommercial 4.0 International License.