The effect of fibre treatment on water absorption and mechanical properties of buri palm (Corypha utan) fibre reinforced epoxy composites
M. Zalinawati

Department of Mechanical Engineering, College of Engineering, Universiti Malaysia Pahang, 26300 Gambang, Kuantan, Malaysia. Phone: +6094246282; Fax: +609424222

J. P. Siregar

Department of Mechanical Engineering, College of Engineering, Universiti Malaysia Pahang, 26300 Gambang, Kuantan, Malaysia. Phone: +6094246282; Fax: +609424222

C. Tezara

Department of Mechanical Engineering, Faculty of Engineering and Quantity Surveying, INTI International University, 71800 Nilai, Negeri Sembilan, Malaysia

J. Jaafar

Department of Mechanical Engineering, College of Engineering, Universiti Malaysia Pahang, 26300 Gambang, Kuantan, Malaysia. Phone: +6094246282; Fax: +609424222

N. Sazali

Department of Mechanical Engineering, College of Engineering, Universiti Malaysia Pahang, 26300 Gambang, Kuantan, Malaysia. Phone: +6094246282; Fax: +609424222

A.N Oumer

Department of Mechanical Engineering, College of Engineering, Universiti Malaysia Pahang, 26300 Gambang, Kuantan, Malaysia. Phone: +6094246282; Fax: +609424222

M.H.M Hamdan

Department of Mechanical Engineering, College of Engineering, Universiti Malaysia Pahang, 26300 Gambang, Kuantan, Malaysia. Phone: +6094246282; Fax: +609424222
Keywords:
Natural fibre, buri palm, alkaline treatment, water absorption, mechanical properties
Abstract
Over the past century, there has been a dramatic increase in natural fibre composites in which natural fibre has served as reinforcement in polymer. However, the existence of moisture and defects in natural fibres has impacted the mechanical and physical properties of natural fibre polymer composites. The main objective of this study is to fabricate the buri palm fibre reinforced epoxy composite and evaluate the effects of fibre treatment on water absorption and tensile properties. The buri palm fibre were treated by using 5 wt.% NaOH for 24 h and the laminated composite of untreated and treated four-layer and five layer fibres were fabricated via hand lay-up process. The tensile specimens are prepared according to the ASTM D638 standard and the water absorption experiment was conducted by immersing the specimen in distilled water at room temperature until it reached the saturated moisture absorption. The results revealed that the percentage of moisture uptake was reduced to 69% and 95% in treated four-layer and five-layer sequences. It is observed that the thickness swelling of the composite increased with the increase of sequence layering, while the thickness swelling decreased with treated fibre. Alkali treatment affected the properties of buri palm fibre which improved the interfacial bonding between the fibre and epoxy matrix for better tensile properties and reduced water absorption. Finally, morphology examinations were carried out to analyse the fracture behaviour and fibre failure on the tensile test specimen by using microscope analysis.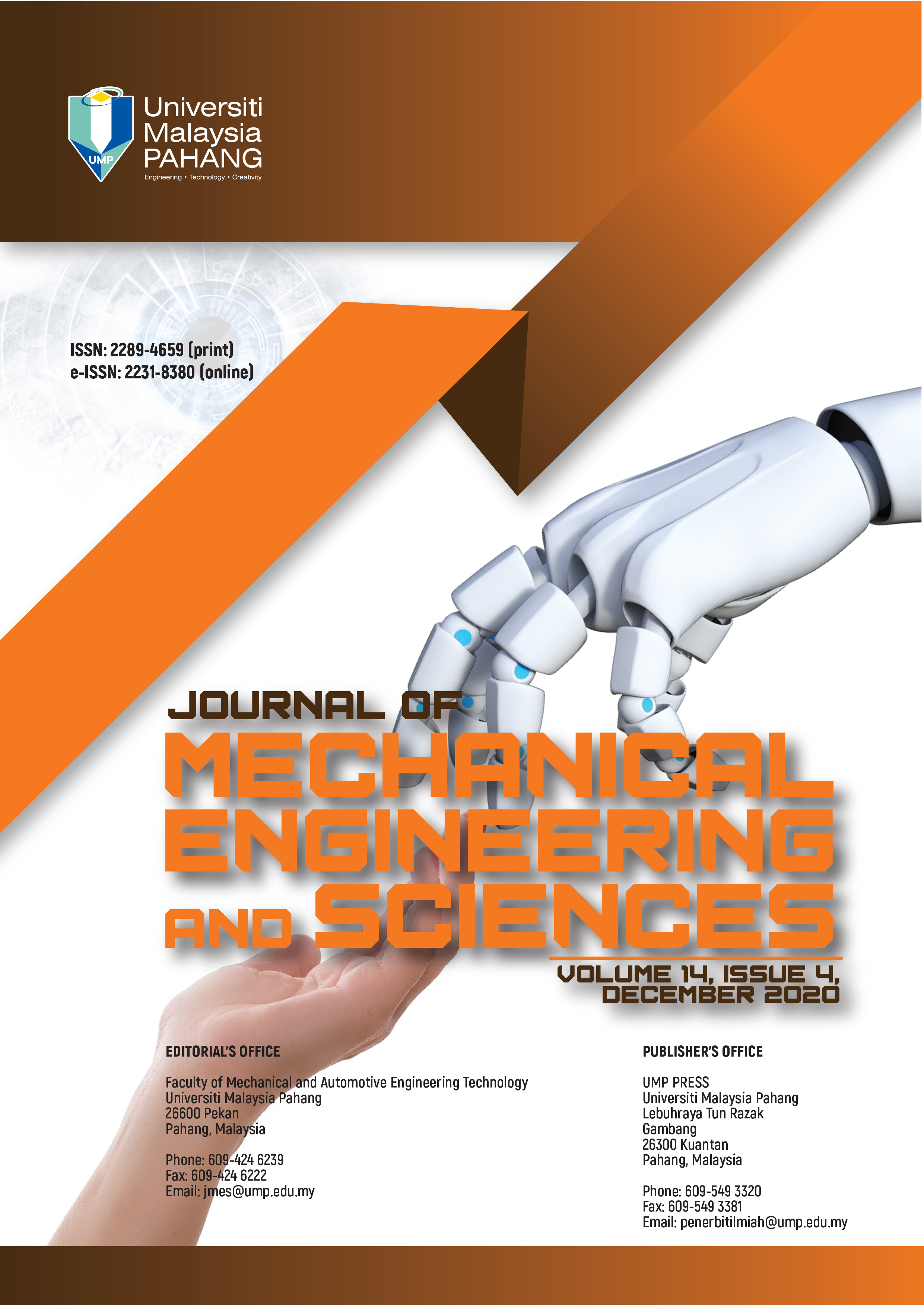 How to Cite
Zalinawati, M., Siregar, J. P., Tezara, C., Jaafar, J., Sazali, N., Oumer, A., & Hamdan, M. (2020). The effect of fibre treatment on water absorption and mechanical properties of buri palm (Corypha utan) fibre reinforced epoxy composites. Journal of Mechanical Engineering and Sciences, 14(4), 7379 - 7388. https://doi.org/10.15282/jmes.14.4.2020.06.0580
Copyright (c) 2020 UMP Press
This work is licensed under a Creative Commons Attribution-NonCommercial 4.0 International License.