Effect of impregnation on hybrid mesoporous silica / kenaf reinforced epoxy composites in term of flexural, compressive and water absorption properties
F. Bajuri

Aerospace Engineering Department, Faculty of Engineering, Universiti Putra Malaysia, 43000 UPM Serdang, Selangor, Malaysia. Phone: +60397696403

N. Mazlan

Aerospace Engineering Department, Faculty of Engineering, Universiti Putra Malaysia, 43000 UPM Serdang, Selangor, Malaysia. Phone: +60397696403

M. R. Ishak

Aerospace Engineering Department, Faculty of Engineering, Universiti Putra Malaysia, 43000 UPM Serdang, Selangor, Malaysia. Phone: +60397696403

M. K. A. Uyup

Forest Products Division, Forest Research Institute Malaysia (FRIM), 52109, Kepong, Kuala Lumpur, Selangor, Malaysia
Keywords:
kenaf, mesoporous silica, hybrid composites, natural fibre reinforced composites
Abstract
In this work, mesoporous silica with designated amount was added in kenaf/epoxy composites to improve the mechanical properties of the composite and reduce the water uptake of fabricated composites. The composites were fabricated using hot press method (HP) and impregnation method (IMP). For HP specimens, silica was dispersed into epoxy resin using homogenizer before being applied to the kenaf mat and subsequently hot pressed. While for IMP specimens, the kenaf mat was placed inside the silica/epoxy solution under 600 mm Hg impregnation pressure before being hot pressed. The results for flexural properties revealed that IMP specimen with 40 vol% of kenaf fibre and 5 vol% of silica have the highest strength and modulus at 78.6 MPa and 5.11 GPa respectively. Same trend can be seen for compressive properties as the same specimen had the highest compressive strength and modulus at 69.3 MPa and 1.81 GPa respectively. Finally for water absorption properties, IMP specimens had a reduction in water uptake compared to its HP specimen counterparts with the same kenaf and silica content. IMP specimen with 60 vol% kenaf and 5 vol% silica had the lowest water uptake after 90 days of immersion in distilled water at 13.5% increase in weight.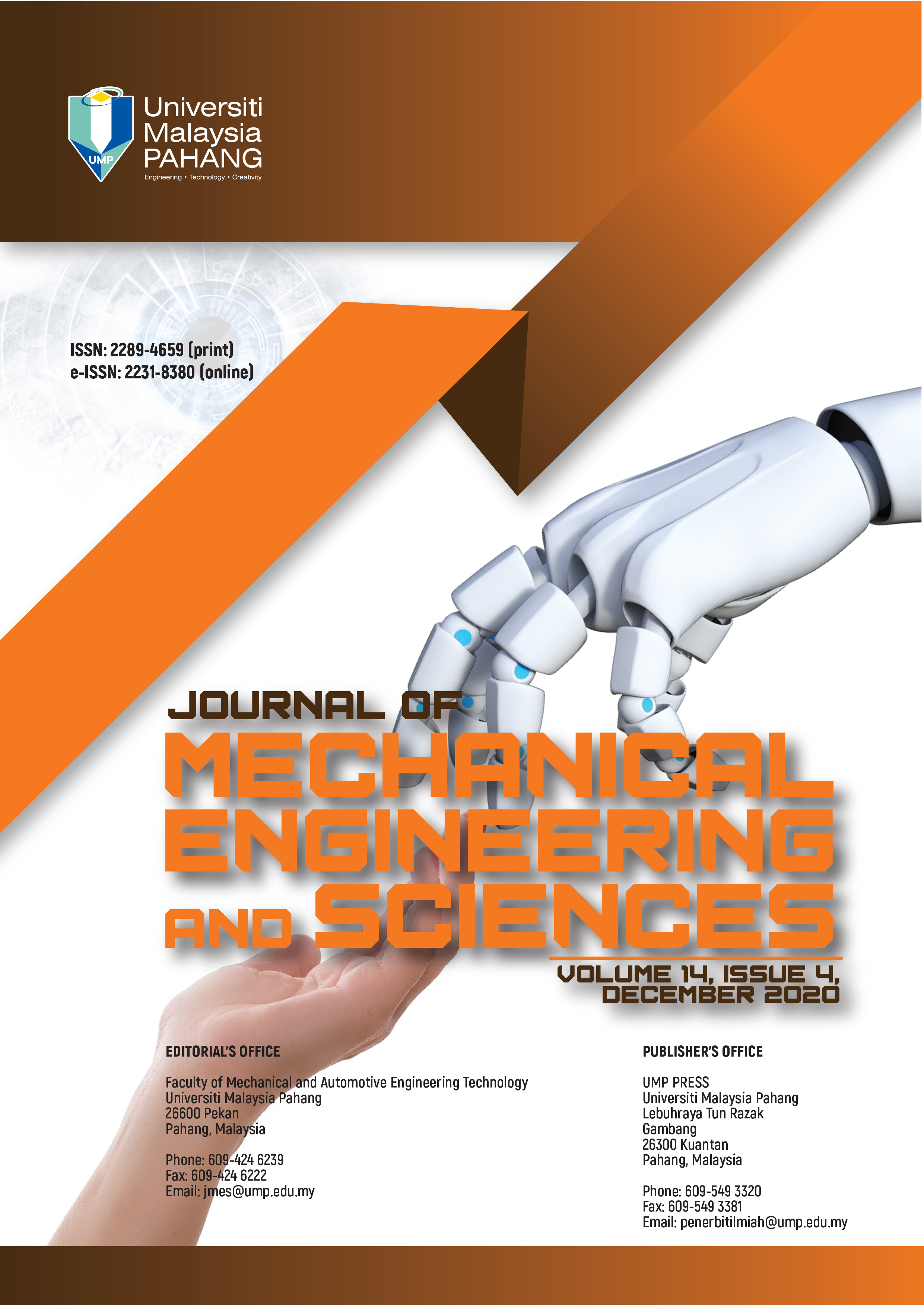 How to Cite
Bajuri, F., Mazlan, N., Ishak, M. R., & Uyup, M. K. A. (2020). Effect of impregnation on hybrid mesoporous silica / kenaf reinforced epoxy composites in term of flexural, compressive and water absorption properties. Journal of Mechanical Engineering and Sciences, 14(4), 7528 - 7539. https://doi.org/10.15282/jmes.14.4.2020.19.0593
Copyright (c) 2020 UMP Press
This work is licensed under a Creative Commons Attribution-NonCommercial 4.0 International License.