Effect of semi-solid forming temperature and heat treatment on mechanical properties and microstructure of Mg-Al-Zn Alloy (AZ91D) for automotive light application
M.R. M. Kamal

Department of Manufacturing Engineering Technology, Faculty of Mechanical and Manufacturing Engineering Technology, Universiti Teknikal Malaysia Melaka, Hang Tuah Jaya, 76100 Durian Tunggal, Melaka, Malaysia. Phone: +6072704140

N.F. Bazilah

Department of Manufacturing Engineering Technology, Faculty of Mechanical and Manufacturing Engineering Technology, Universiti Teknikal Malaysia Melaka, Hang Tuah Jaya, 76100 Durian Tunggal, Melaka, Malaysia

M.H. Idris

Department of Materials, Manufacturing, and Industrial Engineering, School of Mechanical Engineering, Faculty of Engineering, Universiti Teknologi Malaysia,81310 Skudai, Johor, Malaysia

M.S. Salleh

Department of Manufacturing Processes, Faculty of Manufacturing Engineering, Universiti Teknikal Malaysia Melaka, Hang Tuah Jaya, 76100 Durian Tunggal, Melaka, Malaysia

W.F.F. W. Ali

Department of Materials, Manufacturing, and Industrial Engineering, School of Mechanical Engineering, Faculty of Engineering, Universiti Teknologi Malaysia,81310 Skudai, Johor, Malaysia
Keywords:
Semi solid, forming temperature, heat treatment, tensile strength, hardness, microstructure, AZ91D
Abstract
Magnesium alloy usage in manufacturing engineering components resulting in weight reduction and as a consequence, reduction in fuel and energy consumption. Magnesium has a relatively low density and roughly 30% lighter than aluminum. However, magnesium is considered to be difficult to deform because of the HCP structure. In this present work, the effect of semi-solid forming temperature and heat treatment on mechanical properties of Mg-Al-Zn were investigated. Mg-Al-Zn ingot was machined into a billet and formed with three different temperatures and underwent T4 heat-treatment process. To determine the mechanical properties and microstructure of the magnesium alloy, tensile and hardness test were performed and the result indicates that the highest average maximum tensile stress was achieved at 209 MPa at 530ºC after forming with T4 heat treatment and highest hardness value was at  21.44 HRB at 560ºC. On the other hand, effect of the forming temperature gives impact to the evolution of the microstructure from large grain size (as-cast) to the smaller grains size (0.00797mm2) forming at 560°C. This relate to the extensive dynamic recrystallization (DRX) occurs during forming and Mg-Al-Zn was sensitive with heat either direct or indirect heating method.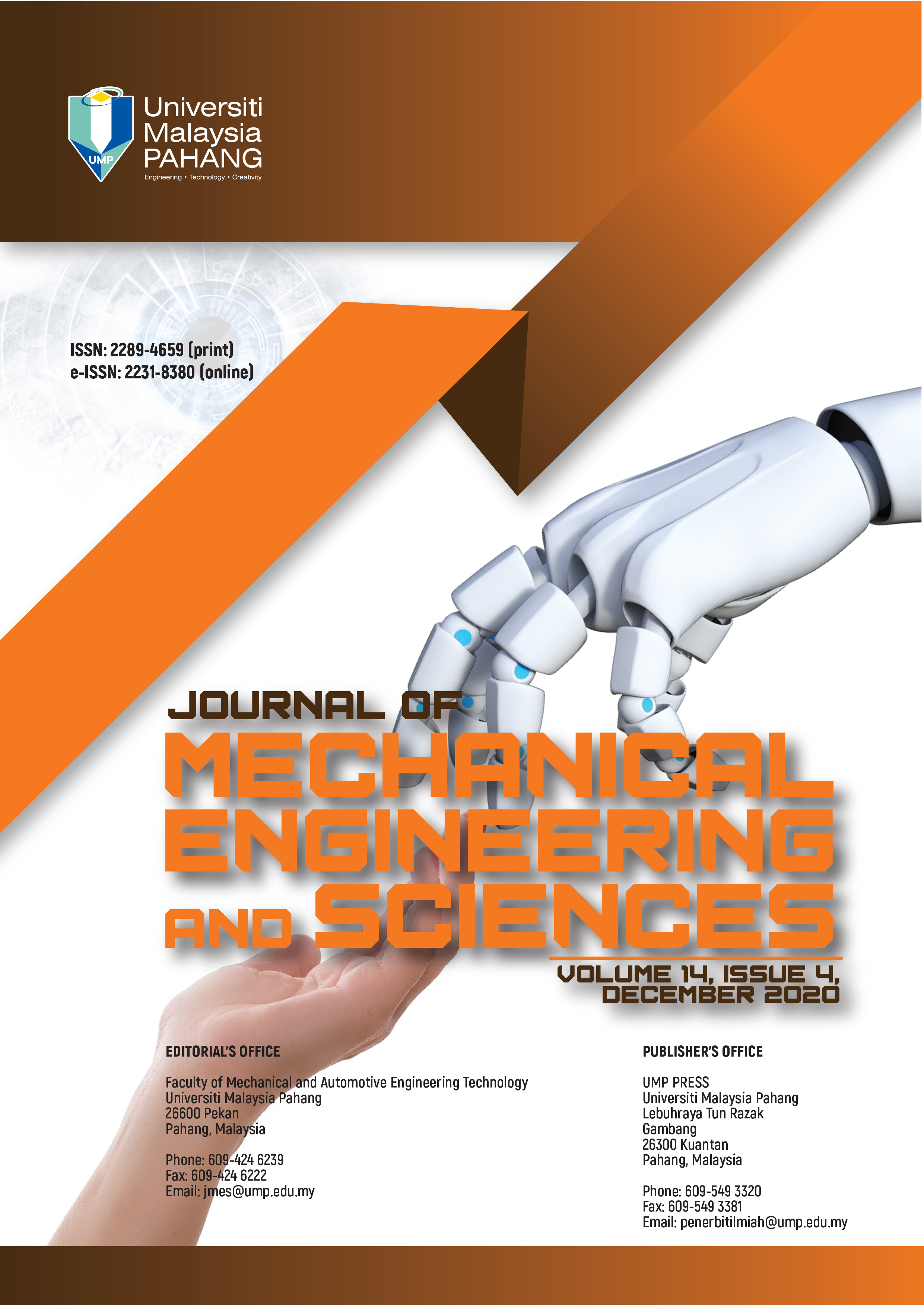 How to Cite
M. Kamal, M., Bazilah, N., Idris, M., Salleh, M., & W. Ali, W. (2020). Effect of semi-solid forming temperature and heat treatment on mechanical properties and microstructure of Mg-Al-Zn Alloy (AZ91D) for automotive light application. Journal of Mechanical Engineering and Sciences, 14(4), 7319 - 7327. https://doi.org/10.15282/jmes.14.4.2020.01.0575
Copyright (c) 2020 UMP Press
This work is licensed under a Creative Commons Attribution-NonCommercial 4.0 International License.