Characteristic of thermoplastics corn starch composite reinforced short pineapple leaf fibre by using laminates method
Keywords:
Bio-composites, Biodegradable, Thermoplastic corn starch, Pineapple leaf fibre
Abstract
In recent years, the increased demand of biodegradable polymers has sparked the research interest in the development of alternatives to conventional polymers. As such, starch considerably one of the best substitutes to the non-degradable polymers owing to its advantages. The main purpose of this study is to investigate the mechanical, physical and environmental characterization of bio-composites, which is in this case the thermoplastic corn starch (TPCS) reinforced with a 2 mm length of pineapple leaf fibre (PALF). The selection of different weight percentages in the range of 20 to 60 weight percentage (wt.%) of PALF contents were applied in this work. The mixtures of TPCS with different wt.% of PALF were made by using a hot compression moulding at 165 °C for 15 minutes. Several testing has been performed to determine the bio-composites characteristics. The results show that by incorporating 40 wt.% loading of PALF, the tensile and modulus strength has increased to the maximum. It is also seen that there is an inverse relationship between the moisture content and the wt.% loading of PALF. However, the water and moisture absorption show a direct relationship with wt.% loading of PALF. Meanwhile, the soil burial decreases when the wt.% loadings of PALF increase while the results for water solubility suggest vice versa. It is also found that the TPCS with 40 wt.% of PALF have a good miscibility between matrix/fibre in the bio-composites.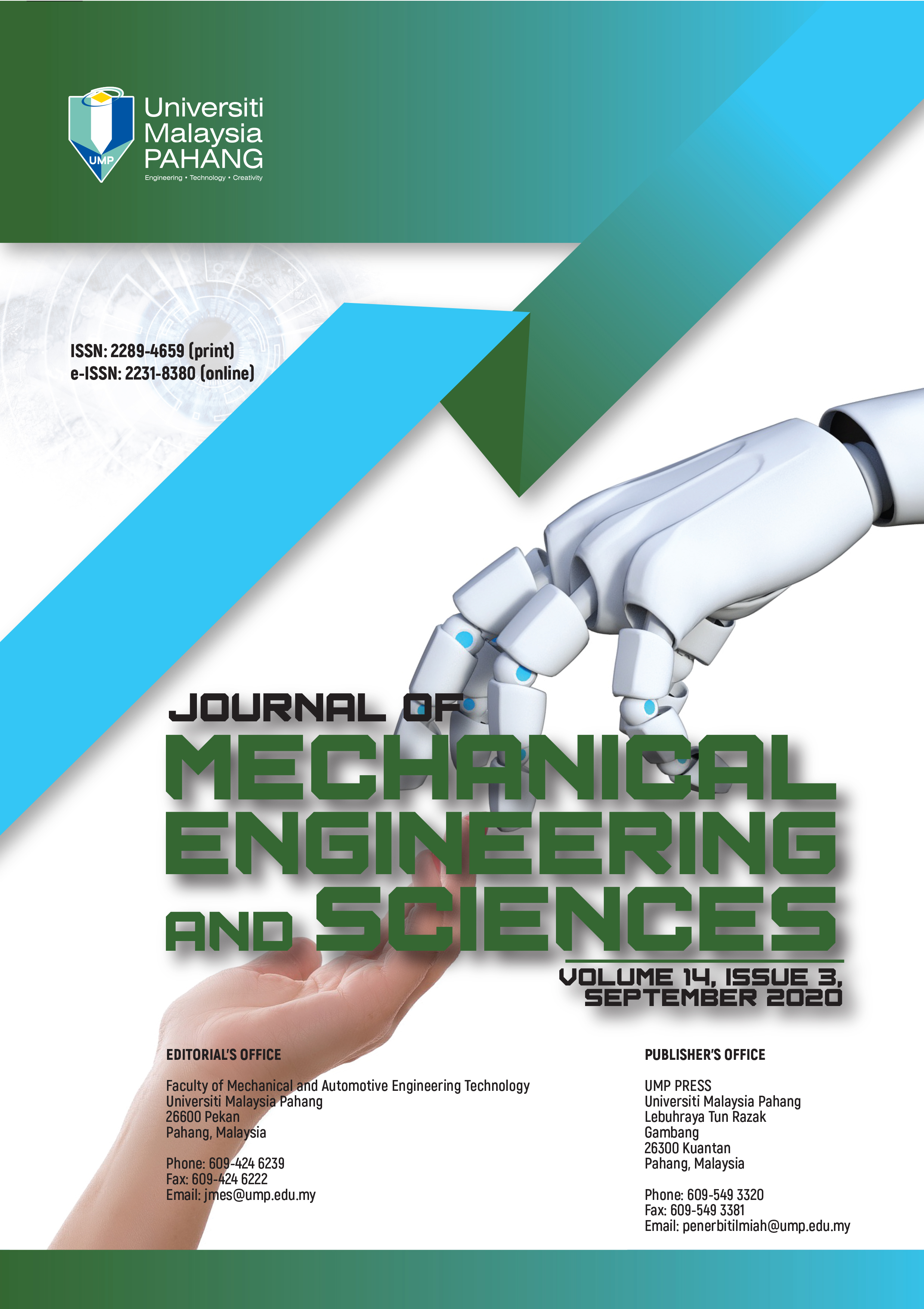 Downloads
How to Cite
Zakaria, N. H., Ngali, M. Z., Selamat, M. Z., Abdul Munir, F., & Aman, M. A. (2020). Characteristic of thermoplastics corn starch composite reinforced short pineapple leaf fibre by using laminates method. Journal of Mechanical Engineering and Sciences, 14(3), 7058–7070. https://doi.org/10.15282/jmes.14.3.2020.08.0553