Ketamadunan Bangsa dan Kesantunan Berbahasa
Civilization of Nations and Language Politeness
Keywords:
Bahasa, Holistik, Kesantunan bahasa, Tamadun
Abstract
Ketamadunan sering kali diasosiasikan dengan kemajuan fizikal sesebuah negara. Pandangan ini tidak bersifat holistik kerana ketamadunan seharusnya dilihat berdasarkan kombinasi maju fizikal, mental dan rohani anggota masyarakat. Fizikal, mental dan rohani mesti seimbang dalam konteks ini. Maju mental dan rohani ini berkaitan dengan kesantunan berbahasa yang menjadi isu dari semasa ke semasa dalam kalangan anggota masayarakat. Perkembangan teknologi semasa yang menyediakan platform perkongsian maklumat di media sosial mempamerkan masyarakat yang "sakit" apabila kesantunan berbahasa tidak dipraktiskan. Terdapat segelintir anggota masyarakat yang tidak mempraktiskan peraturan linguistik, sosiolinguistik dan pragmatik apabila berkomunikasi yang menyebabkan situasi berkonflik wujud. Di Malaysia, isu ini dianggap serius. Bagi membendung masalah ini, Parlimen Malaysia telah menggubal undang-undang yang dirujuk sebagai Akta Komunikasi dan Multimedia 1998 [Akta 588] dan beberapa Akta lain yang berkaitan dengan penggunaan bahasa dan cakupan maknanya kepada masyarakat di media sosial. Penggunaan bahasa ini berkaitan dengan kesantunan berbahasa. Kegagalan anggota masyarakat dalam mempraktiskan kesantunan berbahasa ini bertitik tolak daripada tindakan dan pilihan anggota masyarakat sendiri. Ini kerana dasar pendidikan dan kitab suci dalam mana-mana agama pun sememangnya mengajar penganutnya untuk mewujudkan suasana bebas konflik. Suasana bebas konflik dapat diwujudkan apabila anggota masyarakat mengamalkan kesantunan berbahasa. Lanjutan itu, kesedaran akan perlunya kesantunan berbahasa harus dilakukan dari semasa ke semasa bagi mengelakkan konflik dalam negara yang juga tidak mustahil akan tersebar di luar negara sekiranya gagal dibendung.
Civilization is often associated with the physical progress of a nation. This perspective is not holistic because civilization should be evaluated based on a combination of physical, mental, and spiritual advancement of the members of society. Physical, mental, and spiritual aspects should be in balance in this context. Mental and spiritual progress is closely related to language politeness, which periodically becomes an issue among community members. The current technological advancements that provide information-sharing platforms on social media highlight a society that is 'ailing' when language politeness is not practiced. There are some community members who do not adhere to linguistic, sociolinguistic, and pragmatic rules when communicating, leading to the emergence of conflict situations. In Malaysia, this issue is taken seriously. To address this problem, the Malaysian Parliament has enacted laws referred to as the Communication and Multimedia Act 1998 [Act 588] and several other related Acts that regulate the use of language and its interpretation in social media among the public. The use of language is related to language politeness. The failure of community members to practice language politeness stems from their own actions and choices. This is because educational policies and religious scriptures in any faith indeed teach their followers to foster a conflict-free situation. A conflict-free situation can be established when community members practice language politeness. Furthermore, awareness of the necessity of language politeness should be periodically promoted to prevent conflicts within the country, which might potentially spill over beyond its borders if left unaddressed.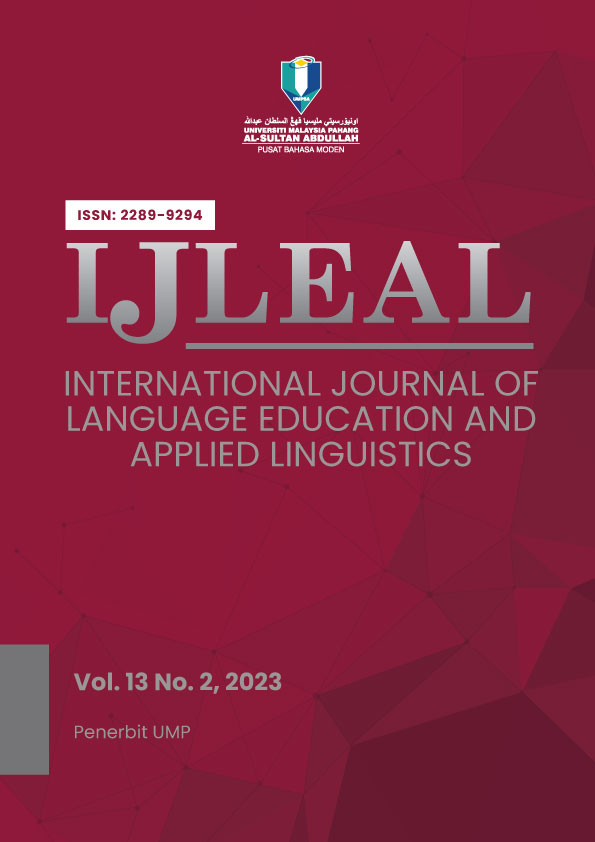 Downloads
How to Cite
Zahid, I. (2023). Ketamadunan Bangsa dan Kesantunan Berbahasa: Civilization of Nations and Language Politeness. International Journal of Language Education and Applied Linguistics, 13(2), 1–6. https://doi.org/10.15282/ijleal.v13i2.9928
License
Copyright (c) 2023 Universiti Malaysia Pahang Publishing
This work is licensed under a Creative Commons Attribution-NonCommercial 4.0 International License.