Synthesis of ZnO/ZnFe2O4 nanocomposites in organic-free media and their photocatalytic activity under natural sunlight
Rahmayeni Rahmayeni

Department of Chemistry, Faculty of Mathematic and Natural Sciences, Andalas University, 25163, Padang, Indonesia Phone:+6281363100506

Zulhadjri Zulhadjri

Department of Chemistry, Faculty of Mathematic and Natural Sciences, Andalas University, 25163, Padang, Indonesia Phone:+6281363100506

Yeni Stiadi

Department of Chemistry, Faculty of Mathematic and Natural Sciences, Andalas University, 25163, Padang, Indonesia Phone:+6281363100506

Agusnar Harry

Department of Chemistry, Faculty of Mathematic and Natural Sciences, Universitas Sumatera Utara, 20155, Medan, Indonesia

Syukri Arief

Department of Chemistry, Faculty of Mathematic and Natural Sciences, Andalas University, 25163, Padang, Indonesia Phone:+6281363100506
Keywords:
ZnO/ZnFe2O4, photocatalyst, organic-free media, natural sunlight, paramagnetic
Abstract
Nanocomposite ZnO/ZnFe2O4 photocatalysts with different proportions of ZnFe2O4 were synthesized in organic-free media using metal nitric as precursors. The ZnO phase with hexagonal wurtzite structure and low crystallinity of ZnFe2O4 was confirmed using XRD (X-Ray diffraction). Different morphologies of the nanocomposites were obtained ranging from rice grain-like with a porous surface to homogeneous sphere-like nanoparticles as shown in Scanning Electron Microscopy (SEM) and TEM Transmission Electron Microscopy (TEM) studies. Magnetic properties measured by Visible Sampler Magnetometer (VSM) showed diamagnetic and paramagnetic behavior for the nanocomposites. Analysis with Diffuse Reflectance Spectrophotometer (DRS) UV-vis showed an increase the composition of ferrite in composites increasing its ability to absorb visible light. Photocatalytic activities of ZnO/ZnFe2O4 nanocomposites on the degradation of Rhodamine B dye reached 95.6% after 3 h under natural sunlight suggesting their suitability for sunlight driven photocatalytic applications.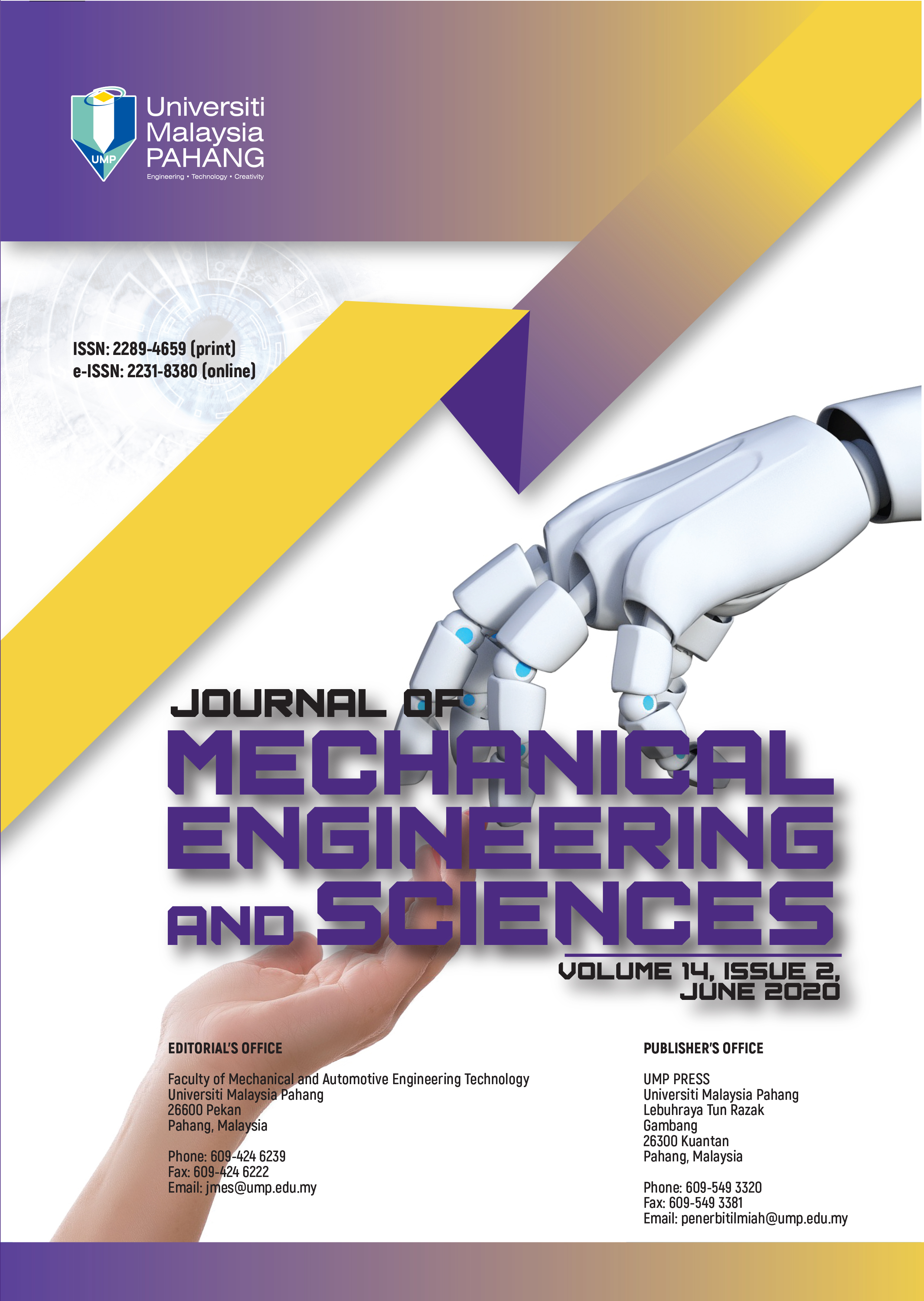 How to Cite
Rahmayeni, R., Zulhadjri, Z., Stiadi, Y., Harry, A., & Arief, S. (2020). Synthesis of ZnO/ZnFe2O4 nanocomposites in organic-free media and their photocatalytic activity under natural sunlight. Journal of Mechanical Engineering and Sciences, 14(2), 6801 - 6810. https://doi.org/10.15282/jmes.14.2.2020.20.0532
Copyright (c) 2020 UMP Publisher
This work is licensed under a Creative Commons Attribution-NonCommercial 4.0 International License.