Experimental investigation of free vibration analysis on fibre metal composite laminates
M. N. M. Merzuki

Structural Materials & Degradation Focus Group, Faculty of Mechanical Engineering, Universiti Malaysia Pahang, 26600 Pekan, Pahang, Malaysia

M. R. M. Rejab

Structural Materials & Degradation Focus Group, Faculty of Mechanical Engineering, Universiti Malaysia Pahang, 26600 Pekan, Pahang, Malaysia

M. S. M. Sani

Advanced Structural Integrity and Vibration Research Group, Faculty of Mechanical Engineering, Universiti Malaysia Pahang, 26600 Pekan, Pahang, Malaysia

Bo Zhang

School of Mechanical Engineering, Ningxia University, 750021 Yinchuan, China

Ma Quanjin

Structural Materials & Degradation Focus Group, Faculty of Mechanical Engineering, Universiti Malaysia Pahang, 26600 Pekan, Pahang, Malaysia
Keywords:
FMLs, natural frequency, impact hammer, ABAQUS
Abstract
Fiber metal laminates (FMLs) offer significant improvement over current available materials for structure materials due the excellent mechanical properties. In this work, the dynamical mechanical properties of the carbon fiber/epoxy, glass fiber/epoxy, aluminium 2024-T0, and fiber metal laminates was carried out. The composite materials have been manufactured by hot press machine. Non-destructive testing techniques are being used in the characterization of composite materials. In this work, free vibration analyses by striking an impact hammer at the free end were conducted to determine the dynamic characteristics of the samples. The results show that combination glass fiber/epoxy with aluminium 2024-T0 offer greater natural frequency value compare to carbon fiber/epoxy with aluminium 2024-T0. The laminate thickness of play a dominant role in differences of natural frequency values.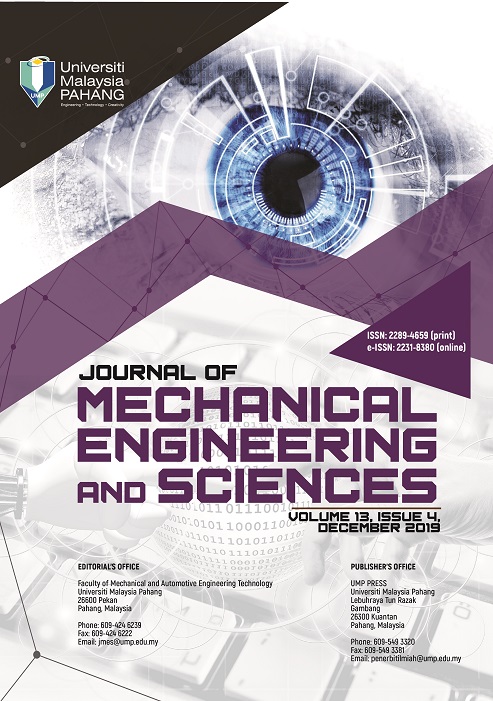 How to Cite
M. Merzuki, M. N., M. Rejab, M. R., M. Sani, M. S., Zhang, B., & Quanjin, M. (2019). Experimental investigation of free vibration analysis on fibre metal composite laminates. Journal of Mechanical Engineering and Sciences, 13(4), 5753-5763. https://doi.org/10.15282/jmes.13.4.2019.03.0459
Copyright (c) 2019 UMP Press
This work is licensed under a Creative Commons Attribution-NonCommercial 4.0 International License.