A comparative study on the vibration of functionally graded Magneto-Electro-Elastic rectangular plate rested on a Pasternak foundation based on exponential and first-order shear deformation theories
Hamidreza Talebi Amanieh

Department of Mechanical Engineering, Ahvaz Branch, Islamic Azad University, Ahvaz, Iran. Phone: +986133348420-4; Fax: +986133329200

Seyed Alireza Seyed Roknizadeh

Department of Mechanical Engineering, Ahvaz Branch, Islamic Azad University, Ahvaz, Iran. Phone: +986133348420-4; Fax: +986133329200

Arash Reza

Department of Mechanical Engineering, Faculty of Engineering, Shahid Chamran University of Ahvaz, Ahvaz, Iran
Keywords:
FG-MEE plate, in-plane vibrations, out-of-plane vibrations, first-order shear deformation theory, exponential shear deformation theory, Pasternak foundation
Abstract
In this paper, the in-plane and out-of-plane free vibrations of the functionally graded magneto-electro-elastic (FG-MEE) rectangular plate on a pasternak foundation were evaluated based on exponential shear deformation theory (ESDT) and first order shear deformation theory (FSDT). The material properties of FG-MEE varied along the thickness according to a power-law distribution model. It was assumed that the FG-MEE plate is subjected to initial external electrical and magnetic potentials; mreover, simply-supported boundary conditions were considered for all the edges of the FG-MEE plate. Firstly, the corresponding partial differential equations (PDEs) were derived using Hamilton's principle, then, the natural frequencies were determined by solving the obtained equations through Navier's approach according to the assumed boundary conditions. The results revealed that the natural frequencies of the plate decrease/increase with the increase of the electric/magnetic potentials. Moreover, the results showed a 0.03%, difference between the natural frequencies of the plate with a thickness-to-length ratio of 0.1 based on FSDT and ESDT; when the aspect ratio was increased to 0.2 and 0.3 this difference rose to 0.2% and 0.5%, respectively.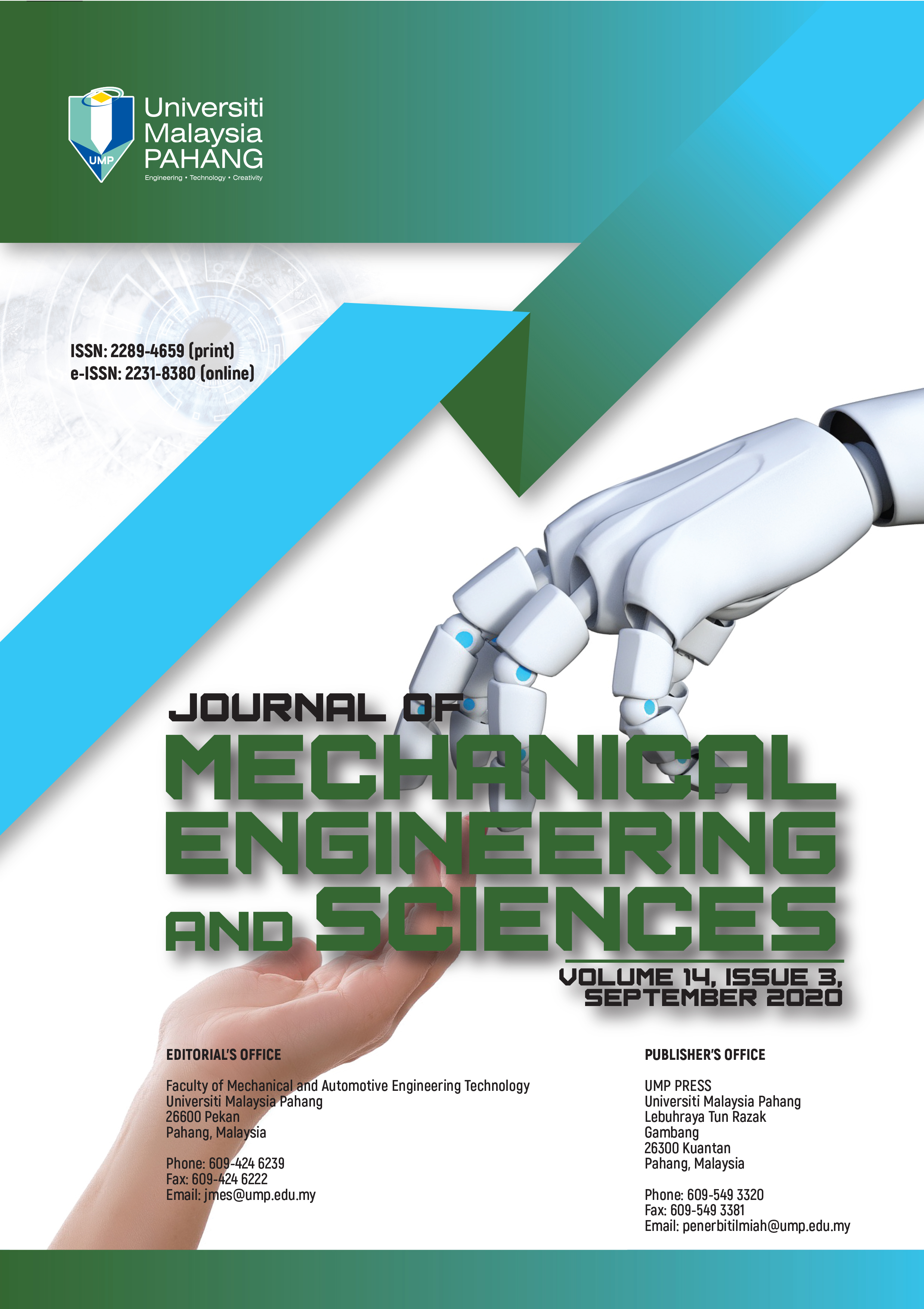 How to Cite
Talebi Amanieh, H., Seyed Roknizadeh, S. A., & Reza, A. (2020). A comparative study on the vibration of functionally graded Magneto-Electro-Elastic rectangular plate rested on a Pasternak foundation based on exponential and first-order shear deformation theories. Journal of Mechanical Engineering and Sciences, 14(3), 7205 - 7221. https://doi.org/10.15282/jmes.14.3.2020.21.0566
Copyright (c) 2020 UMP Publisher
This work is licensed under a Creative Commons Attribution-NonCommercial 4.0 International License.