Evaluation of thermal performance for natural and forced draft wet cooling tower
M. J. Al-Dulaimi

Department of air conditioning and Refrigeration Engineering Technologies, Al-Esraa university collage, Baghdad, Iraq

F. A. Kareem

Institute of Technology Baghdad, Middle Technical University, Baghdad, Iraq

F. A. Hamad

Engineering School of Science & Engineering, Teesside University, Middlesbrough, TS1 3BA, UK
Keywords:
Cooling tower, experimental measurements, natural draft, forced draft, CFD modelling
Abstract
This paper presents an experimental and numerical investigation of the thermal performance of natural draft wet cooling tower (NDWCT). The experimental investigation is carried out under natural draft condition and forced draft condition created by an axial fan. The operational parameters considered in this study are the thickness of the fill (10 and 20 cm), inlet water temperature (40, 45, and 50 °C) and inlet water volume flow rate (5.68, 7.75, and 9.46 L/min). The experimental results showed that the thermal performance is improved when the fans are used with the NDWCT. The temperature difference between inlet and outlet and effectiveness increase by 35% and 37.2%, respectively at fill thickness of 20 cm and water volume flow rate of 11.35 L/min. The temperature distribution of the air and the relative humidity were numerically simulated for both cases of natural and forced draft by employing the commercial CFD software ANSYS Fluent 15. The experimental and numerical results were validated with results from a previous work and showed a good agreement. The experimental results showed that the effectiveness increase by 22% and 30% for NDWCT and FDWCT respectively when in case of fill thickness 20 cm.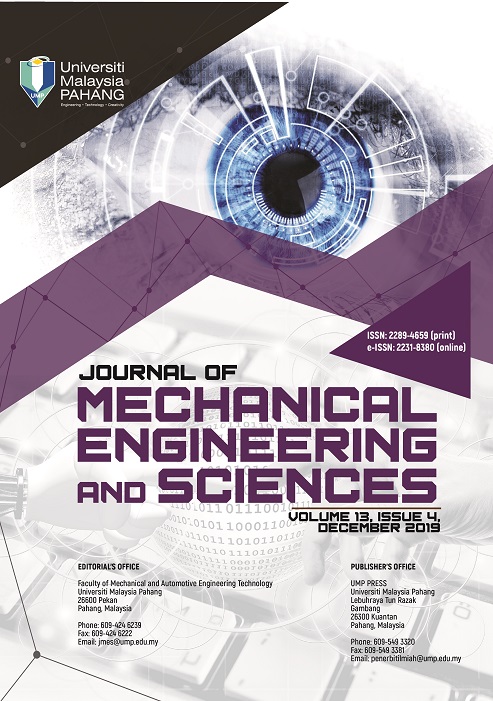 How to Cite
Al-Dulaimi, M. J., A. Kareem, F., & Hamad, F. A. (2019). Evaluation of thermal performance for natural and forced draft wet cooling tower. Journal of Mechanical Engineering and Sciences, 13(4), 6007-6021. https://doi.org/10.15282/jmes.13.4.2019.19.0475
Copyright (c) 2019 UMP Press
This work is licensed under a Creative Commons Attribution-NonCommercial 4.0 International License.