A COMPUTER-AIDED DIAGNOSIS (CAD) SYSTEM FOR AUTOMATIC COUNTING OF KI67 CELLS IN MENINGIOMA
Keywords:
Automated Counting, Computer-Aided Diagnosis, Ki67, Meningioma, Tumour Grading
Abstract
Meningioma is a type of primary brain tumour where this tumour arises in the three thin layers of tissues, called meninges. Tumour grading is usually used to describe tumour cells' characteristics and behaviours and how they look under a microscope. There were many techniques used for determining the grade of the tumour. Ki67 was the most common proliferation marker used to measure cell proliferation activity. Currently, pathologists used the manual counting technique to count the Ki67 cells before determining tumour grading. However, this technique was time-consuming, tiring and the counting results are often not accurate. Besides that, manual counting has poor reproducibility and discordant between counting values' among the pathologist. Therefore, this study aimed to develop a Computer-Aided Design (CAD) software that automatically counts the Ki67 cells for determining tumour grading. The purpose of developing this software is to alleviate pathologists' workload associated with counting Ki67 cells and scoring the Ki67 index. The CAD software was developed through seven stages. Based on Pearson Correlation Coefficient results, there was a good positive correlation between the proposed technique with the manual counting technique in counting positive and negative Ki67 cells with a correlation of 0.99 and 0.72 respectively. The proposed CAD system also showed promising results in computing the Ki67 labeling index with a low percentage absolute error of 1.85%.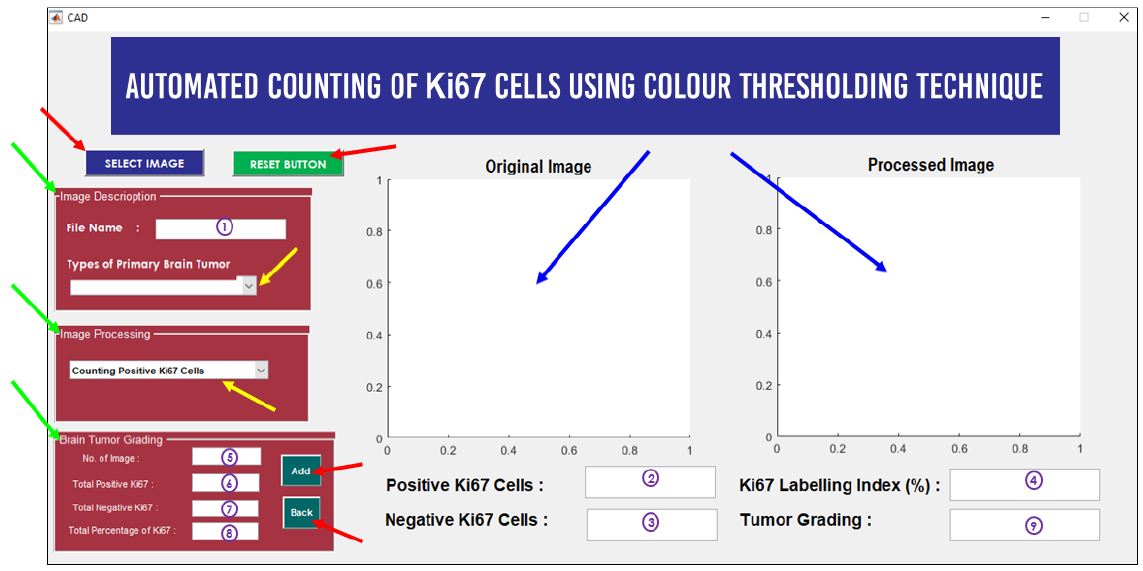 Downloads
How to Cite
FAHMI AKMAL DZULKIFLI, MASHOR, M. Y., & JAAFAR, H. (2022). A COMPUTER-AIDED DIAGNOSIS (CAD) SYSTEM FOR AUTOMATIC COUNTING OF KI67 CELLS IN MENINGIOMA. International Journal of Software Engineering and Computer Systems, 8(2), 10–24. https://doi.org/10.15282/ijsecs.8.2.2022.2.0099
Section
Full Length Article
License
Copyright (c) 2022 University Malaysia Pahang Publishing
This work is licensed under a Creative Commons Attribution 4.0 International License.