Performance of air source air conditioning water heater using trombone coil dummy condenser with different diameter and pipe length
A. Aziz

Department of Mechanical Engineering, Faculty of Engineering, Universitas Riau, Jl. Subrantas km12.5 Pekanbaru 28293, Indonesia

A. Samri

Department of Mechanical Engineering, Faculty of Engineering, Universitas Riau, Jl. Subrantas km12.5 Pekanbaru 28293, Indonesia

R. I. Mainil

Department of Mechanical Engineering, Faculty of Engineering, Universitas Riau, Jl. Subrantas km12.5 Pekanbaru 28293, Indonesia

A. K. Mainil

Department of Mechanical Engineering, Faculty of Engineering, Universitas Bengkulu,Jl. WR Supratman, Kandang Limun, Bengkulu 38371A, Indonesia
Keywords:
Dummy condenser, air conditioning, cooling capacity, trombone coil, COP
Abstract
The Air Source Air Conditioning Water Heater (ASACWH) performance as an energy source to heat water in the tank using dummy condenser type of trombone coil with different diameter and pipe length without hot water circulation has been investigated. The diameter and length of the dummy condenser pipe are intensely affected by ACWH performance. In this study, cooling capacity, Coefficient of Performance (COP), compressor power and room temperature were evaluated in three types of trombone coil (6.4 mm coil diameter with a length of 7.9 m, 6.4 mm coil diameter with a length of 5.3 m, and 9.5 mm coil diameter with a length of 5.3 m) with different cooling load variation. This study used cooling load with a variation of 0 W, 1000 W, 2000 W, and 3000 W without hot water circulation in the simulation room. It was found that the ASACWH using a pipe with a coil diameter of 6.4 mm and length of 7.9 m performed the highest cooling capacity and COP, and produced more comfortable room temperature than the other two pipes. The results indicated that when the cooling load icreased from 0 W to 3000 W, the compressor power increased by 11.3%, 6.3%, and 9.3%, using the 6.4 mm coil diameter with 7.9 m length, 6.4mm diameter of the coil with 5.3m length and 9.5mm coil diameter with 5.3m length, respectively.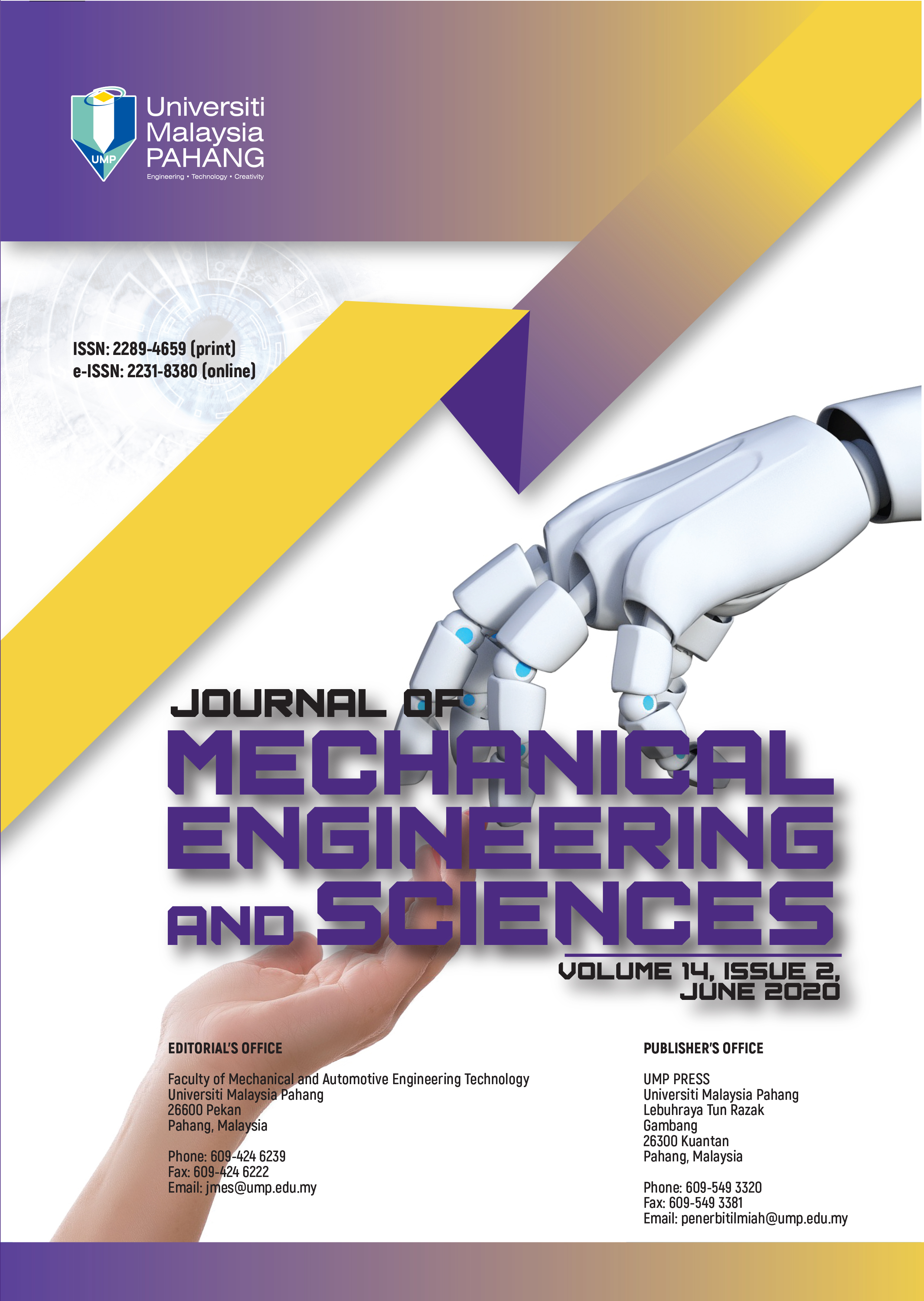 How to Cite
Aziz, A., Samri, A., Mainil, R. I., & Mainil, A. K. (2020). Performance of air source air conditioning water heater using trombone coil dummy condenser with different diameter and pipe length. Journal of Mechanical Engineering and Sciences, 14(2), 6743 - 6752. https://doi.org/10.15282/jmes.14.2.2020.16.0528
Copyright (c) 2020 UMP Publisher
This work is licensed under a Creative Commons Attribution-NonCommercial 4.0 International License.