Thermodynamic and exergic modelling of a combined cooling, heating and power system based on solid oxide fuel cell
J. Pirkandi

Faculty of Aerospace Engineering, Malek Ashtar University of Technology 15875-1774, Tehran, IRAN, Phone: +982122945141; Fax: +982122935341

A. M. Joharchi

Faculty of Mechanical Engineering, West Branch of Azad University 1468763785, Tehran, IRAN

M. Ommian

Faculty of Aerospace Engineering, Malek Ashtar University of Technology 15875-1774, Tehran, IRAN, Phone: +982122945141; Fax: +982122935341
Keywords:
Solid oxide fuel cell, Absorption chiller, Entropy, Exergy
Abstract
In this research, thermodynamic and exergic analyses have been carried out on a combined cooling, heating and power cogeneration system that includes a solid oxide fuel cell and a single-effect lithium bromide absorption chiller. Results indicate that by increasing the system inlet air flow rate, the overall efficiency of the hybrid system is reduced, due to the reduction of the cell's working temperature and exhaust gases temperature; while an increase in the working pressure of the system has no effect on its efficiency. The results also show that by raising the temperature of exhaust gases, the rate of exergy destruction diminishes, while the rate of exergy loss in the hybrid system increases. In the absorption chiller cycle, the maximum exergy destruction rate occurs in the generator, and the minimum rate is achieved in the pressure-reducing valve, between the evaporator and the condenser. Also, in the fuel cell cycle, the highest exergy destruction rate occurs in the heat exchanger of the inlet air to the cell, and the lowest exergy destruction rate occurs in the two water pumps. Moreover, the entropy generation rate and the exergy destruction rate of the fuel cell cycle are higher than those of the chiller cycle.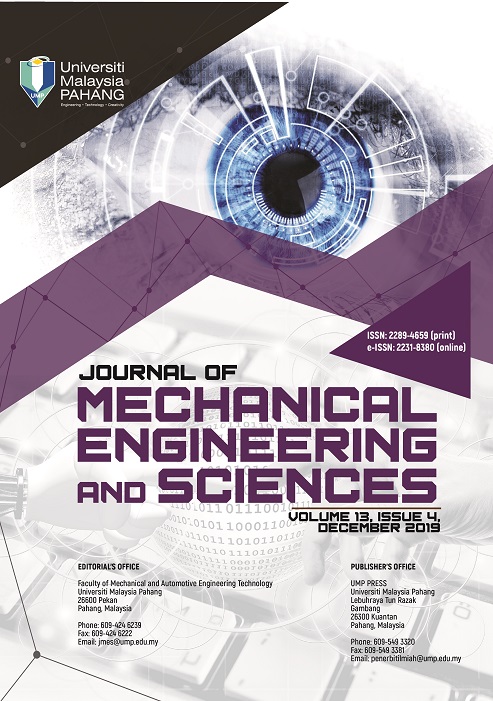 How to Cite
Pirkandi, J., Joharchi, A. M., & Ommian, M. (2019). Thermodynamic and exergic modelling of a combined cooling, heating and power system based on solid oxide fuel cell. Journal of Mechanical Engineering and Sciences, 13(4), 6088-6111. https://doi.org/10.15282/jmes.13.4.2019.23.0479
Copyright (c) 2019 UMP Press
This work is licensed under a Creative Commons Attribution-NonCommercial 4.0 International License.