An experimental investigation on the performance of a thermoelectric dehumidification system
P. Rakkwamsuk

Materials Technology Division, School of Energy, Environment  and  Materials, King Mongkut's University of Technology Thonburi, 126 Pracha Uthit Rd., Bang Mod, Thung Khru, Bangkok 10140, Thailand

P. Paromupatham

Energy Technology Division, School of Energy, Environment  and  Materials, King Mongkut's University of Technology Thonburi, 126 Pracha Uthit Rd., Bang Mod, Thung Khru, Bangkok 10140, Thailand

K. Sathapornprasath

Department of Mechanical Engineering, Faculty of Engineering, Srinakharinwirot University, 63, Moo 7, Ongkharak, Nakorn Nayok, 26120, Thailand

C. Lertsatitthanakorn

Energy Technology Division, School of Energy, Environment  and  Materials, King Mongkut's University of Technology Thonburi, 126 Pracha Uthit Rd., Bang Mod, Thung Khru, Bangkok 10140, Thailand

S. Soponronnarit

Energy Technology Division, School of Energy, Environment  and  Materials, King Mongkut's University of Technology Thonburi, 126 Pracha Uthit Rd., Bang Mod, Thung Khru, Bangkok 10140, Thailand
Keywords:
Thermoelectric, COP, Heat sink
Abstract
A thermoelectric (TE) air-cooling system for dehumidifying indoor air in a building was investigated. The system was composed of 4 TE modules. The cold sides of the TE modules were fixed to an aluminum heat sink to remove moisture in the air of a test chamber of 1 m3 volume, while a heat sink with circulating cooling water at the hot sides of the TE modules was used for heat release. The effects of input electric current to the TE modules and air flow rate through the heat sink were experimentally determined. The system's performance was evaluated using dehumidification effectiveness and coefficient of performance (COP). A suitable condition occurred at 18.5 A of current flow and 240 W of power being supplied to the TE modules with a corresponding cooling capacity of 149.5 W, which gave a dehumidification effectiveness of 0.62. Therefore, it is anticipated the proposed TE dehumidifier concept will contribute to the air conditioning system's reduction of room humidity.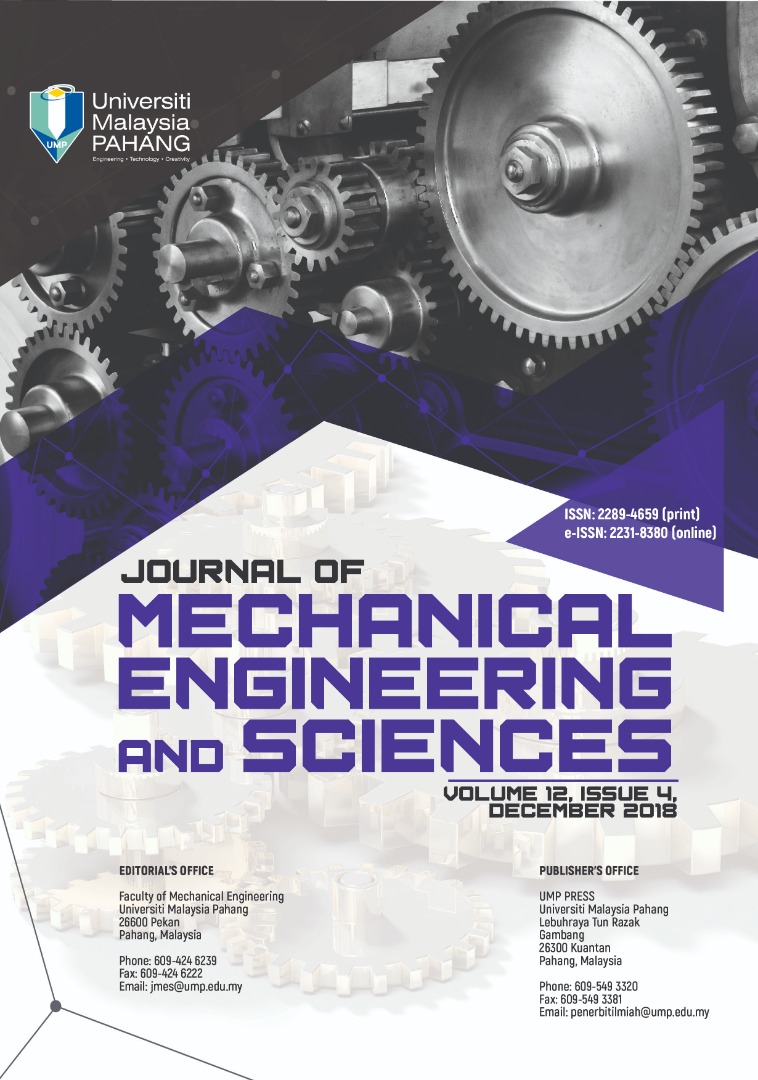 How to Cite
Rakkwamsuk, P., Paromupatham, P., Sathapornprasath, K., Lertsatitthanakorn, C., & Soponronnarit, S. (2018). An experimental investigation on the performance of a thermoelectric dehumidification system. Journal of Mechanical Engineering and Sciences, 12(4), 4117-4126. https://doi.org/10.15282/jmes.12.4.2018.10.0356
Copyright (c) 2018 UMP Publisher
This work is licensed under a Creative Commons Attribution-NonCommercial 4.0 International License.