The DETECTION ESCHERICHA COLI BACTERIA: A REVIEW OF IMAGE PROCESSING METHODS
Keywords:
E.coli bacteria, image processing, standard technique, smartphone
Abstract
There have been numerous chemical studies to detect Eschericha Coli Bacteria or better known as E.coli bacteria. However, studies using image processing to detect E.coli bacteria have been restricted. There is an urgent need to incorporate image processing into systematic reviews for the identification of E.coli in water or food samples. The E.coli detection process takes between 24 hours to 48 hours as the bacteria needs to go through the growth phase as a result of a mixture of water samples and chemical reagents and then placed in an incubator at certain temperatures and humidity.  This article review several approaches for E.coli bacteria detection from standard technique, portable hybrid imaging system, hybrid smartphone and microfluidic biosensor, smartphone and paper microfluidics and goes to fibre optics. The colour change after several hours is an indicator for detecting the presence of E.coli bacteria in the water sample. Although standard techniques such as Gold Nanoparticles, Solid phase Cytometry, Viable Plate Count and Polymerase Chain Reaction (PCR) for detection the presence of E.coli, the use of this technique involving the transfer of water samples to the laboratory, trained staff, longer sample monitoring process, expensive costs and complex procedures. E.coli detection techniques are also going through a revolutionary phase as technology advances by using a hybrid technique that combines standard technique and image processing. E.coli growth monitoring and detection process is now easier as it can be viewed using a portable device, smartphone or via a website in real-time.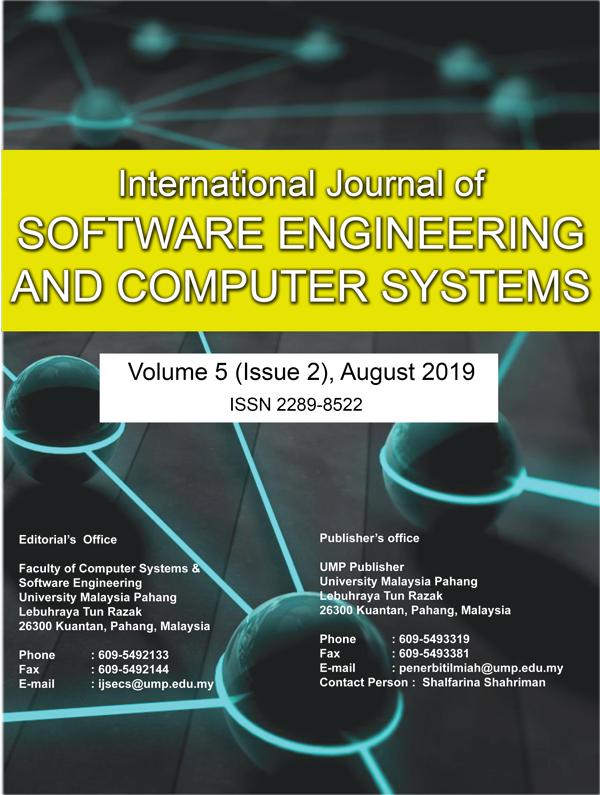 Downloads
How to Cite
HUSSIN, S. F. (2020). The DETECTION ESCHERICHA COLI BACTERIA: A REVIEW OF IMAGE PROCESSING METHODS. International Journal of Software Engineering and Computer Systems, 5(2), 26–36. Retrieved from https://journal.ump.edu.my/ijsecs/article/view/3539
Section
Full Length Article