Optimization on fishing net porosity of twin pontoon floating breakwater in waves
Keywords:
Optimization, artificial intelligence algorithm, floating breakwaters, wave transmission, wave reflection, energy dissipation
Abstract
Chaotic process in wave passing through pores on the attached fishing net between twin pontoons of floating breakwater (TPFB) may lead to several severe problems relating to the hydrodynamic performance of such coastal structure. In presence of relatively fine pores, the wave transmission coefficient (Kt) tends to diminish while the reflection coefficient (Kr) will likely increase, or vice versa for coarse ones. The circumstance requires a complete design optimization study into obtaining an optimum porosity. This paper presents optimization on the fishing net porosity (n) of TPFB using artificial intelligence (AI) model. Here, a multi-objective evolutionary algorithm with various genetic parameters is proposed to search for optimum n ratio through primarily minimizing transmission (Kt) and reflection coefficients (Kr) while maximizing energy dissipation coefficient (Kd). In addition, a computational fluid dynamic (CFD) programme is developed using an extended Reynolds Average Navier-Stokes (RANS) solver for a solid-permeable obstacle. Several parameters such as wavelengths and porosity ratios including a set of optimization criteria, have been taken into account in the simulation, where the optimum solution is then selected from various populations. Meanwhile, the optimum result will be qualitatively evaluated, in which it is visualized by the characteristic patterns of induced energy dissipation. The results revealed that the optimization algorithm is effectively capable of determining global trade-offs between Kt, Kr, and Kd. As compared to the existing model, Kt and Kr decrease to less than 0.85 and 0.42 respectively, whereas Kd was increased up to 0.34 resulting in optimum hydrodynamics of TPFB indicated by further enhancement in the rate of energy dissipation across TPFB entanglement. For validation, the numerical model can fairly simulate well on the hydrodynamics of structure.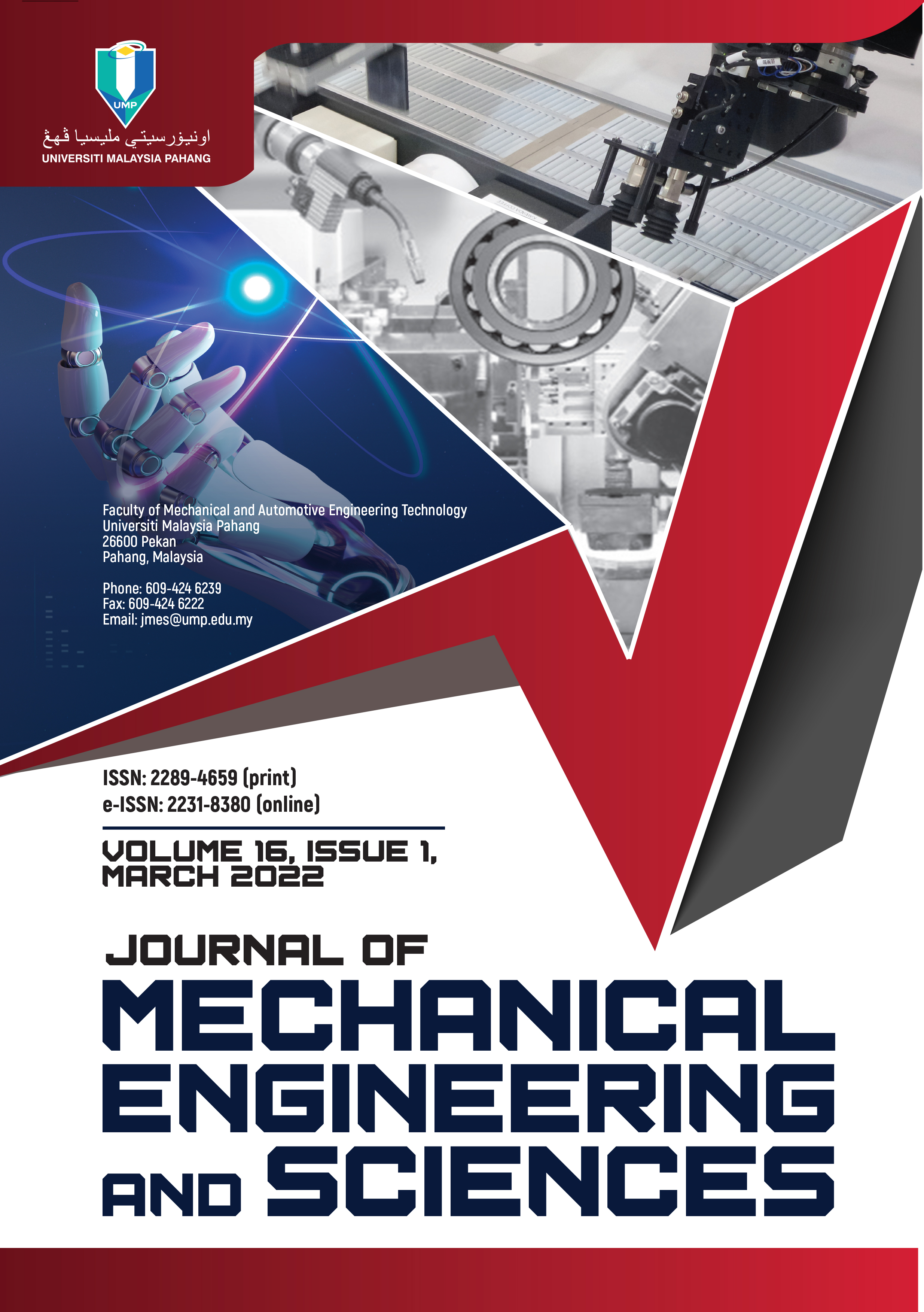 Downloads
How to Cite
[1]
sheikh fakhruradzi and A. Fitriadhy, "Optimization on fishing net porosity of twin pontoon floating breakwater in waves", JMES, vol. 16, no. 1, pp. 8801–8810, Mar. 2022.
License
Copyright (c) 2022 Universiti Malaysia Pahang Publishing
This work is licensed under a Creative Commons Attribution 4.0 International License.