Characterization of aluminium matrix composite of Al-ZnSiFeCuMg alloy reinforced with silica sand tailings particles
Sukanto .

Politeknik Manufaktur Negeri Bangka Belitung, Kawasan Industri Airkantung, Sungailiat, Bangka, 33211, Indonesia. Phone: (+62) 717-93586, Fax: (+62) 717- 93585

Rudy Soenoko

Fakultas Teknik, Universitas Brawijaya, Jl. M.T. Haryono 167, Malang, Indonesia

Wahyono Suprapto

Fakultas Teknik, Universitas Brawijaya, Jl. M.T. Haryono 167, Malang, Indonesia

Yudy Surya Irawan

Fakultas Teknik, Universitas Brawijaya, Jl. M.T. Haryono 167, Malang, Indonesia
Keywords:
silica-sand-tailing, grain-size, hot-compaction, sintering, hardness, wear-resistance, aluminium matrix composite
Abstract
Due to the increased demand for aluminium and the prohibitive cost of producing primary aluminium, the process of making AMCs using recycled aluminium alloy as a matrix and silica sand tailing without leaching as a filler is essential to be developed. For more cost-effective, the purpose of this study is to make particulate aluminium composite matrix AMCs with a matrix of recycled aluminium and reinforced with silica sand tailing without leaching. This research involves the effect of differences in grain size and filler weight percentage on matrix Al-ZnSiFeCuMg recycled aluminium alloy powder. This study used powder metallurgy technology as well as two-way hot-compaction (300°C) and applied a sintering temperature of 550°C. Density, hardness, and wear testing, as well as microstructure analysis, were conducted to determine the characteristics of the resulting AMCs. An increase in hardness of 67% was achieved by the AMCs-164 µm-20%SiO2 specimen, which used a filler grain size of 164 µm wt.20%. Meanwhile, AMCs-31 µm-20%SiO2, which used a filler grain size of 31 µm, only increased by 63%. The wear test result also showed a lower wear rate achieved by the AMCs-164 µm-20%SiO2 specimen. The results analyses using SEM-EDS instruments showed higher agglomeration and porosity in specimens using a filler grain size of 31 µm, while AMCs using a filler grain size of 164 µm showed an even spread of filler powder. Therefore, AMCs that used 164 µm powder-sized fillers have a stronger bond between the filler and the matrix and produce AMCs that are harder than AMCs that use 31 µm fillers.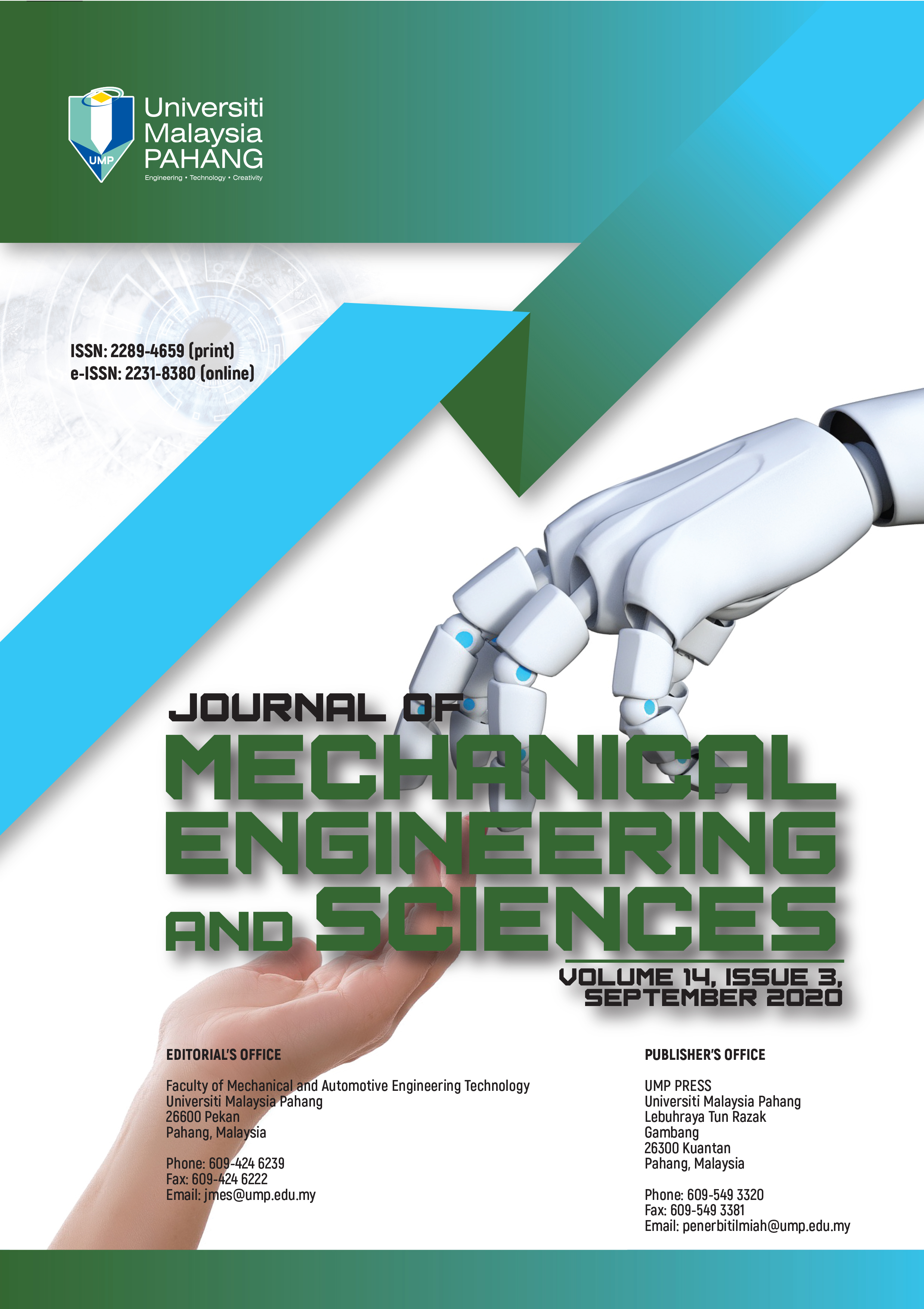 How to Cite
., S., Soenoko, R., Suprapto, W., & Irawan, Y. S. (2020). Characterization of aluminium matrix composite of Al-ZnSiFeCuMg alloy reinforced with silica sand tailings particles. Journal of Mechanical Engineering and Sciences, 14(3), 7094 - 7108. https://doi.org/10.15282/jmes.14.3.2020.11.0556
Copyright (c) 2020 UMP Publisher
This work is licensed under a Creative Commons Attribution-NonCommercial 4.0 International License.