Performance and exhaust gases of a diesel engine using different magnetic treatments of the fuel
R. Arias Gilart

National Center for Applied Electromagnetism (CNEA), Universidad de Oriente. Santiago de Cuba, CUBA, Phone: +5354728816

M. R. B. Ungaro

National Center for Applied Electromagnetism (CNEA), Universidad de Oriente. Santiago de Cuba, CUBA, Phone: +5354728816

C. E. A. Rodríguez

Faculty of Mechanical and Industrial Engineering, Department of Transportation. Universidad de Oriente, Santiago de Cuba, CUBA

J. F. F. Hernández

Faculty of Chemical Engineering and Agronomy, Department of Chemical Engineering, Universidad de Oriente, Santiago de Cuba, CUBA

M. C. Sofia

National Center for Applied Electromagnetism (CNEA), Universidad de Oriente. Santiago de Cuba, CUBA, Phone: +5354728816

D. D. Verdecia

National Center for Applied Electromagnetism (CNEA), Universidad de Oriente. Santiago de Cuba, CUBA, Phone: +5354728816
Keywords:
internal combustion engines, magnetic treatment of fuel, magnetic conditioners, magnets, gases emissions
Abstract
In this research, different magnetic treatments were applied to diesel fuel using static magnetic fields of 0.36T of magnetic induction. The magnetic conditioners (MCs) were installed in different positions of the fuel lines in the engine and the magnetic treatment of the diesel was also carried out before introducing it into the engine tanks. The study was conducted using a four-stroke, two-cylinder, Lister Petter (LPWS2) engine with a compression ratio of 23.5:1 and a constant engine speed of 1500 rpm. The emissions of carbon monoxide (CO), carbon dioxide (CO2), oxygen (O2), nitrogen oxides and the temperature of the exhaust gases and the mass consumption of fuel were measured. The highest levels of reduction were achieved with the magnetic treatments that locate the MC directly in the engine's pipes. As the number of MC in the engine pipes increases, the emissions of polluting gases decrease. With the treatment that locates one MC in front of each injector, two MC at the entrance of the filter and two MC in the return of fuel were able to increase the O2 emissions by 6.9% and decrease the CO emissions in about 21.3% in the last load of the generator set. With this treatment a decrease in fuel consumption of 4.89% to 80% of engine load was obtained.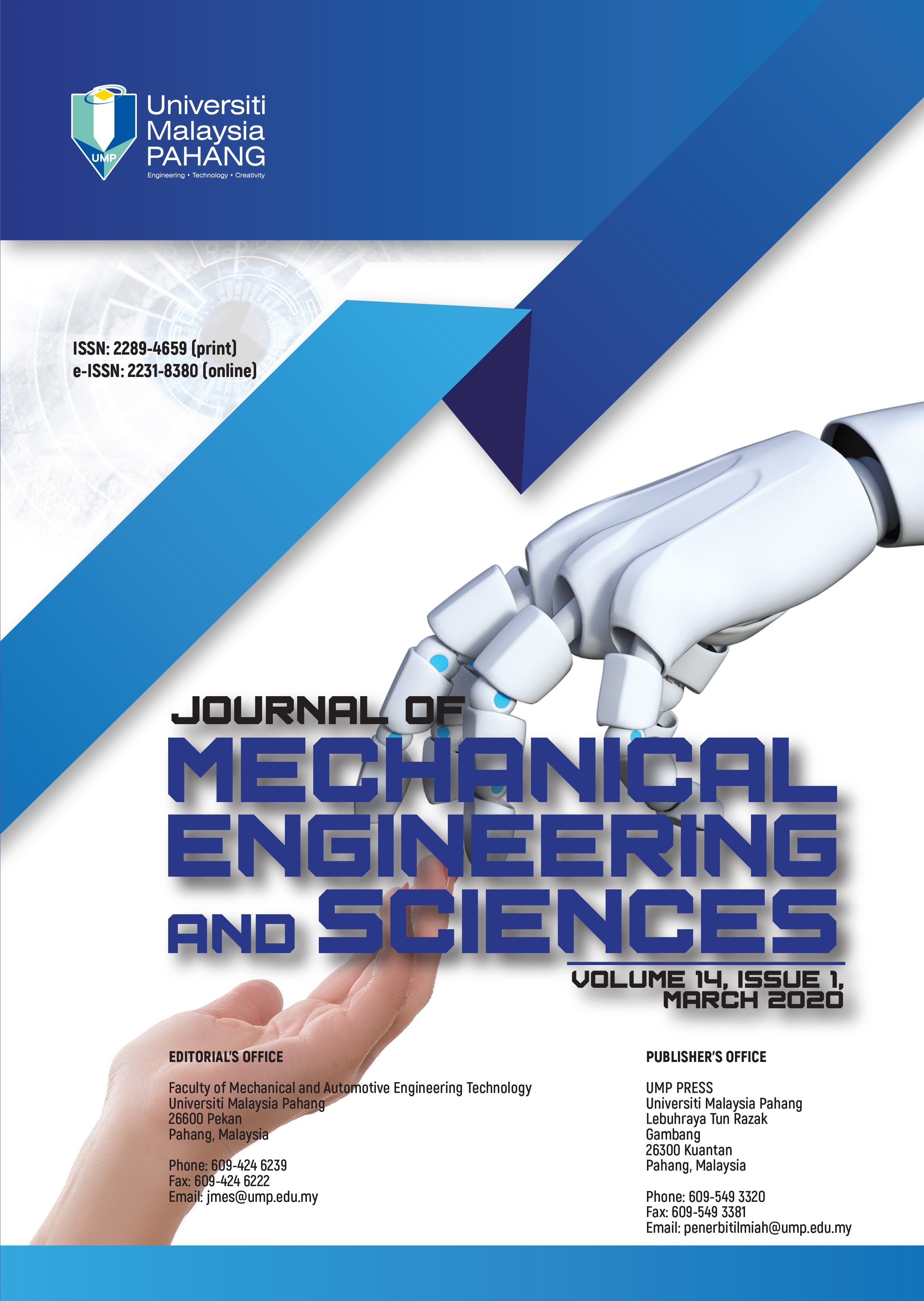 How to Cite
Arias Gilart, R., B. Ungaro, M., A. Rodríguez, C. E., F. Hernández, J., C. Sofia, M., & D. Verdecia, D. (2020). Performance and exhaust gases of a diesel engine using different magnetic treatments of the fuel. Journal of Mechanical Engineering and Sciences, 14(1), 6285 - 6294. https://doi.org/10.15282/jmes.14.1.2020.07.0492
Copyright (c) 2020 UMP Press
This work is licensed under a Creative Commons Attribution-NonCommercial 4.0 International License.