Investigation of the natural ventilation of wind catchers with different geometries in arid region houses
Keywords:
Natural ventilation, Wind driven, Wind catcher, Climatic conditions, CFD
Abstract
The wind catcher or wind tower is a natural ventilation technique that has been employed in the Middle East region and still until nowadays. The present paper aims to study the effect of the one-sided position of a wind catcher device against the ventilated space or building geometry and its natural ventilation performance. Four models based on the traditional design of a one-sided wind catcher are studied and compared. The study is achieved under the climatic conditions of the South-west of Algeria (arid region). The obtained results showed that the front and Takhtabush's models were able to create the maximum pressure difference (ΔP) between the windward and leeward of the tower-house system. Internal airflow velocities increased with the increase of wind speed in all studied models. For example, at Vwind = 2 m/s, the internal flow velocities were 1.7, 1.8, 1.3, and 2.5 m/s for model 1, 2, 3, and 4, respectively. However, at Vwind = 6 m/s, the internal flow velocities were 5.6, 5.5, 2.5, and 7 m/s for model 1, 2, 3, and 4, respectively. The higher internal airflow velocities are given by Takhtabush, traditional, front and middle tower models, respectively, with a reduction rate between the tower outlet and occupied space by 72, 42, 36, and 33% for the middle tower, Takhtabush, traditional tower, and the front model tower, respectively. This reduction is due to the due to internal flow resistance. The third part of the study investigates the effect of window (exist opening) position on the opposite wall. The upper, middle and lower window positions are studied and compared. The air stagnation or recirculation zone inside the ventilated space reduced from 55% with the lower window to 46% for the middle window and reached 35% for the upper window position. The Front and Takhtabush models for the one-sided wind catcher with an upper window position are highly recommended for the wind-driven natural ventilation in residential houses that are located in arid regions.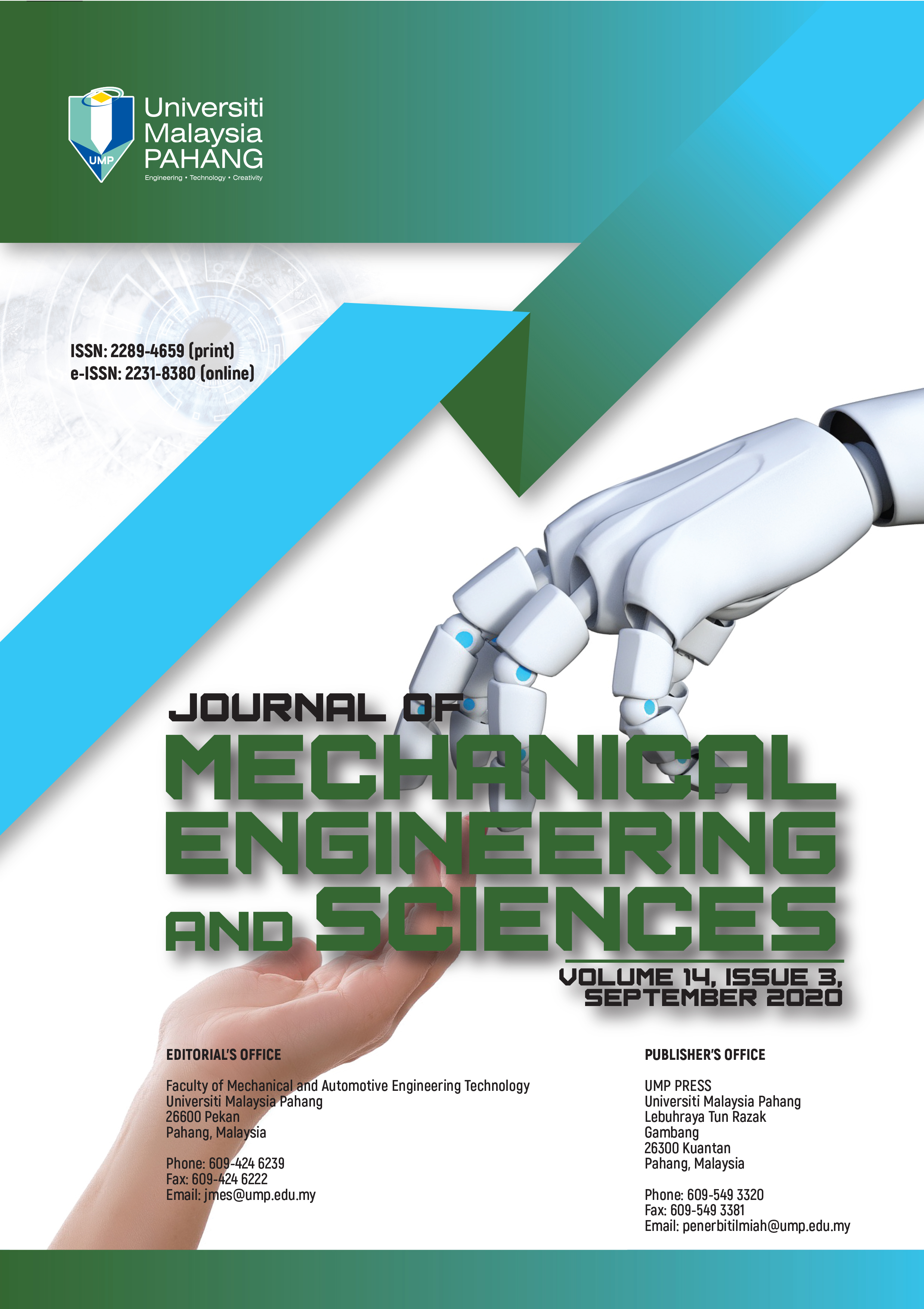 Downloads
How to Cite
Sakhri, N., Menni, Y., Ameur, H., Chamkha, A. J., Kaid, N., Bensafi, M., Lorenzini, G., & Makinde, O. D. (2020). Investigation of the natural ventilation of wind catchers with different geometries in arid region houses. Journal of Mechanical Engineering and Sciences, 14(3), 7109–7124. https://doi.org/10.15282/jmes.14.3.2020.12.0557