Emission and vibration characteristics of Niger seed oil biodiesel fueled diesel engine
S. Jaikumar

Department of Mechanical Engineering, GITAM, Visakhapatnam, India, 530045. Phone: +919492804934

S. K. Bhatti

Department of Mechanical Engineering, Andhra University, Visakhapatnam, India, 530003.

V. Srinivas

Department of Mechanical Engineering, GITAM, Visakhapatnam, India, 530045. Phone: +919492804934
Keywords:
Noise, Niger seed oil methyl ester, emissions, RMS
Abstract
The present investigation dwells the experimental investigation for the assessment of emission, vibration, and noise parameters of single-cylinder, DI diesel engine functioning through the blends of conventional diesel and Niger seed oil methyl ester (NSOME) at different engine operating loads namely 25%, 50%, 75%, and 100% at a constant speed. The carbon monoxide (CO), unburnt hydrocarbons (UHC), and smoke opacity emissions have come down significantly for all the blends of NSOME namely B10, B20, and B40 while the NOx increased marginally. Besides, the vibration and noise extremity of the engine was lowered while operating with biodiesel blends as compared to conventional diesel. B20 has specified a significant reduction in emission, vibration, and noise too at all the loads range from minimum to maximum. At maximum load condition the CO, UHC, smoke opacity, root mean square (RMS) velocity, and RMS noise of B20 have reduced by 93.9%, 37.87%, 5.54%, 45.78%, and 26.15% respectively even as the NOx was increased by 12.76% compared to standard.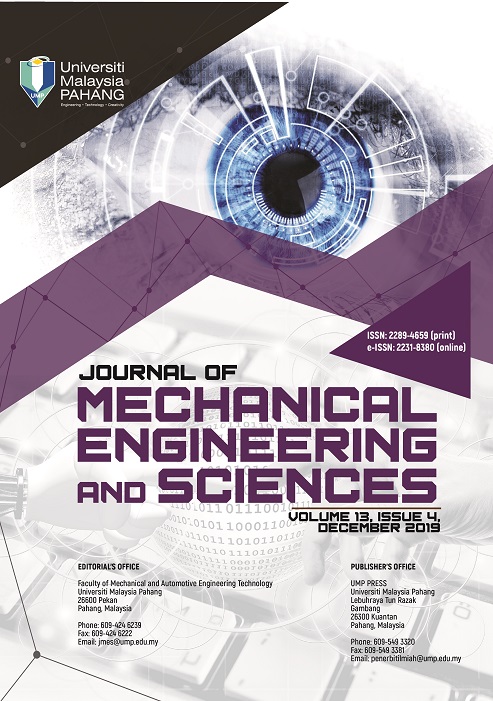 How to Cite
Jaikumar, S., Bhatti, S. K., & Srinivas, V. (2019). Emission and vibration characteristics of Niger seed oil biodiesel fueled diesel engine. Journal of Mechanical Engineering and Sciences, 13(4), 5862-5874. https://doi.org/10.15282/jmes.13.4.2019.11.0467
Copyright (c) 2019 UMP Press
This work is licensed under a Creative Commons Attribution-NonCommercial 4.0 International License.