Comparison of the spine kinematics by defining lumbar as single and multi-segmental in completing critical daily task
W. A. A Saad

Department of Applied Mechanics and Design, Faculty of Mechanical Engineering, Universiti Teknologi Malaysia. Phone: +601111016089

Mohd Azuwan Mat Dzahir

Department of Applied Mechanics and Design, Faculty of Mechanical Engineering, Universiti Teknologi Malaysia

Yamamoto Shinichirou

Department of Bio-Science Engineering, Shibaura Institute of Technology, 307 Fukasaku, Minuma-ku, Saitama City, Saitama 337-8570, Japan

Mohamed Hussein

Department of Applied Mechanics and Design, Faculty of Mechanical Engineering, Universiti Teknologi Malaysia

Maziah Mohamad

Department of Applied Mechanics and Design, Faculty of Mechanical Engineering, Universiti Teknologi Malaysia

Shaharil Mad Saad

Department of Applied Mechanics and Design, Faculty of Mechanical Engineering, Universiti Teknologi Malaysia

Mohd Azwarie Mat Dzahir

Department of Applied Mechanics and Design, Faculty of Mechanical Engineering, Universiti Teknologi Malaysia

Aizreena Azaman

Department of Biotechnology and Medical Engineering, Faculty of Biomedical Engineering and Health Science, Universiti Teknologi Malaysia, 81310 Johor Bahru, MALAYSIA
Keywords:
sit-to-stand, stand-to-flexion, multi-segmental, lumbar, daily task
Abstract
The change of the spinal curvature in completing a variety of daily tasks is essential to independent living. There is still a lack of studies highlighting the lumbar segmental contribution during sit-to-stand (STS) and stand-to-flexion (STF) using non-invasive study. The purpose of this study is to compare the spine kinematics by defining lumbar as a single and multi-segmental during continuous daily motion in healthy Asian adults using a non-invasive approach. During STS, most subjects implemented kyphotic lumbar curve during the early stage of motion which revealed poor posture implementation and significant differences in the lumbar kinematics which were only noticeable at specific phases between both approaches. A significant difference in multi-segmental behaviour was observed only at the end of the motion. All three segments displayed different time responses during the transition from kyphotic to lordotic curve. Passive/delayed behavior within the lower lumbar segment was observed between 0-50% of motion completion. During STF, statistically significant differences were found between assuming lumbar as a single and multi-segment in all phases. This in vitro study identified characteristic motion patterns in the lumbar spine during daily motions. The results provided a clear description of the healthy spinal condition of adults and may serve to identify specific multi-segmental contribution.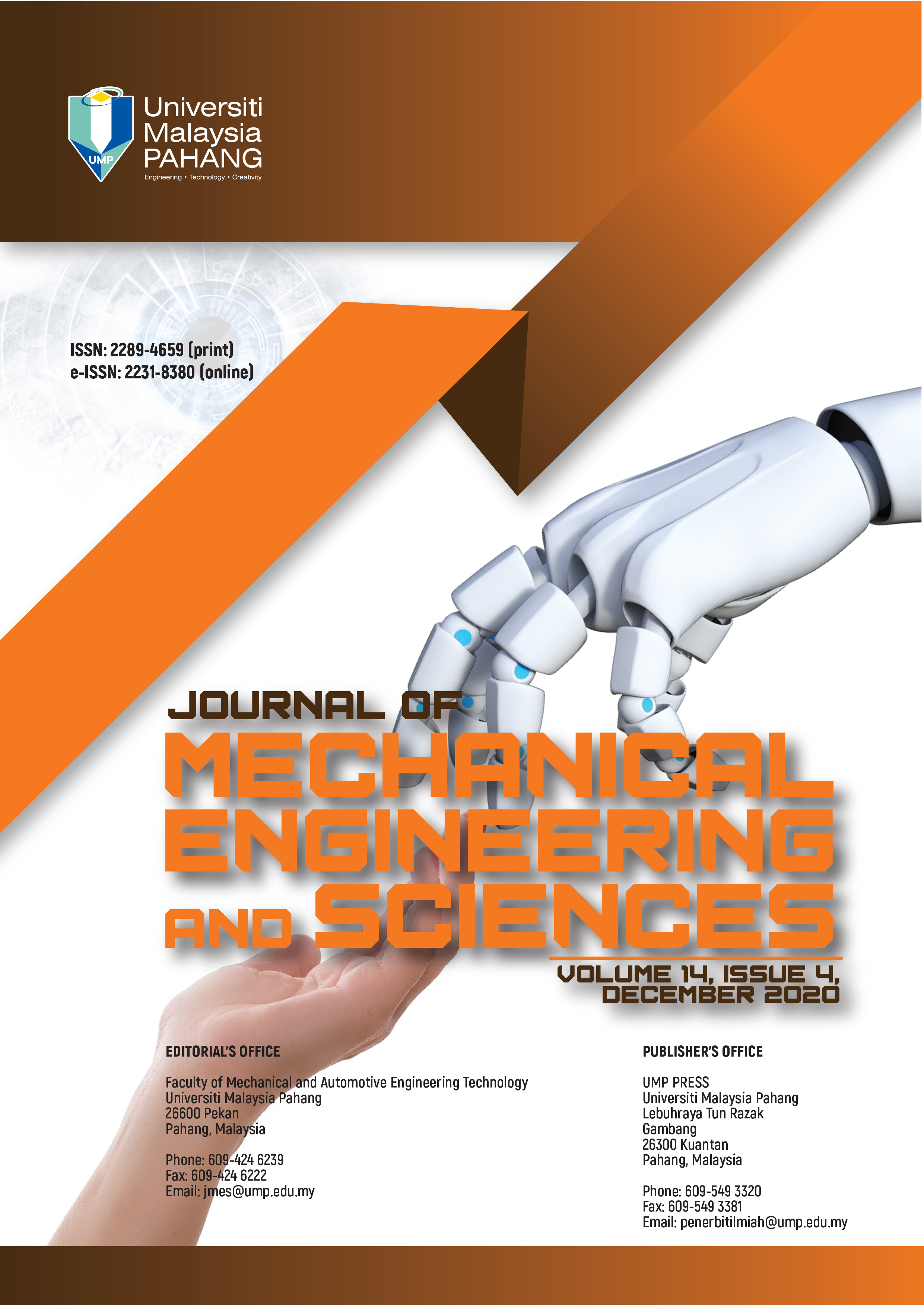 How to Cite
Saad, W. A. A., Mat Dzahir, M. A., Shinichirou, Y., Hussein, M., Mohamad, M., Mad Saad, S., Mat Dzahir, M. A., & Azaman, A. (2020). Comparison of the spine kinematics by defining lumbar as single and multi-segmental in completing critical daily task. Journal of Mechanical Engineering and Sciences, 14(4), 7600 - 7608. https://doi.org/10.15282/jmes.14.4.2020.24.0598
Copyright (c) 2020 UMP Press
This work is licensed under a Creative Commons Attribution-NonCommercial 4.0 International License.