A Review on Magneto-Caloric Materials for Room Temperature Refrigeration
S. M. Gombi

Department of Mechanical Engineering, Amrita School of Engineering, Bengaluru, Amrita Vishwa Vidyapeetham, India.

D. Sahu

School of Mechanical Engineering, Kalinga Institute of Industrial Technology, Bhubaneswar 751024
Keywords:
Magnetic refrigeration, Magneto-caloric material, Metallic glasses
Abstract
Magnetic Refrigeration is an environment-friendly technology when compared to the conventional gas compression system known as vapor compression refrigeration system. Room temperature magnetic refrigeration is a technology which relies on a solid material known as the Magneto-Caloric Material (MCM) which exhibits Magneto-Caloric Effect (MCE) near room temperature. The Magneto-Caloric Effect is the change in temperature of a magnetic material when that material is either magnetized/demagnetized adiabatically. This review is focused on the selection of a suitable MCM which exhibits near-room-temperature MCE. It also explains a methodology to estimate the amount of material required, based on the cooling load or refrigeration capacity (RC) calculation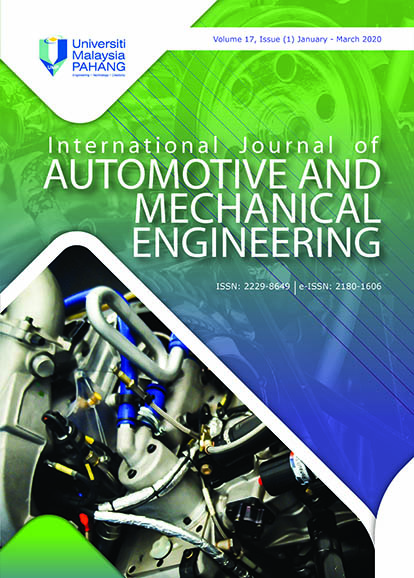 How to Cite
Gombi, S., & Sahu, D. (2020). A Review on Magneto-Caloric Materials for Room Temperature Refrigeration. International Journal of Automotive and Mechanical Engineering, 17(1), 7805-7815. https://doi.org/10.15282/ijame.17.1.2020.26.0581
Copyright (c) 2020 International Journal of Automotive and Mechanical Engineering
This work is licensed under a Creative Commons Attribution-NonCommercial 4.0 International License.