Acoustic Study of an Air Intake System of SI Engine using 1-Dimensional Approach
A. A. Dahlan

Automotive Development Centre, School of Mechanical Engineering, Faculty of Engineering, Universiti Teknologi Malaysia, 81310 Johor Bahru, Johor, Malaysia

Mohd Farid Muhammad Said

Automotive Development Centre, School of Mechanical Engineering, Faculty of Engineering, Universiti Teknologi Malaysia, 81310 Johor Bahru, Johor, Malaysia

Z. Abdul Latiff

Automotive Development Centre, School of Mechanical Engineering, Faculty of Engineering, Universiti Teknologi Malaysia, 81310 Johor Bahru, Johor, Malaysia

M. R. Mohd Perang

Automotive Development Centre, School of Mechanical Engineering, Faculty of Engineering, Universiti Teknologi Malaysia, 81310 Johor Bahru, Johor, Malaysia

S. A. Abu Bakar

Automotive Development Centre, School of Mechanical Engineering, Faculty of Engineering, Universiti Teknologi Malaysia, 81310 Johor Bahru, Johor, Malaysia

R. I. Abdul Jalal

Automotive Engineering Section, Universiti Kuala Lumpur, Malaysia France Institute, 43650, Bandar Baru Bangi, Selangor, Malaysia
Keywords:
1-Dimensional simulation; air intake system; SI engine; engine acoustic
Abstract
Air intake system of an internal combustion engine plays main role in delivering fresh air from the environment to the engine and dampening the sound of the engine combustion process coming from the engine combustion process. In this study, a simulation was conducted to improve the existing air intake system design in terms of acoustic study to have better sound quality by modifying the resonators, air duct and airbox volume of the air intake module. This study implements the 1-dimensional simulation study using commercial software, correlate to the 1.6-liter natural aspirated engine. The objective of this study is to decrease the engine noise at snorkel of the air intake module without losing too much of pressure drop. At the end of this study, the analysis defines the geometry of air intake module with the recommended resonator for fabrication and physical testing. The simulation result shows that the modified air intake module meet the objective and fulfil the performance target.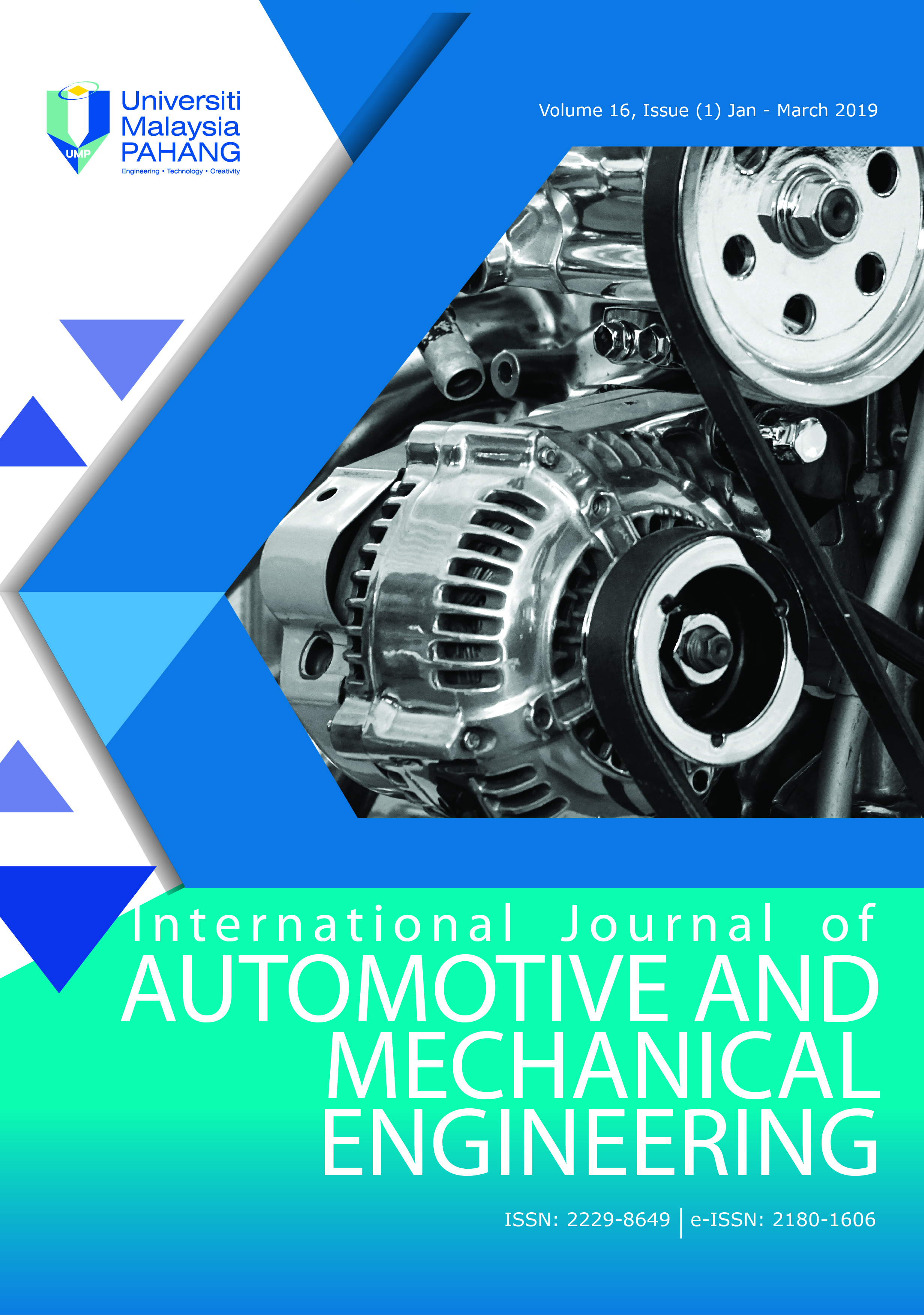 How to Cite
Dahlan, A. A., Muhammad Said, M. F., Abdul Latiff, Z., Mohd Perang, M. R., Abu Bakar, S. A., & Abdul Jalal, R. I. (2019). Acoustic Study of an Air Intake System of SI Engine using 1-Dimensional Approach. International Journal of Automotive and Mechanical Engineering, 16(1), 6281-6300. https://doi.org/10.15282/ijame.16.1.2019.14.0476
Copyright (c) 2019 International Journal of Automotive and Mechanical Engineering
This work is licensed under a Creative Commons Attribution-NonCommercial 4.0 International License.