Numerical investigation on enhancement of heat transfer using rod inserts in single pipe heat exchanger
M. A. Ashham

Department of Mechanical Technical /Production, Al kut Technical Institution, Middle Technical University, Baghdad, Iraq

S. H. Raheemah

Department of Mechanical Technical /Production, Al kut Technical Institution, Middle Technical University, Baghdad, Iraq

K. Salman

Department of Mechanical Technical /Production, Al kut Technical Institution, Middle Technical University, Baghdad, Iraq
Keywords:
heat exchanger, simulation, FEM, CFD, vertical inserts
Abstract
The current study focused on statistically investigating nanofluids' turbulent flow and rate of heat transfer in double pipe heat exchanger with rod inserts. Through the use of numerical simulation, the effects which the various kinds of nanofluids have on the enhancement of heat transfer using finite volume method (FVM) are studied. An application of homogeneous heat flux is made to the tube wall. More so, an examination of the effect of three varying slant angles of rod insert (α = 25°, 30°, 45°) was carried out at varying Reynolds number ranging from 7500 - 20000. The statistical results revealed that the coefficient of transferring heat in the tube containing rod inserts is higher than that of the smooth tube. In addition, results also showed that when rod insert are used in double pipe heat exchanger to augment the Nusselt number increases the slant angle. The max value of Nusselt number was demonstrated at the angle 45° of rod insert. Through the use of the rod inserts at (α=45°) and (S = 30mm), the coefficient of maximal skin friction was determined because of the resistance of larger flow. The maximal value of the Performance Evaluation Criteria (PEC) was mentioned in the case of min slant angle of (α = 25°) and the pitch distance of S = 30 mm.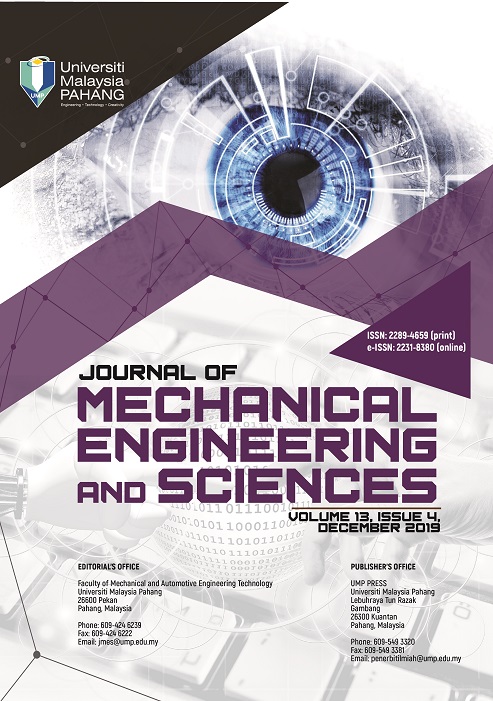 How to Cite
Ashham, M. A., Raheemah, S. H., & Salman, K. (2019). Numerical investigation on enhancement of heat transfer using rod inserts in single pipe heat exchanger. Journal of Mechanical Engineering and Sciences, 13(4), 6112-6124. https://doi.org/10.15282/jmes.13.4.2019.24.0480
Copyright (c) 2019 UMP Press
This work is licensed under a Creative Commons Attribution-NonCommercial 4.0 International License.