Analysis of Organic Germanium Ge-132 as Cetane Improver in Diesel Combustion Process
S. Asri

Faculty of Mechanical Engineering, Universiti Malaysia Pahang, 26600 Pekan, Pahang, Malaysia

M. F. Othman

Faculty of Mechanical Engineering, Universiti Malaysia Pahang, 26600 Pekan, Pahang, Malaysia

A. Abdullah

Automotive Engineering Centre, Universiti Malaysia Pahang, 26600 Pekan, Pahang, Malaysia

Z. Abdullah

Faculty of Mechanical Engineering, Universiti Malaysia Pahang, 26600 Pekan, Pahang, Malaysia

Z. Azmi

Faculty of Mechanical Engineering, Universiti Malaysia Pahang, 26600 Pekan, Pahang, Malaysia
Keywords:
Diesel engine; combustion, performance, emissions; organic germanium
Abstract
The depletion of global petroleum reserves and growth in awareness regarding the environmental pollution of diesel engines urge the reinforcement for the development of alternative fuels. This research experimentally investigated the effect of diesel-organic germanium (Ge-132, 2-Carboxyl Sesquioxide) fuels blend on combustion characteristics, engine performances and exhaust emissions on a direct injection diesel engine at the speed of 1800 rpm at various brake effective pressures. On this occasion, the Ge-132 compound used in this experiment was widely utilized in the medical industry as a dietary supplement that contains therapeutic qualities such as oxygen enrichment, free radical scavenging, and immunity enhancement. Three fuel blends employed in this experiment were Ge5, Ge8, and Ge10 that are used to compare their performances with diesel fuel. In brief, the result stated that the fuel blend of Ge10 showed the highest value of cetane number, which was 8.23% higher compared to the diesel fuel followed by Ge8 and Ge5, which were 7.84 and 7.45% higher than the diesel fuel respectively. Besides, from the experiment, Ge5 decreased the value of BSFC by 26.6% compared to diesel fuel and improved the value of BTE that was 25.6% higher than the diesel fuel.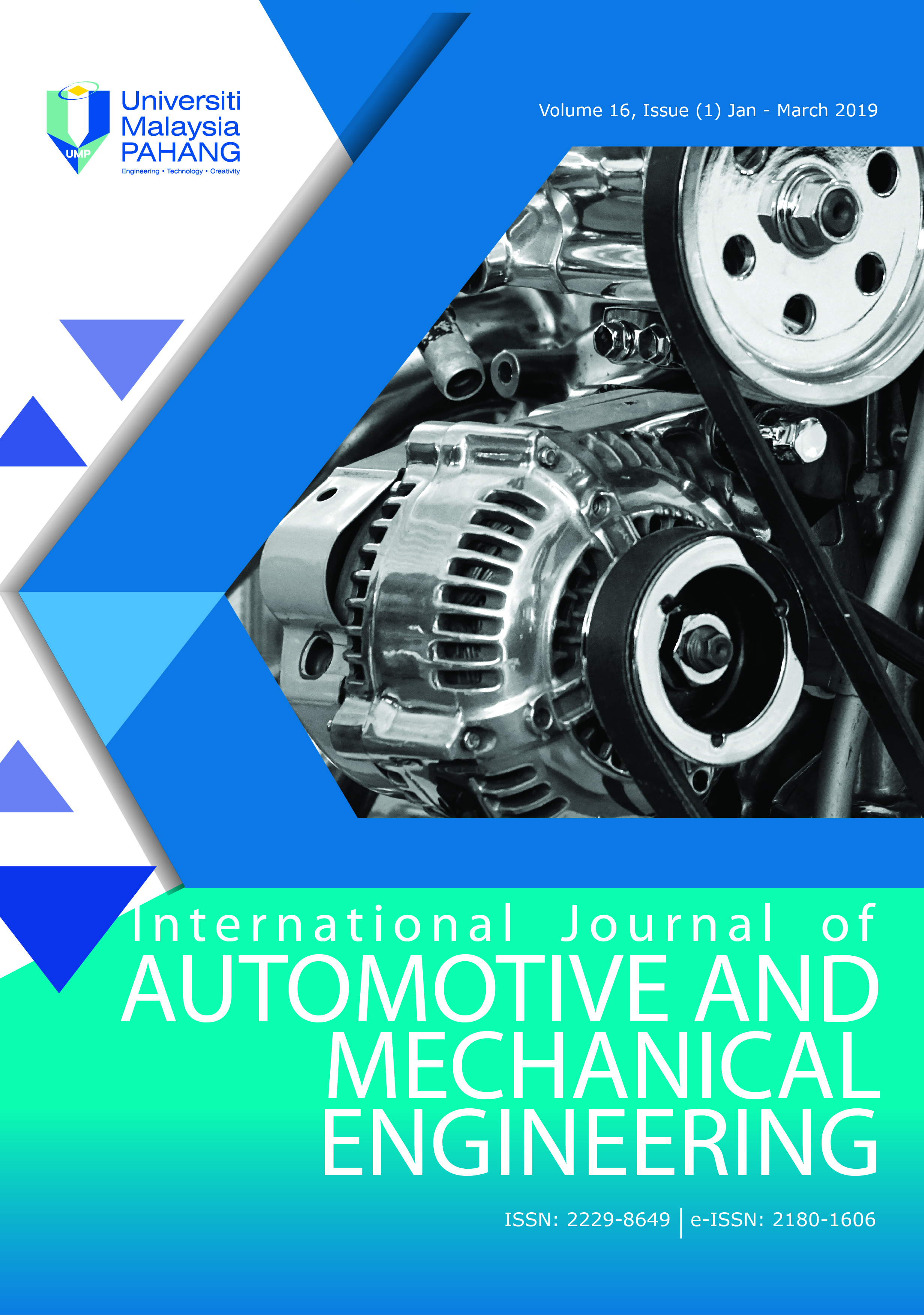 How to Cite
Asri, S., Othman, M. F., Abdullah, A., Abdullah, Z., & Azmi, Z. (2019). Analysis of Organic Germanium Ge-132 as Cetane Improver in Diesel Combustion Process. International Journal of Automotive and Mechanical Engineering, 16(1), 6134-6145. https://doi.org/10.15282/ijame.16.1.2019.4.0466
Copyright (c) 2019 International Journal of Automotive and Mechanical Engineering
This work is licensed under a Creative Commons Attribution-NonCommercial 4.0 International License.