A Simple Empirical Model for Predicting Weight Loss of Mild Steel due to Corrosion in NaCl Solution
Nurdin Ali

Department of Mechanical and Industrial Engineering, Faculty of Engineering, Universitas Syiah Kuala, Jl. Syekh Abdurrauf No. 7, Banda Aceh 23111, Indonesia. Phone: +62 651 7552222; Fax: +62 651 7552222

T. E. Putra

Department of Mechanical and Industrial Engineering, Faculty of Engineering, Universitas Syiah Kuala, Jl. Syekh Abdurrauf No. 7, Banda Aceh 23111, Indonesia. Phone: +62 651 7552222; Fax: +62 651 7552222

V. Z. Iskandar

Department of Mechanical and Industrial Engineering, Faculty of Engineering, Universitas Syiah Kuala, Jl. Syekh Abdurrauf No. 7, Banda Aceh 23111, Indonesia. Phone: +62 651 7552222; Fax: +62 651 7552222

M. Ramli

Department of Mathematics, Faculty of Mathematics and Natural Sciences, Universitas Syiah Kuala, Jl. Syekh Abdurrauf No. 5, Banda Aceh 23111, Indonesia
Keywords:
Corrosion model; Degradation rate; Weight loss; Mild steel; NaCl solution.
Abstract
Validating the degradation rate of construction materials used in public facilities is important for reliability and safety reasons. This is determined through direct measurements using weight loss or electrochemical methods. Both methods, however, are time-consuming and expensive. Therefore the development of a corrosion model for estimating the degradation rate based on weight loss is needed. For this purpose, 25 samples of 80×24×3 mm sized coupons were prepared. The measurements of the weight loss were carried out on the specimens for 10, 20, 30, 40, 50, 60, and 70 days, respectively by total immersion of the samples in NaCl solution of 2, 3, 4, and 5 wt.% with one treated in distilled water. The results show that NaCl concentration significantly influenced the corrosion rate for all variations with an average weight loss value of 1.38 mg/cm2 and corrosion rate value of 25×10-5 mm/year. The proposed empirical model was WL=0.001*1.34α* t0.87. In conclusion, the proposed model was successfully established based on the experimental data for predicting the weight loss of mild steel in the NaCl solution.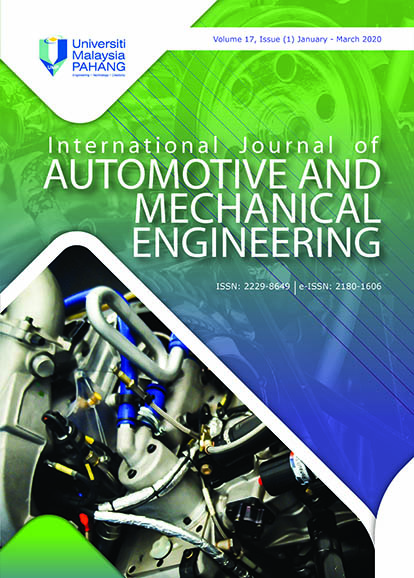 How to Cite
Ali, N., Putra, T. E., Iskandar, V. Z., & Ramli, M. (2020). A Simple Empirical Model for Predicting Weight Loss of Mild Steel due to Corrosion in NaCl Solution. International Journal of Automotive and Mechanical Engineering, 17(1), 7784-7791. https://doi.org/10.15282/ijame.17.1.2020.24.0579
Copyright (c) 2020 International Journal of Automotive and Mechanical Engineering
This work is licensed under a Creative Commons Attribution-NonCommercial 4.0 International License.