High mixing performances of shear-thinning fluids in two-layer crossing channels micromixer at very low Reynolds numbers
A. Kouadri

Department of Mechanical Engineering, Djillali Liabes University, 22000 Sidi Bel Abbes, Algeria

Y. Lasbet

LDMM Laboratory, Djelfa University, 17000 Djelfa, Algeria, Phone : +213698968998

M. Makhlouf

Department of Mechanical Engineering, Djillali Liabes University, 22000 Sidi Bel Abbes, Algeria
Keywords:
Micromixer, Chaotic advection, Mixing index, Shear-thinning fluids, low Reynolds number
Abstract
In a recent study, the Two-Layer Crossing Channels Micromixer (TLCCM) exhibited good mixing capacities in the case of the Newtonian fluids (close to 100%) for all considered Reynolds number values. However, since the majority of the used fluids in the industrial sectors are non-Newtonians, this work details the mixing evolution of power-law fluids in the considered geometry. In this paper, the power-law index ranges from 0.73 to 1 and the generalized Reynolds number is bounded between 0.1 and 50. The conservation equations of momentum, mass and species transport are numerically solved using a CFD code, considering the species transport model. The flow structure at the cross-sectional planes of our micromixer was studied using the dynamic systems theory. The evolutions of the intensity, also the axial, radial and tangential velocity profiles were examined for different values of the Reynolds number and the power-law index. Besides, the pressure drop of the power-law fluids under different Reynolds number was calculated and represented. Furthermore, the mixing efficiency is evaluated by the computation of the mixing index (MI), based on the standard deviation of the mass fraction in different cross-sections. In such geometry, a perfect mixing is achieved with MI closed to 99.47 %, at very small Reynolds number (from the value 0.1) whatever the power-law index and generalized Reynolds numbers taken in this investigation. Consequently, the targeted channel presents a useful tool for pertinent mass transfer improvements, it is highly recommended to include it in various microfluidic systems.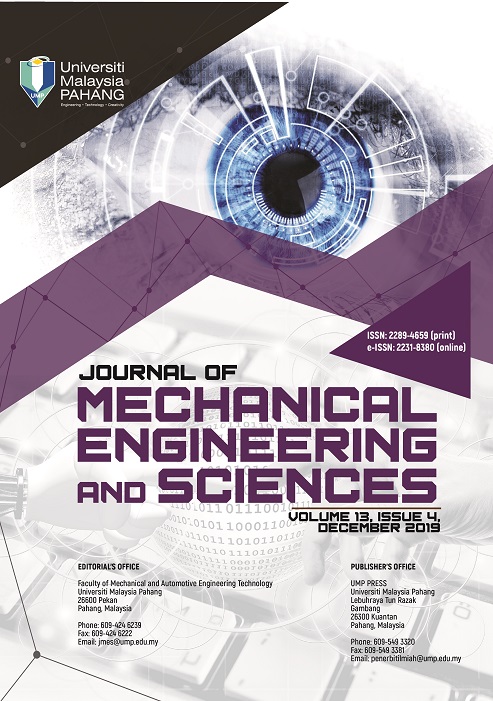 How to Cite
Kouadri, A., Lasbet, Y., & Makhlouf, M. (2019). High mixing performances of shear-thinning fluids in two-layer crossing channels micromixer at very low Reynolds numbers. Journal of Mechanical Engineering and Sciences, 13(4), 5938-5960. https://doi.org/10.15282/jmes.13.4.2019.15.0471
Copyright (c) 2019 UMP Press
This work is licensed under a Creative Commons Attribution-NonCommercial 4.0 International License.