Heat Transfer Augmentation in Heat Exchanger by using Nanofluids and Vibration Excitation - A Review
Keywords:
Heat transfer, Heat exchanger, Nanofluids, Flow-induced vibration, Ultrasound
Abstract
Nanofluids are used in heat exchanger system as efficient heat transfer fluids to improve heat transfer performance by passive method. Besides, another special active technique by implementing the low or high frequency vibration, which was used in heat exchanger to enhance the heat transfer performance. This paper reviews the heat transfer augmentation in heat exchanger by using nanofluids, vibration excitation of low and high frequency vibration. The use of nanofluids in heat exchanger system can provide better effective thermal conductivity compared to the conventional coolants. The presence of nanosize particles in nanofluids performed better mixing flow with higher thermal properties compared to pure fluids. Additionally, the active method by inducing low and high frequency vibration technology was applied in heat exchanger system. The heat transfer augmentation by vibration excitation was resulted from the mitigation of the fouling resistance on the surface of the tube wall. It was found that vibration excitation not only increase the heat transfer rate, but also might be a solution for fouling reduction. Hence, there is a great potential of using nanofluids together with vibration excitation simultaneously in heat exchanger system to improve the heat transfer performance.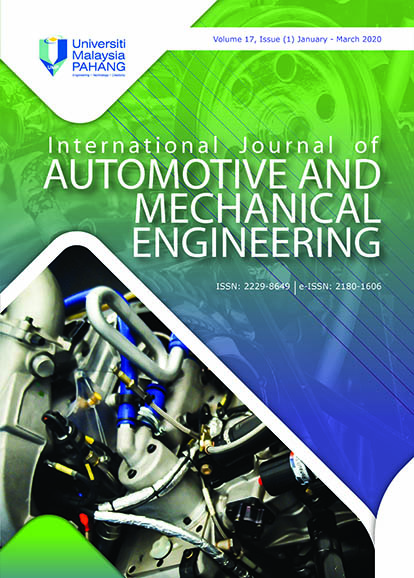 Downloads
How to Cite
Razak, N. F. D., M. Sani, M. S., & Azmi, W. H. (2020). Heat Transfer Augmentation in Heat Exchanger by using Nanofluids and Vibration Excitation - A Review. International Journal of Automotive and Mechanical Engineering, 17(1), 7719–7733. https://doi.org/10.15282/ijame.17.1.2020.19.0574