Physical and Wear Properties of UHMWPE Fabric Reinforced Epoxy Composites
P. Rajendra Prasad

School of Mechanical Engineering, REVA University, Banglore, INDIA

J. N. Prakash

Department of Mechanical Engineering, Sri Basaveshwara Institute of Technology, Tiptur, Karnataka, INDIA

L. H. Manjunath

School of Mechanical Engineering, REVA University, Banglore, INDIA

P. Venkateshwar Reddy

Department of Mechanical Engineering, G Pulla Reddy Engineering College, Kurnool, A.P., INDIA - 518007
Keywords:
Synthetic-fiber, UHMWPE, SEM, Taguchi, Orthogonal-array
Abstract
Usage of synthetic fiber reinforced composites has increased rapidly because of their excellent properties such that it acts as a replacement for metals in the recent days. The physical and wear properties of Ultra-High Molecular Weight Polyethylene (UHMWPE) fabric reinforced epoxy composites have been studied in this present work. Using pin-on-disc test rig, dry-sliding wear of test specimens have been tested against disc of EN31 steel material. The plain woven bi-directional 200gsm and 240gsm UHMWPE fabric reinforced epoxy composites were fabricated by hand lay-up method at room temperature. All the tests were conducted as per the Taguchi's L9 orthogonal-array. The process parameters considered in the present study is load, sliding velocity and sliding time with three levels each. Specific wear rate is considered as the response variable.  Optimization is carried out to find best combination of parameters on specific wear rate.  From the results, it is evident that load has greater influence on specific wear rate than other two considered parameters.  Scanning Electron Microscopy (SEM) analysis was also carried out to examine the matrix distribution over fabric (reinforcement) and also their bonding between reinforcement and matrix.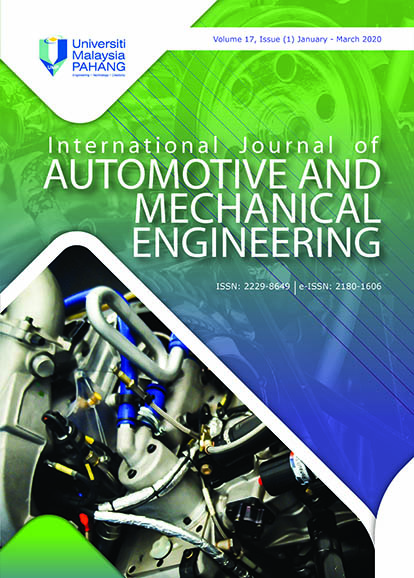 How to Cite
Prasad, P. R., Prakash, J. N., Manjunath, L. H., & Reddy, P. V. (2020). Physical and Wear Properties of UHMWPE Fabric Reinforced Epoxy Composites. International Journal of Automotive and Mechanical Engineering, 17(1), 7577-7586. https://doi.org/10.15282/ijame.17.1.2020.07.0562
Copyright (c) 2020 International Journal of Automotive and Mechanical Engineering
This work is licensed under a Creative Commons Attribution-NonCommercial 4.0 International License.