Experimental Study and Investigation of Thrust Force and Delamination Damage of Drilled Ramie Woven Reinforced Composites
S. Chandrabakty

Department of Mechanical Engineering, Universitas Tadulako, Palu, Indonesia, 94118

I. Renreng

Department of Mechanical Engineering, Universitas Hasanuddin, Kabupaten Gowa, Sulawesi Selatan, Indonesia 92119

Z. Djafar

Department of Mechanical Engineering, Universitas Hasanuddin, Kabupaten Gowa, Sulawesi Selatan, Indonesia 92119

H. Arsyad

Department of Mechanical Engineering, Universitas Hasanuddin, Kabupaten Gowa, Sulawesi Selatan, Indonesia 92119
Keywords:
delamination, thrust force, ramie woven
Abstract
One of the machining failures in composite materials is delamination damage. In this paper, machining parameters and delamination damage caused by the drilling process on ramie woven reinforced composite material with an unsaturated polyester matrix were investigated. The ramie woven used is ramie yarn type 12S/3. The machining process used 1.5 kW Pillar drills, where variations in the diameter of the "brad & spur" drill are 4 mm, 6 mm, 8 mm, and 10 mm, respectively. In this work, focuses on the influence of machining parameters like feeds rate and spindle speed. Holes quality was analyzed in terms of thrust force and delamination failure. From the results of this study, the thrust force value obtained at the time of drilling is very closely related to the delamination damage that happens. Delamination damage occurs on both sides of the holes drill.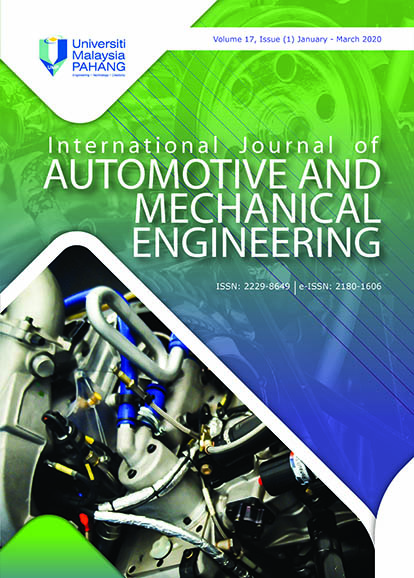 How to Cite
Chandrabakty, S., Renreng, I., Djafar, Z., & Arsyad, H. (2020). Experimental Study and Investigation of Thrust Force and Delamination Damage of Drilled Ramie Woven Reinforced Composites. International Journal of Automotive and Mechanical Engineering, 17(1), 7618-7628. https://doi.org/10.15282/ijame.17.1.2020.11.0566
Copyright (c) 2020 International Journal of Automotive and Mechanical Engineering
This work is licensed under a Creative Commons Attribution-NonCommercial 4.0 International License.