Influence of Ultra Injection Pressure with Dynamic Injection Timing on CRDI Engine Performance Using Simarouba Biodiesel Blends
Srinath Pai

Department of Mechanical Engineering, Srinivas School of Engineering, Mangalore, affiliated to Visvesvaraya Technological University Belagaum - 575014, India

Abdul Sharief

Department of Mechanical Engineering, P. A. College of Engineering &Technology, Mangalore, affiliated to Visvesvaraya Technological University Belagaum– 574153, India

Shiva Kumar

Department of Mechanical Engineering, Manipal Institute of Technology, Manipal Academy of Higher Education, Manipal - 576104, India
Keywords:
Biodiesel; performance; emission; common rail direct injection (CRDI), engine; injection pressure and timing.
Abstract
A single cylinder diesel engine upgraded to operate Common Rail Direct Injection (CRDI) system and employed in this investigation. Tests were conducted on this engine using High-Speed diesel (HSD) and Simarouba biodiesel (SOME) blends to determine the influence of Injection Pressure (IP) and Injection Timing (IT) on the performance and emissions. Four unique IP of 400 bar to 1000 bar, in steps of 200 bar and four differing ITs of 10°, 13°, 15° and 18° before Top Dead Center (bTDC) combinations were attempted for the 25% to full load. Compression Ratio (CR) of 16.5 and Engine speed of 1500 RPM was kept constant during all trails. Critical performance parameter like Brake Thermal Efficiency (BTE) and Brake Specific Fuel Consumption (BSFC) were analyzed, primary emission parameters of the diesel engine The NOx and Smoke opacity were recorded. Finally, the outcomes of each combination were discussed.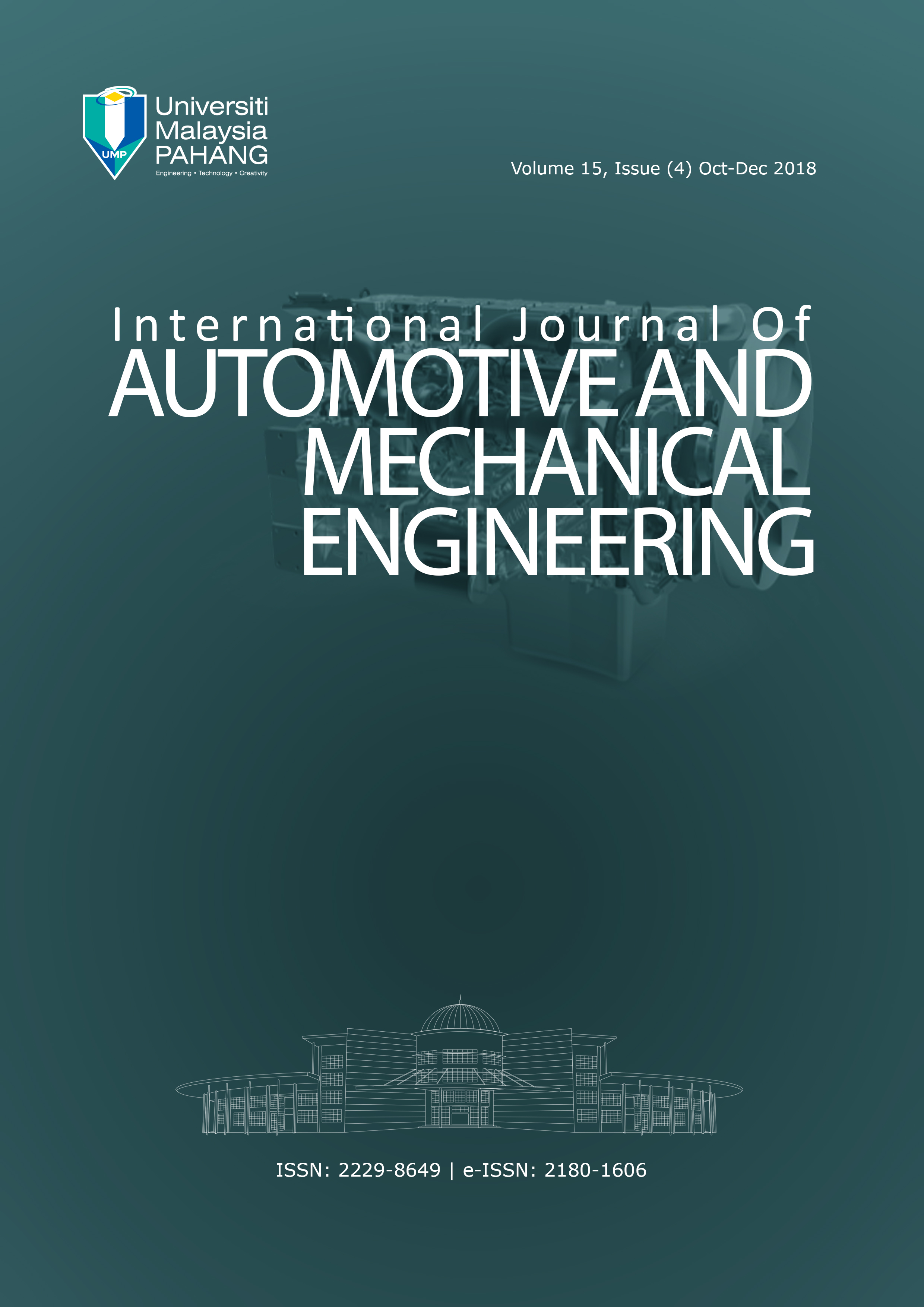 How to Cite
Pai, S., Sharief, A., & Kumar, S. (2018). Influence of Ultra Injection Pressure with Dynamic Injection Timing on CRDI Engine Performance Using Simarouba Biodiesel Blends. International Journal of Automotive and Mechanical Engineering, 15(4), 5748-5759. https://doi.org/10.15282/ijame.15.4.2018.3.0440
Copyright (c) 2018 International Journal of Automotive and Mechanical Engineering
This work is licensed under a Creative Commons Attribution-NonCommercial 4.0 International License.