Experimental and numerical FEM-based determinations of forming limit diagrams of St14 mild steel based on Marciniak-Kuczynski model
M. Mianroodi

ICube laboratory, University of Strasbourg, CNRS, 4 Rue Boussingault, 67000 Strasbourg, France Phone: +33368852955

G. Altmeyer

Laboratoire de Mécanique Gabriel Lamé, Université de Tours, Université d'Orléans, INSA Centre Val de Loire, Polytech Tours, 7 avenue Marcel Dassault BP40, 37004 Tours, France

S. Touchal

ICube laboratory, University of Strasbourg, CNRS, 4 Rue Boussingault, 67000 Strasbourg, France Phone: +33368852955
Keywords:
Forming Limit Diagram, Marciniak-Kuczynski, Formability, Finite element method, Biaxial tensile tests
Abstract
Forming Limit Diagrams (FLD) are used to design metal sheet processes and to choose appropriate material according to their formability. Development of simple and robust methods to determine the formability domain is then a major industrial issue. Marciniak-Kuczynski (M-K) plastic instability criterion is a classical and common approach used to predict numerical FLD. A convergence of the experimental conditions and theoretical M-K hypotheses is investigated. This analysis leads in the proposition of a simple experimental procedure based on classical instrumented biaxial testing machines to reproduce M-K in-plane loading conditions. Experimental results are compared with numerical simulations based on a finite element method implantation of M-K model. This versatile implementation allows the coupling of the plastic instability criterion in ABAQUS with a large range of material behaviors. Application of these experimental and numerical procedures on commercial St14 mild steel leads to the relative differences between lower experimental points and numerical forming limits predictions that do not exceed 4% and 10% in the case of uniaxial and equibiaxial tension for initial prescribed defect ratio of 0.99 and 0.95, and 22% in the case of plane tension. These procedures constitute ways easily implementable in the industry to obtain FLD at reduced costs that show good correlations between experimental results and numerical M-K predictions.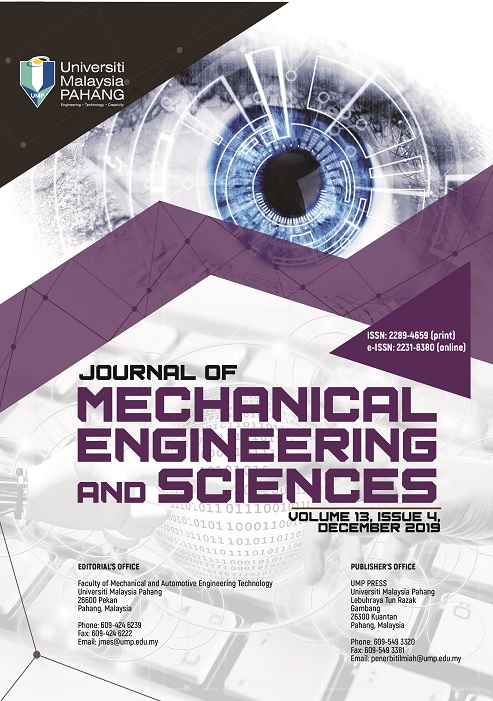 How to Cite
Mianroodi, M., Altmeyer, G., & Touchal, S. (2019). Experimental and numerical FEM-based determinations of forming limit diagrams of St14 mild steel based on Marciniak-Kuczynski model. Journal of Mechanical Engineering and Sciences, 13(4), 5818-5831. https://doi.org/10.15282/jmes.13.4.2019.08.0464
Copyright (c) 2019 UMP Press
This work is licensed under a Creative Commons Attribution-NonCommercial 4.0 International License.