A Study on Chicken Fat as an Alternative Feedstock: Biodiesel Production, Fuel Characterisation, and Diesel Engine Performance Analysis
M. N. Mohiddin

Department of Mechanical and Manufacturing Engineering, Faculty of Engineering, Universiti Malaysia Sarawak, 94300, Kota Samarahan, Sarawak, Malaysia

A. A. Saleh

Department of Mechanical and Manufacturing Engineering, Faculty of Engineering, Universiti Malaysia Sarawak, 94300, Kota Samarahan, Sarawak, Malaysia

A. N. R. Reddy

Department of Mechanical and Manufacturing Engineering, Faculty of Engineering, Universiti Malaysia Sarawak, 94300, Kota Samarahan, Sarawak, Malaysia

S. Hamdan

Department of Mechanical and Manufacturing Engineering, Faculty of Engineering, Universiti Malaysia Sarawak, 94300, Kota Samarahan, Sarawak, Malaysia
Keywords:
Chicken fat; biodiesel; transesterification; engine performance
Abstract
Biodiesel is one of the promising renewable sources to fulfill the future energy demand of the world. Sustainable feedstock for biodiesel production is one of the major criteria to ensure the process of renewability. Chicken fat is an encouraging feedstock for biodiesel. In this study, waste chicken fat was converted to biodiesel via catalysed transesterification. Optimised process parameters were recorded at 1:4 oil-to-methanol volume ratio and 0.5 wt% KOH catalyst concentration with a biodiesel yield of 96%. The FT-IR spectral analysis of chicken fat and chicken fat biodiesel confirmed the conversion of chicken fats into biodiesel. The physico-chemical properties of biodiesel were tested in accordance with ASTM D6751 and EN 14214 biodiesel standards. The specific fuel properties of chicken fat biodiesel that include calorific value, viscosity and acid value were found to be lower than that of petrodiesel. The diesel engine performance tests confirmed that the biodiesel blends performance was similar to petrodiesel.  It is noted that while the brake horsepower increased with the increase of biodiesel blending percentage, the engine power output was found to decrease. Specific fuel consumption also increased along with the biodiesel blending percentage.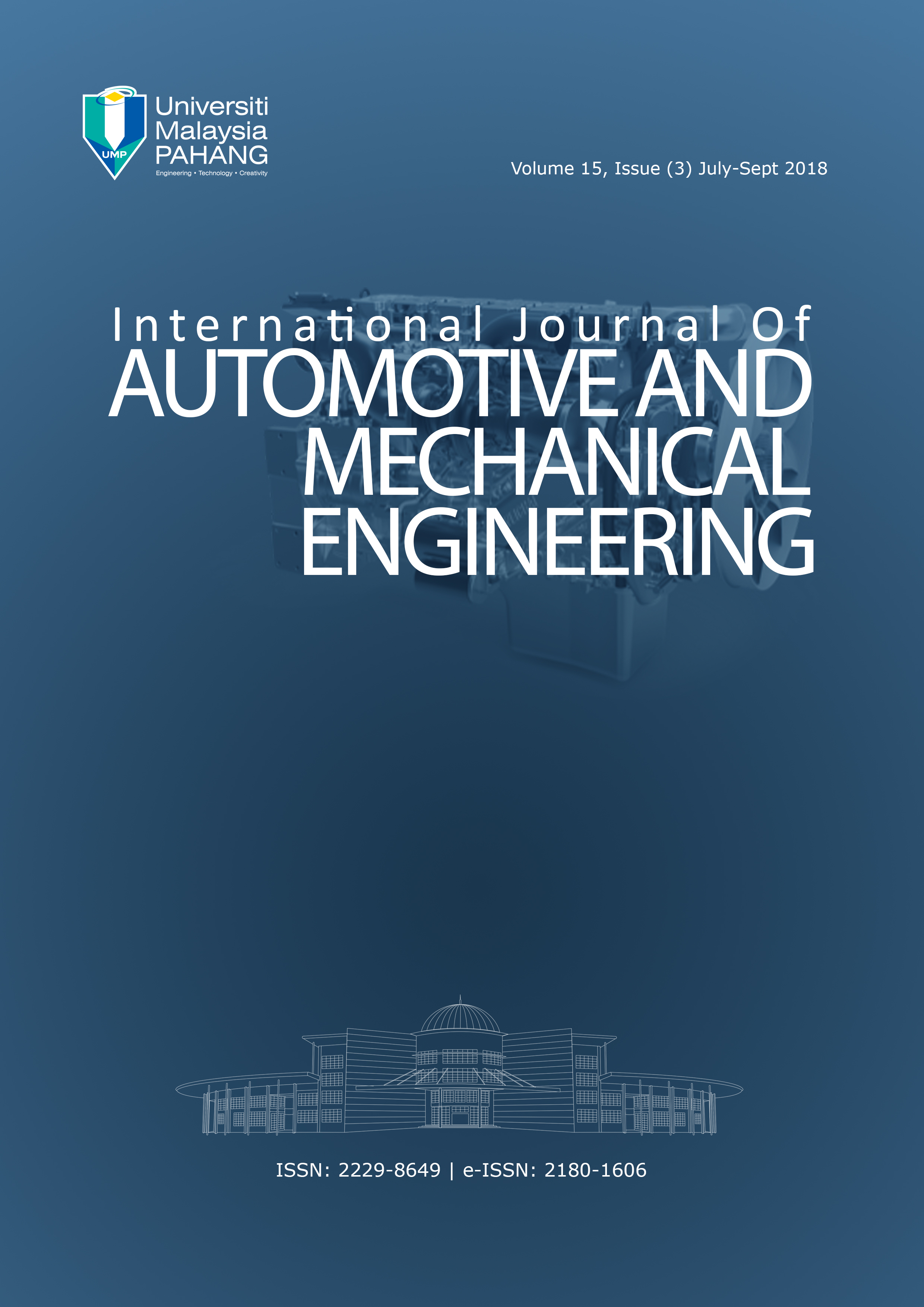 How to Cite
Mohiddin, M. N., Saleh, A. A., Reddy, A. N. R., & Hamdan, S. (2018). A Study on Chicken Fat as an Alternative Feedstock: Biodiesel Production, Fuel Characterisation, and Diesel Engine Performance Analysis. International Journal of Automotive and Mechanical Engineering, 15(3), 5535-5546. https://doi.org/10.15282/ijame.15.3.2018.10.0425
Copyright (c) 2018 International Journal of Automotive and Mechanical Engineering
This work is licensed under a Creative Commons Attribution-NonCommercial 4.0 International License.